Canon EOS R7 Review
The Canon EOS R7 is Canon's Best Ever APS-C Camera
Canon's EOS R7 is the most up-to-date and high-performing APS-C mirrorless camera available. It's an exceptional choice for those seeking an affordable underwater camera for both photos and videos. The camera body is priced at $1499 and offers 5-axis in-body image stabilization, enabling it to capture 4K/60p videos and 32 MP images. Additionally, the camera boasts an exceptional dual-pixel autofocus system that can track animal eyes, which has been inherited from the Canon EOS R3.
In conjunction with the R7, Canon also released the R7's "little brother," the Canon EOS R10, which has fewer features but a lower price point of $980 for the camera body. Despite their similarities, the two cameras serve slightly different markets. Our underwater review will delve into the differences between the two cameras and whether upgrading to the Canon EOS R7 is worthwhile.
A Note on Dive Conditions
In January, we dove in the chilly (45 degrees Fahrenheit) waters of the Pacific Northwest using the Ikelite Canon R7 Underwater Housing. As some of you may have noticed, diving conditions on the West Coast have been particularly challenging this winter. Heavy precipitation, strong gusts, and a significant surge made it challenging for us to dive in conditions suitable for taking underwater photographs and videos. When comparing the underwater photos we took with the R7 and the R10, please keep this in mind. We also utilized the Ikelite DS 230 Strobes, Marelux SOFT Pro Snoot, the SeaLife SeaDragon 5000+ Video Light, and the Ikelite Canon TTL Converter for this evaluation.
Canon EOS R7 Specifications
32.5 Megapixel APS-C CMOS Sensor
DIGIC X Image Processor
5-axis in-body image stabilization
Canon RF lens mount, can support EF lenses via the Canon EF-EOS Adapter
Dual Pixel AF II with improved animal, vehicle, people AF tracking (both photo & video mode)
AF focuses in lowlight down to -5 EV
AF points cover 100% of the sensor
2.36 million dot EVF (electronic viewfinder)
1/250 max sync speed with strobes
15 fps burst shooting with the mechanical shutter and 30 fps burst shooting with the electronic shutter
4K/60p video with no crop, 10-bit 4:2:2 recording
C-Log3 recording supported
LP-E6NH battery
Size dimensions: 132.0 x 90.4 x 91.7mm
Weight: 1.3 lbs (590 grams)
The Canon EOS R7 vs R10 …. Which One is Better?
When considering whether to upgrade to the Canon EOS R10 or the R7, there are several factors to consider for underwater photographers. Although the R7 is $500 more than the R10, it offers advantages such as a higher sensor resolution of 32.5 megapixels, which may be beneficial for macro photographers who frequently crop images. However, for wide-angle photographers, the difference in resolution may not be noticeable. Despite the increase in resolution, the R7 does not exhibit noticeably more noise at high ISOs compared to the R10.
In addition, the R7 features 5-axis in-body image stabilization, which provides up to 7 stops of correction, making it ideal for shooting in low light conditions. We managed to push our shutter speeds in low light conditions significantly lower than on the R10, allowing us to get crisp photos while still maintaining the color of the water color. The R10, on the other hand, has more noticeable camera shake when filming underwater, particularly in handheld footage. Furthermore, the R7 has a slightly faster maximum sync speed with strobes, making it superior for sunball and action photography.
For underwater videographers, the R7 is the better option, as it can capture 4K at 60 frames per second without a crop, while the R10 requires a 64% crop. The R7 also offers C-Log3 recording for increased dynamic range in post-production. Additionally, the R7 is compatible with housings from both Ikelite and Nauticam, despite its larger size and weight, whereas there is only an Ikelite housing available for the R10 currently. However, if cost is a factor, the R10 is a more cost-effective option.
Ultimately, the decision between the R7 and R10 depends on individual needs and preferences. The R10 is an excellent choice for those seeking a high-quality underwater camera on a budget, while the Canon EOS R7 is the best option for those who prioritize top-tier performance in a compact form factor, particularly for macro photography or videography. The Nauticam R7 Housing and Canon RF-S 18-45mm kit lens, with the and the Nauticam WWL-1B, or the Ikelite R7 Housing with the Tokina 10-17mm fisheye and Canon RF100 mm macro, are great options for housing the R7 underwater.
Canon R7 Key Features
A Mid-Size Mirrorless Camera with Familiar and Excellent Ergonomics
The Canon R7 boasts excellent and familiar ergonomics, with a compact and lightweight body that is easy to handle. Despite being slightly bigger and 100 grams heavier than the Canon R10, its image stabilization mechanism gives it a thicker frame. The R7's button configuration is designed for effortless control during topside and underwater shooting, including a unique dial/joystick hybrid control.
The camera's design is similar to the Canon R5, making it comfortable for Canon users to operate with ease. Shutter speed and aperture adjustments are made with simple dials, while ISO can be adjusted with a push of a button. The R7's well-built construction is evident when compared to the R10, which is made entirely of lightweight plastic.
For underwater photographers, the R7 is highly portable and easy to travel with, reducing the weight of travel gear by 7 pounds when lenses, housing, and ports are taken into account.
Canon's 5-Axis IBIS System
The Canon EOS R7 boasts a remarkable 5-axis in-body image stabilization (IBIS) system, which is one of its standout features. To enable IBIS, a structure is built around the sensor, allowing it to move in sync with the camera body's tiny movements. This feature is capable of providing up to seven stops of compensation, allowing you to capture sharp images even at slower shutter speeds and minimizing motion blur caused by camera shake.
The R7's IBIS system is comparable to that of the highly regarded Canon R5, which is considered one of the best in the world. The IBIS technology significantly enhances the effectiveness and stability of capturing macro footage with a handheld camera, particularly when shooting underwater. Even with a slow shutter speed of 1/15 of a second, we were able to capture sharp underwater images, resulting in beautiful green backgrounds that would have been black in the extremely dark underwater conditions.
Newly-developed 32.5-megapixel APS-C CMOS image sensor for excellent image quality
For underwater photographers, the Canon EOS R7's APS-C CMOS sensor with 32.5 megapixels provides high resolution, making it an ideal choice for macro photography. The high megapixel count allows for further cropping in post-processing without losing details, especially with the 1.5x crop factor of the APS-C sensor. Despite the higher resolution, the sensor's low-light performance is similar to the Canon EOS R10, with good dynamic range and excellent detail in dim conditions.
The Canon R7 performs exceptionally well in low light conditions and at high ISO, producing sharp and detailed images. In post-production, any visible noise can be easily removed without compromising the image quality. While we were unable to compare sun ball images to the R10 due to weather conditions, the Canon R7's image quality has consistently impressed us. With the Canon R7, we were able to shoot at up to ISO 800 without any noticeable noise.
AI-powered high performance Autofocus
The Canon EOS R7's dual-pixel autofocus technology is a game-changer. With autofocus points covering the entire sensor, it provides an edge over past DSLR cameras in terms of composition. What's more, Canon didn't skimp on the autofocus system, incorporating the same technology found in the R3 and R5 full frame cameras. Animal eye focus tracking is built in, and it worked well with fish eyes, allowing us to successfully track fish eyes with a wide-angle lens.
The autofocus motor method in the R7 also includes autofocus tracking in all area modes, giving photographers more control over the area they want to watch. During our dives, we used the camera in autofocus servo mode with single-point autofocus tracking, allowing us to lock onto our subjects using the AF-on switch on the housing, and the focusing box would follow them even if the camera or subject moved.
In low-light conditions, the Canon EOS R7 outperformed the R10 and did an excellent job of focusing without the need for a focus light. Overall, the R7's dual-pixel autofocus technology is a must-have for underwater photographers who want to capture sharp and focused images.
Impressive Battery Life
The Canon EOS R7's battery life is remarkable, making it an ideal camera for extended underwater photography sessions. During our testing, we were able to use the camera for two full days of diving, similar to the Canon EOS R10, and still had 30% of the battery left. Although it is rated for 600 shots on a full charge, we found that it could last for six to eight dives, which is impressive. As long as you recharge the battery after each dive, you shouldn't have to worry about running out of power while using the R7.
Advanced Video with 4K 60fps
When it comes to underwater videos, the Canon EOS R10 is unmatched among APS-C cameras. It can shoot 4K video at 60 fps using the entire sensor width, without any crop. This is a great advantage because it allows you to slow down your footage in post-production, making it smoother. The R7 is also an excellent option for shooting handheld underwater videos, thanks to its IBIS system.
Moreover, the Canon EOS R7 can shoot C-Log3 logarithmic footage, which is not possible with the R10. This means that you can enhance the details of your footage in post-production. While setting a custom white balance is easy in photo mode, you need to take a picture first and then go into the menu in video mode. Nonetheless, we found that the colors produced by the R7 were accurate even at depth. The R7's "color science" is superior to that of Sony's APS-C cameras.
Canon EOS R7 for Underwater Photography
When it comes to underwater photography, we believe that the Canon R7 is arguably the top APS-C camera available. Compared to other leading APS-C models like the Sony A6400, Nikon Z50, or even the Canon R10, the R7 outshines in autofocus, picture quality, and video capabilities.
Thanks to its 1.5x crop factor and high resolution, the APS-C sensor is perfect for macro photographers who seek to capture fine details. Moreover, cold-water swimmers can also benefit from the R7's high ISO capabilities and exceptional low-light focusing.
The R7's autofocus tracking left us amazed. Shooting with the R7 is similar to shooting with a small Canon R5, with the keyword being "mini." This professional camera is incredibly portable, making it a top choice for divers who travel frequently.
Canon EOS R7 for Underwater Video
In addition to being one of the best APS-C cameras for underwater photography, the Canon R7 also excels in underwater videography. It surpasses even the Panasonic GH6 in terms of video clarity, thanks to its superior lenses and sensor. Despite having similar video-focused features, the R7 produces better overall video quality. Its ability to shoot in 10-bit 4:2:2 4K/60p with logarithmic mode makes it the clear choice over the R10 for video recording. The R7's built-in IBIS system greatly enhances footage stability, and the custom white balance presets deliver accurate colors even in deep waters.
Top Canon R7 Underwater Lenses
The Canon R7 is a pioneering APS-C camera by Canon that features the RF mobile lens mount. Furthermore, with the help of a Canon EF-EOS R Adapter, the camera can also operate with EF lenses. The autofocus function works equally well when using an EF lens with or without an adapter.
Wide Angle Lens Options
Our top pick for a wide-angle lens to use with the Canon EOS R10 for underwater photography is the Tokina 10-17mm Fisheye Lens. This lens has been a favorite among underwater photographers for its ability to capture stunning details and colors, while still maintaining sharp corners, also allowing you to get up close to larger objects. To use this lens with the EOS R10, you will need to use the EF-EOS R adapter.
Mid-Range Kit Lens Option
The Canon RF-S 18-45mm f/4.5-6.3 IS STM kit lens is versatile and suitable for shooting both above and below the water. It is compact and ideal for capturing portraits and mid-range shots. While it serves as a good starting lens, using a wide-angle or close-up lens would produce better results. For underwater photography, pairing the kit lens with a Nauticam R7 housing and a Nauticam WWL-C or WWL-1 would be the optimal setup.
Macro Lens Options
The Canon EOS R7 offers three excellent close-up lens options.
If you use the Canon EF-EOS R adapter, the Canon EF-S 60mm f/2.8 close-up lens is a great choice, although it's no longer in production and may need to be purchased second-hand.
The second option is the Canon EF 100mm f/2.8 Macro Lens, which works well with the EF-EOS R adapter and offers more space to work with subjects than the 60mm close-up lens.
The Canon RF 100mm f/2.8 Macro Lens is also compatible with the R7 and is often considered the best macro lens available. It quickly became our preferred lens for use with the R7. Although we initially had reservations about using a 100mm lens on an APS-C camera, the autofocus system's speed makes it a breeze to use long macro lenses with the R7.
We decided to leave the Canon RF 85mm macro lens off our list as the autofocus speed is almost unusable underwater due to the moving focusing barrell.
Canon R7 Underwater Housings
There are currently two great Underwater Housing options available for the Canon EOS R7 - the polycarbonate Ikelite R7 Housing and the anodized aluminum Nauticam R7 Housing.
Ikelite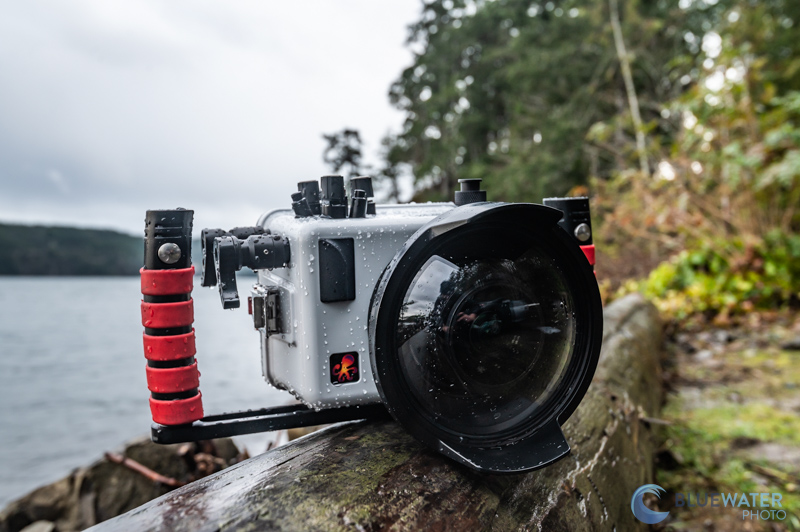 The Ikelite EOS R7 Underwater Housing offers an excellent value for only $1,195. It provides all the capabilities of the Canon R7 camera, and its snug fit ensures minimal air space for a compact housing. The housing comes with a shutter lever and an AF-on lever for ease of shooting and focusing, respectively. The knobs on the body give full control over aperture and shutter speed, while the Q menu makes it simple to access essential settings. The Ikelite Canon TTL adapter is also compatible with this housing, which works with Ikelite strobes to produce precise exposures.
Nauticam
The Nauticam Canon EOS R7 underwater housing is constructed from durable anodized aluminum and is an excellent choice. It is priced at $3163. We recommend pairing this housing with the Canon 18-45mm kit lens as it pairs well with the Nauticam WWL-1 for wide-angle shots and the Nauticam CMC-2 for macro shots. Additionally, bayonet mounts can be added to your arms to attach accessories to the housing.
Conclusions
The Canon R7 is a top-performing APS-C camera that delivers exceptional results for underwater photography. Despite being less expensive than high-end full-frame cameras, it performs almost as well and offers great value for money. We were impressed by its durability and ability to handle rough dives. Our images at high ISO were clean, sharp and had excellent detail. The camera's 4K/60p video was a pleasure to watch without any cropping.
We recommend the Canon R7 for photographers who seek professional-quality images and fast performance at an affordable price. Though the Canon R10 is a better value, the R7 is an excellent choice for those who want all the latest features and functions for just $500 more.
Overall, photography and videography are evolving, and it's encouraging to see that cameras are now handling autofocus and stabilization much better, leaving artists free to focus on design. With the Canon R7, you get all these features and more at a very reasonable price, making it an ideal choice for both amateur and professional photographers alike.
SUPPORT THE UNDERWATER PHOTOGRAPHY GUIDE:
The Best Service & Prices on u/w Photo Gear
Visit Bluewater Photo & Video for all your underwater photography and video gear. Click, or call the team at (310) 633-5052 for expert advice!
---
The Best Pricing, Service & Expert Advice to Book your Dive Trips
Bluewater Travel is your full-service scuba travel agency. Let our expert advisers plan and book your next dive vacation. Run by divers, for divers.
---