Sea & Sea YS-D3 Strobe Review
The Sea & Sea YS-D3 strobe features a redesigned, even beam, lightning-quick recycle times, a guide number of 33, and multiple new accessories
Underwater photography is all about lighting. Artificial light, often in the form of a strobe, is paramount in an artform where nature removes colors and light at depth. The Sea & Sea YS-D3 is an underwater strobe that can bring back the light and color you need to make your images pop. It is packed with new features, innovations, and accessories that make it stand out in a crowded field of underwater photographic lighting. In fact, the new YS-D3 might just overtake it's predecessor, the YS-D2J as the world's most popular strobe. It's not just a minor upgrade. The YS-D3 features a completely redesigned flash tube, much quicker recycle times, a better beam, new circuitry, and an awesome range of accessories including a snoot, dome diffuser, slave prism, and redesigned ball mount. It's clear to us at the Underwater Photography Guide that Sea & Sea saw a need for innovation in photographic lighting and responded with everything we asked for!
The Sea & Sea YS-D3 is the strobe of choice for both working professionals and enthusiast photographers that need a lot of power, quick recycle times, and a nice beam in a small package. It's a strobe that can fit in a carry on while traveling and still take a beating through surf. The YS-D3 is capable lighting up both macro and wide angle scenes - even bright sunballs or diffiult macro angles.
The staff at the Underwater Photography Guide were lucky enough to be some of the first to dive with the Sea & Sea YS-D3 Lightning. Our verdict? This strobe lives up to the name - it's lightning quick. With no recycle time at a quarter power and below, it's a game changer.
Availability: ORDER NOW at Bluewater Photo!
U.S. MSRP: $849.95
---

Support the Underwater Photography Guide by purchasing the Sea & Sea YS-D3 Strobe at Bluewater Photo:
Sea & Sea YS-D3 Underwater Strobe
Sea & Sea YS-D3 Accessories:
Sea & Sea YS-D3 Strobe Diagonal Ball Mount
---
Jump to Section
Sea & Sea YS-D3 Specifications | YS-D3 vs YS-D2J | YS-D3 Features
Sea & Sea YS-D3 Accessories | Who Should Buy? | Conclusion
---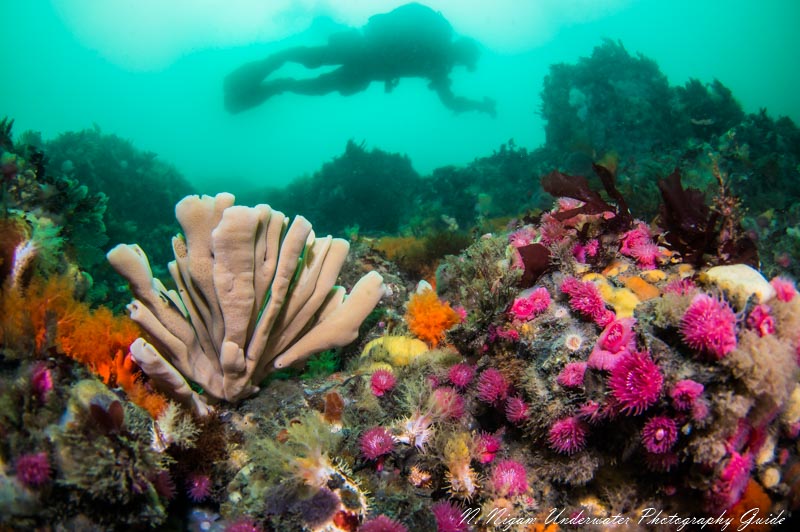 Sea & Sea YS-D3 Specifications
Guide Number (Land): 33
Beam Angle: 105 X 80 degrees (with no diffuser). 100 and 120 degree diffusers included with strobe. Optional 150 degree dome diffuser available.
Battery Life: 220 flashes with Ni-MH batteries (4X AA)
Recycle time: 1.7 seconds at full power, 0.6 seconds at half power, and virtually no recycle time at quarter power and below
Color temp: 5800 K. 5500K with diffuser
Depth rating: 100m/330 ft
Dimensions: 3.6 X 4.4. X5.8 inches
Weight: 610g/21.5 oz (above water), -20g/0.7 oz (underwater)
New aspherical troidal lens in flash tube - for a nice, even beam
New circuitry
Two stage signal - both visual and audible notification when strobe is ready to fire
Pre flash cancel mode
More powerful target light (4X more powerful than target light on YS-D2J strobe)
Auto Power Off
Over Pressure Relief Valve
DS-TTL II, Slave TTL, and Manual modes
Compatibility with 5-pin sync cord/N and fiber optic cables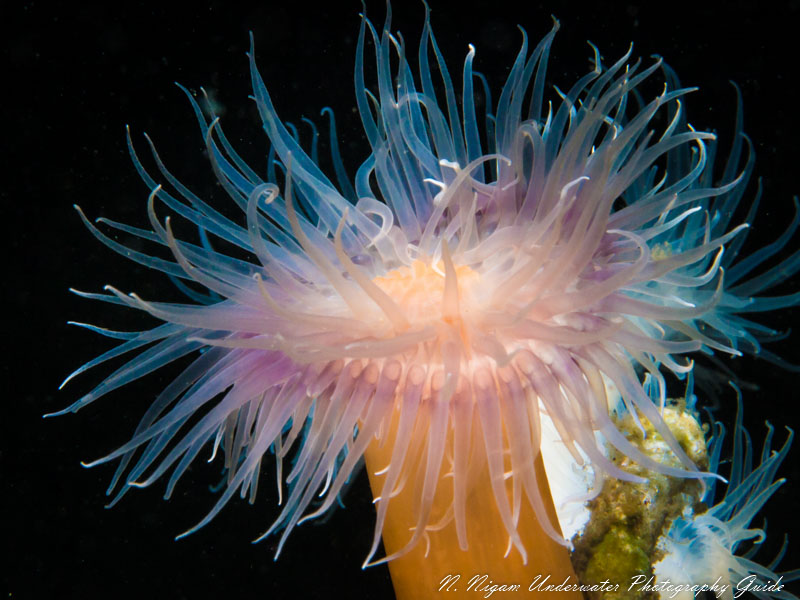 The Sea & Sea YS-D3 vs YS-D2J
People have the tendency to care only about power when considering a strobe. But power isn't everything. In fact, the YS-D3 has the same guide number as the YS-D2J, which is a rough indication of power. Despite no upgrade on this front, there have been enough improvements made on the YS-D3 where an upgrade from the YS-D2J is seriously beneficial.
The most important upgrade to the YS-D3 is the quicker recylcle time. At full power, it's actually just a tad slower than the YS-D2J (1.7 seconds vs 1.5 seconds). But at half power, the YS-D3 recycles in a mere 0.6 seconds. At a quarter power and below, the YS-D3 has virtually no recycle time! This is a huge benefit for anyone shooting quick, wide angle wildlife using burst modes. A strobe that can keep up and sync with a modern camera's high burst rates is revolutionary. This feature proves more beneficial in colder, darker water as a quarter power is not going to be enough for bright, mid-day tropical reef scenes.
The beam on the YS-D3 has been improved compared to the YS-D2J. The flash tube as been modified with an aspherical troidal lens. This makes the beam more even and without hotspots. We fount it to be a noticeably softer and more even beam than the YS-D2J. It's also just a tad cooler.
The targeting/model light on the YS-D3 is four times more powerful than the targeting light on the YS-D2J! Not only will this make focusing using the strobe more feasible, it will also help with targeting using the new snoot available for the YS-D3. The YS-D3 is a better choice as a back up light during a night dive. Many of our staff at UWPG are YS-D2J users and we are quite excited to have some brighter modeling lights on the YS-D3. It already proved useful as a back up light on one of our dives!
The ergonomics of the YS-D3 have been improved with larger knobs perfect for people with big hands and cold water divers with big gloves.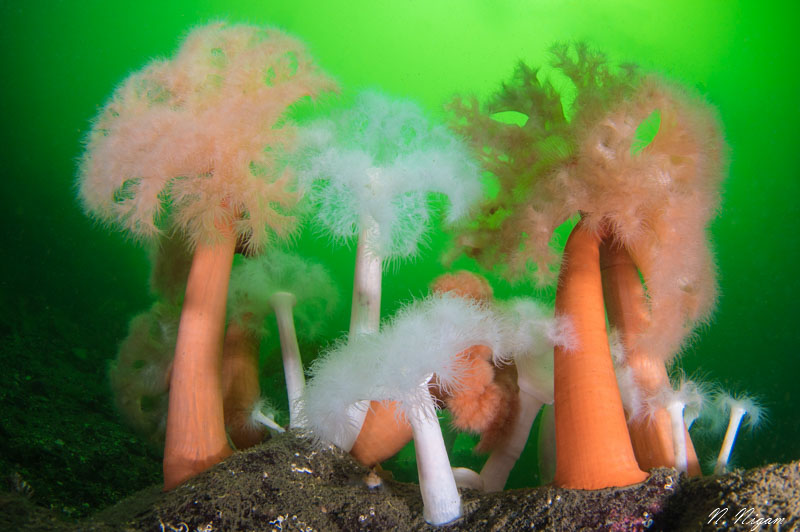 Sea & Sea YS-D3 Strobe Features
Build and Ergonomics
As with all Sea & Sea strobes, the YS-D3 is a durable, solid strobe. It's similar in size to the YS-D2J, and underwater it's even slightly positively buoyant! This is great for any photographers concerned about packing and diving light. With a guide number of 33 the YS-D3 is still very bright for its size - certainly enough for a professional. During our dives we felt that there was a noticeable improvement in weight an maneuverability.
The strobe's ergonomics have been improved with changes to its knobs and backlit panel. The knobs are larger and easier to use underwater. The backlit panel is perfect for shooting in environments with limited visibility. It's easy to see which mode you are in and which controls are lit.
The strobe has been designed with a new two-stage ready-to-file signal that is both auditory and visual. The signal will indicate when the strobe is ready to fire at guide number 22 and then when it's ready to fire at guide number 33.
The YS-D3 takes the same four AA batteries of it's predecessors. This makes it easy to find batteries in a pinch. For this strobe we recommend using rechargeable Eneloops.
Overall, we're a big fan of the new design! It's indeed more lightweight and ergonomic. We do feel, however, that the knobs are just a little plastic-y. Still very durable, and certainly easier to turn!
Strobe Beam Quality
The YS-D3's beam has seen some serious improvements from the YS-D2J. The addition of an aspherical optical troidal lens to the flash tube has created a nicer, more even dispersion area without hotspots. This was noticeable on our dives. We found our images to have a softer, more even beam - which actual took some getting used to. It's an improved aesthetic, but it can take a few shots to get used to the new look! Check out the wide angle image (above) of the coldwater reef scene. The strobe light is so subtle and natural, you almost can't tell that image was lit by a strobe!
The color temperature of the YS-D3 is just a little bit cooler than the YS-D2J (5800K vs 5600K respectively). Despite the small difference in temperature, we did notice our images were cooler than with the D2J. It depends on the photographer's preference as to whether or not this is a detriment or benefit.
With quicker recycling times at lower power, this strobe is perfect for photographers looking to shoot moving subjects that might be moving towards them. We expect the YS-D3 to be especially useful for photographing creatures like sharks and sea lions.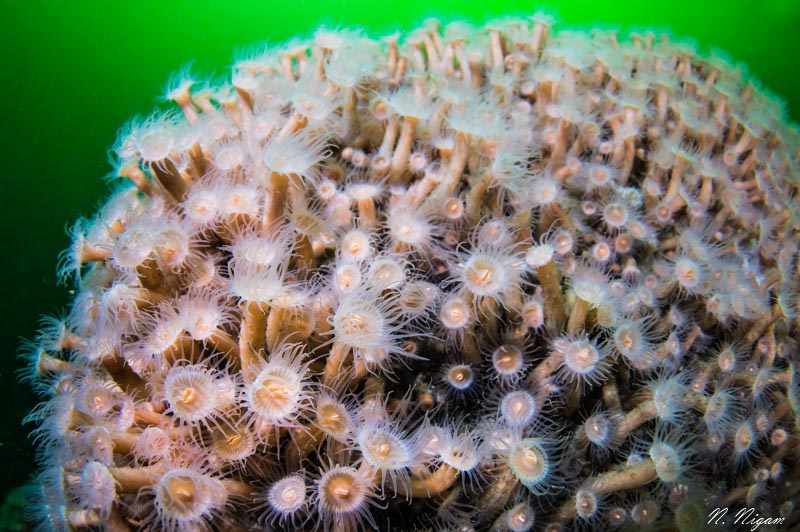 Shooting Modes
The Sea & Sea YS-D3 is equipped with Sea & Sea's accurate DS-TTL II shooting. TTL is a great strobe mode to use in situations where you need your strobe to meter the proper light quicker than you can. It's almost like "automatic" mode for your strobe. What makes TTL on the YS-D3 even better is that you can fine tune the TTL's exposure compensation with one of the dials. This makes it so that you can adjust the power brighter or darker, but it will expose similarly regardless of where your subject is positioned. We found the TTL to be about as accurate as shooting TTL with the YS-D2J. The exposure was accurate with the majority of the shots with some misses. That being said, we were shooting in very poor visibility with confusing lighting conditions. The TTL is certainly useable and helpful.
Manual mode on the YS-D3 is as it sounds. You can turn the GN/EV dial to your desired guide number and fine tune your adjustments by about 1/3rd of a stop.
The YS-D3 also has a slave function. When combined with a slave prism, you can trigger the YS-D3 from a distance with another light source. This is great for lighting large areas like wrecks, caves, and reef scenes.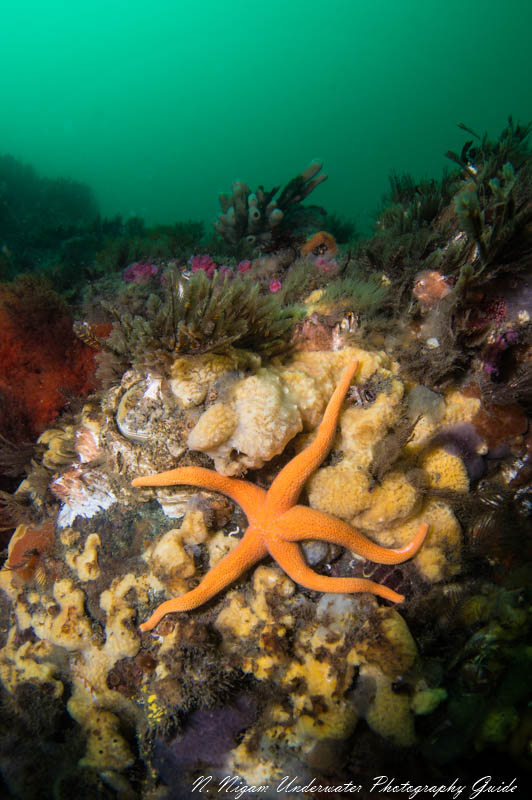 Targeting Light
The targeting/modeling light on the YS-D3 has seen a huge upgrade from the YS-D2J. The YS-D3 is equipped with 4 times the power in its targeting light which makes it an even more viable option as a backup light. The YS-D2J's targeting light could have definitely used some more power, so we are really excited to see this in the YS-D3. During our dives there were situations where the targeting light doubled as a focus light and dive light. It was most useful as a dive light as we forgot our primary lights. The targeting light can also be used as a focusing light, but it limits how much you can manuever and position the strobe.
Recycle Times & the "Lightning" Speed Test
Exceptionally quick recycle times make this strobe a must for any photographer that wants to truly take advantage of their camera's burst shooting function. With most strobes, if you shoot at any speed quicker than 1 frame per second, you'll start to notice that some shots are "dark" as you strobe takes time to recharge capacitors - that is, recycle. The YS-D3 features a recycle time of .6 seconds at half power and no recycle times at all at a quarter power and below! Even quarter power is plenty of light for many lighting situations - particularly deeper and darker waters or reflective fish like jacks and sharks.
We put the YS-D3's "Lightning" functionality to the test by taking it diving in quick, current heavy water and shooting a Nikon Z6 in an Ikelite housing in a high continuous burst mode of 5.5 frames per second. The photo below shows the results of the test. As you can see, during each frame in this single second, the exposure levels between frames was relatively even. Each frame was certainly useable. Please note that we edited the photos for color correction with the same settings in lightroom for each frame. However, the exposure was untouched.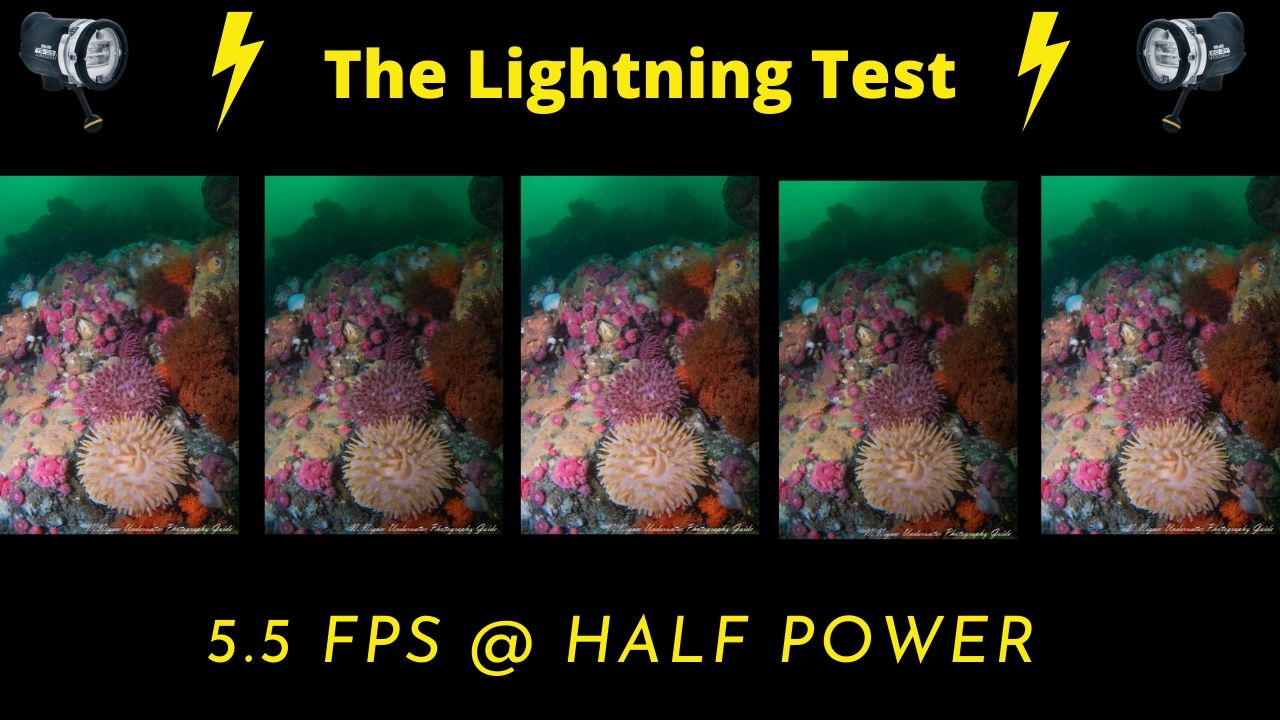 Sea & Sea YS-D3 Accessories
The innovation behind the YS-D3 is what makes the strobe so compelling. Sea & Sea is doing something unprecedented by offering a series accessories native to the brand as a direct response to trends in underwater photography. If you like black backgrounds and snoots when shooting macro, Sea & Sea has an answer for that. If you want softer wide angle shots, Sea & Sea's got somethign for that. Want to fire strobes from a distance for large back lit or creatively-lit reefs, caves, and wrecks? There's something for that!
Sea & Sea YS-D3 Snoot
That's right! Sea & Sea has designed a snoot specifically for the YS-D3!! Snoots allow photographers to limit the area of their beam for more creative, contrast-filled images. It's a great tool for isolating subjects and producing black backgrounds. The Sea & Sea snoot is special because it features a prism that concentrates the light from the YS-D3's targeting light, making it easy to move the target light over the subject and get the right shot every time.
We took this snoot diving in one of the best macro sites in the Pacific with lots and lots of nudibranchs. Overall, we loved it! It's certainly the most affordable snoot on the market for what it has to offer. The targeting light funnelled through the snoot's prism worked very well, in most conditions. However, it's not very bright so it's most useful in darker lighting situations and shooting into crevices. That being said, we were able to use it on a sunny day at 25 feet underwater below the kelp. It works by positioning the ring of light over the subject and pressing the shutter button. As long as the ring of light is on the subject, it will be properly exposured in the photo. This solves the issue of targeting the subject with the snoot - the hardest aspect of snoot photography.
The beam quality from the snoot is very nice. That's because it has a built in diffuser in front of the opening. Combined with the YS-D3's slightly cooler and softer beam, it makes for nice, natural photos. The light quality doesn't have quite so much contrast and harshness as you might see from other snoots. Because the opening on the YS-D3 snoot is slightly larger than other snoots, it also doesn't have as much of a spotlight effect. This means your subjects will have black backgrounds but they won't have a discernable ring around them like you might see in other snoot photos. We personally like this look better. Plus, it makes the snoot a great option for portraits of larger animals and even wide angle photos!
Sea & Sea YS-D3 Snoot Available Now at Bluewater Photo!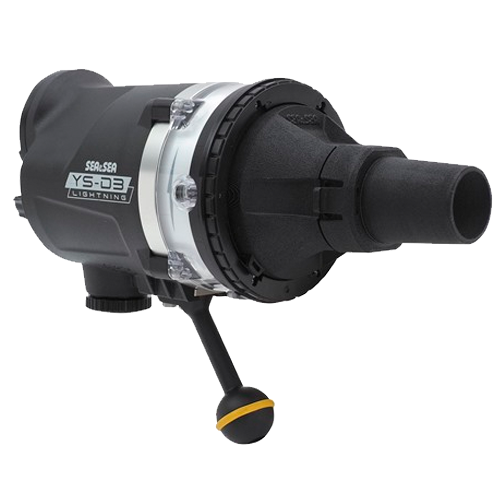 Sample YS-D3 Snoot Photos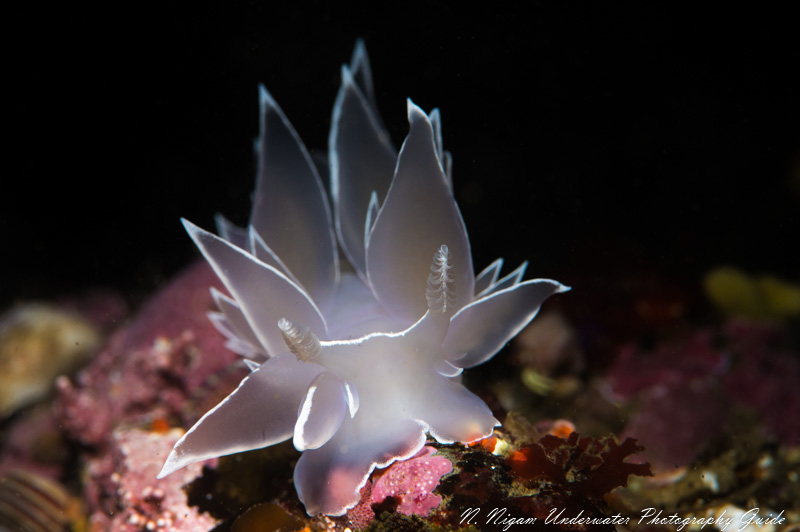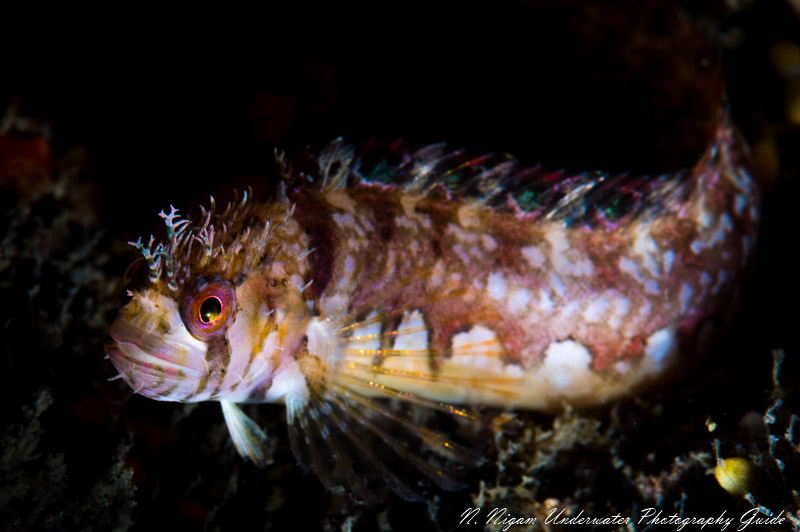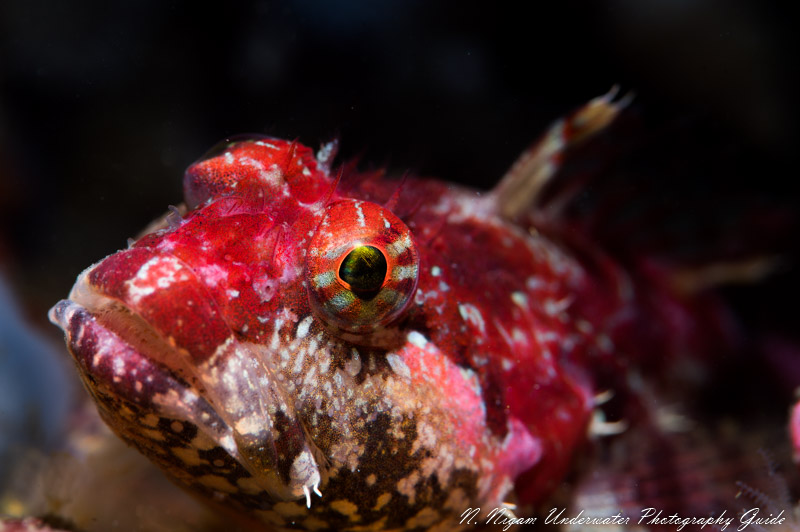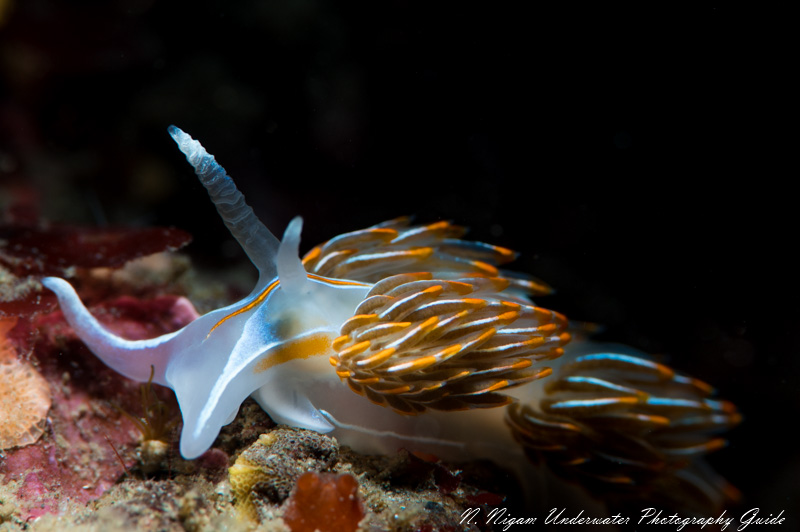 Dome diffusers are great for producing ultra-wide, soft, even beams of light. They're especially useful when shooting with an ultra-wide lens such as a fisheye. Sea & Sea has designed a dome diffuser for the YS-D3 that increases the beam angle to 170 X 150 degrees. The diffuser reduces the guide number by 1.5 stops of exposure.
Sea & Sea YS-D3 Dome Diffuser Available Now at Bluewater Photo!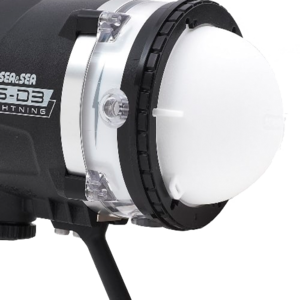 The slave prism for the YS-D3 allows the strobe to be triggered from a distance without cords or cables. It captures light from another strobe, syncs, and fires. The makes it a great tool for backlighting scenes or illuminating large seascapes like caves, wrecks, and reefs.
Sea & Sea YS-D3 Slave Prism Available Now at Bluewater Photo!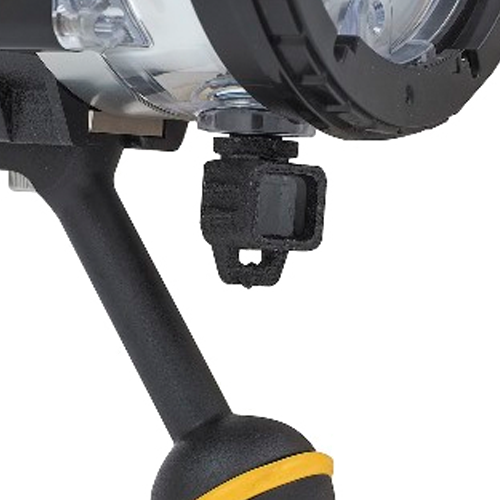 The diagonal ball mount designed for the YS-D3 has a 35 degree inclination in order to help minimize interference between the sync cord and ball mount. It naturally moves the strobe back which can help when shooting wide angle scenes.
Sea & Sea YS-D3 Diagonal Ball Mount Available Now at Bluewater Photo!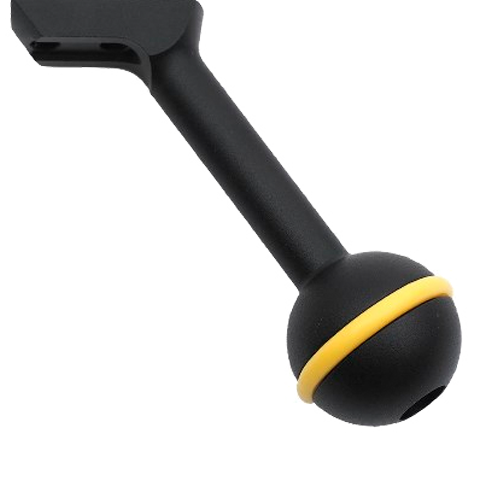 Who Should Buy this Strobe?
As Sea & Sea's best strobe currently on the market, the Sea & Sea YS-D3 is clearly designed to be a workhorse strobe for professional underwater photographers and enthusiastic amateurs. With a lot of power and quick recycling speeds packed into a small package, it's perfect for photography in any underwater situation and travel to any location. Improved ergonomics and simplicity also yield to beginner underwater shooters - especially to those who don't want to bother upgrading in the future.
We think the YS-D3 is also a worthy upgrade for YS-D2J users - especially for those who want to take advantage of the multitude of inexpensive, high-quality accessories. We are especially excited to see just how the snoot, dome diffuser, and slave prism will perform.
Finally, we recommend this strobe to photographers that want to take advantage of it's unique, quick recycling times when shooting burst photography.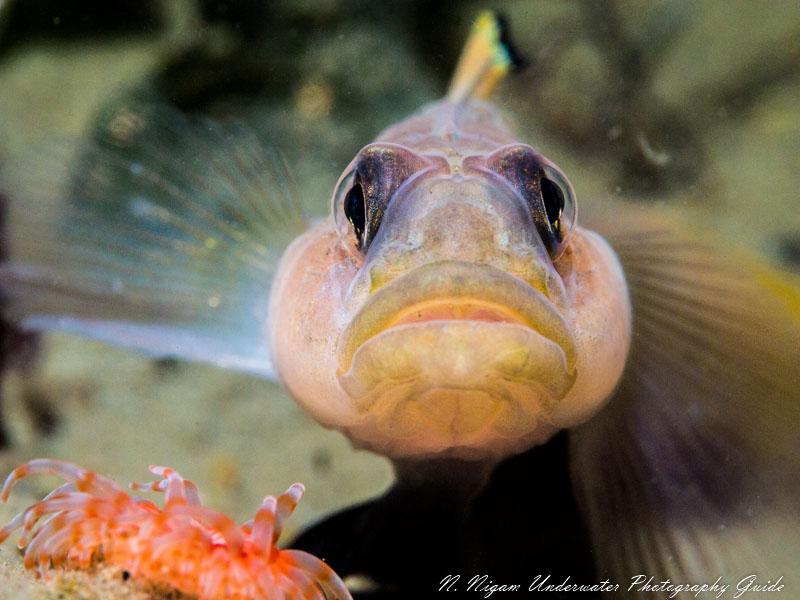 Conclusion
After countless dives with the Sea & Sea YS-D3, we believe this strobe is the top strobe available in the "compact" professional strobe category. It has the quickest recycle time, best beam quality, and most accessories for any strobe in its class. The recycle speeds under half power are truly astonishing. For years the average underwater photographer has been limited by their strobe when it came to continuous burst shooting. Now it's possible to be limited by your camera. One might argue this frees up even more of the camera market to underwater shooting. The beam quality of the YS-D3 is certainly different from it's predecessor. Both softer and slightly cooler light could be viewed as compelling qualities, but it's up to the photographer to decide if they like the look. Finally, the accessories work wonderfully well, especially considering their affordable price points. We loved the snoot and could not believe the price that Bluewater Photo has it listed for. The results are well worth it. Overall, the YS-D3 is going to be the strobe of choice many underwater photographers over the next few years.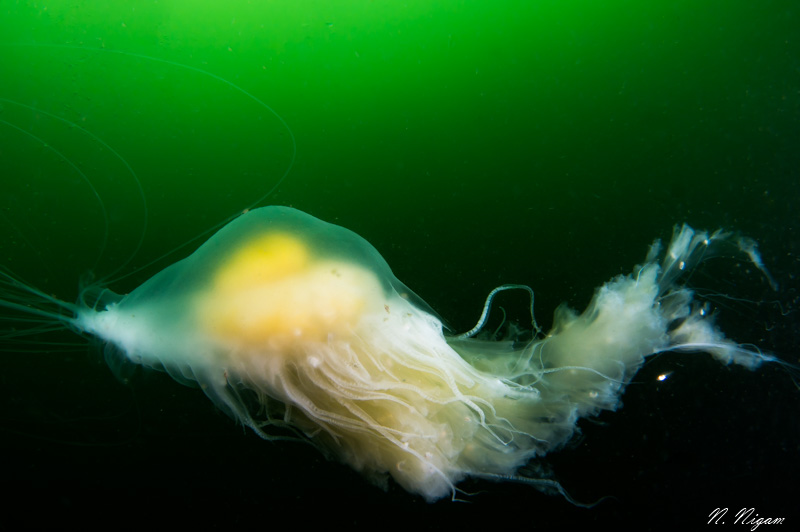 SUPPORT THE UNDERWATER PHOTOGRAPHY GUIDE:
The Best Service & Prices on u/w Photo Gear
Visit Bluewater Photo & Video for all your underwater photography and video gear. Click, or call the team at (310) 633-5052 for expert advice!
---
The Best Pricing, Service & Expert Advice to Book your Dive Trips
Bluewater Travel is your full-service scuba travel agency. Let our expert advisers plan and book your next dive vacation. Run by divers, for divers.
---