Striped Marlin and Baitballs in Mexico - An Adrenaline Rush
An interview about exciting striped marlin baitball encounters with renowned underwater photographer Franco Banfi.
Editor's note: Franco Banfi leads wildlife photo trips all over the world. I recently went on a sperm whale trip with him (you can read an interview I previously did with him about sperm whales here), and we took some time to talk about one of his favourite trips, swimming with striped marlin and baitballs in Mexico. It's always fun hearing his stories and seeing his photos - I hope you enjoy these as well! -Bryan Chu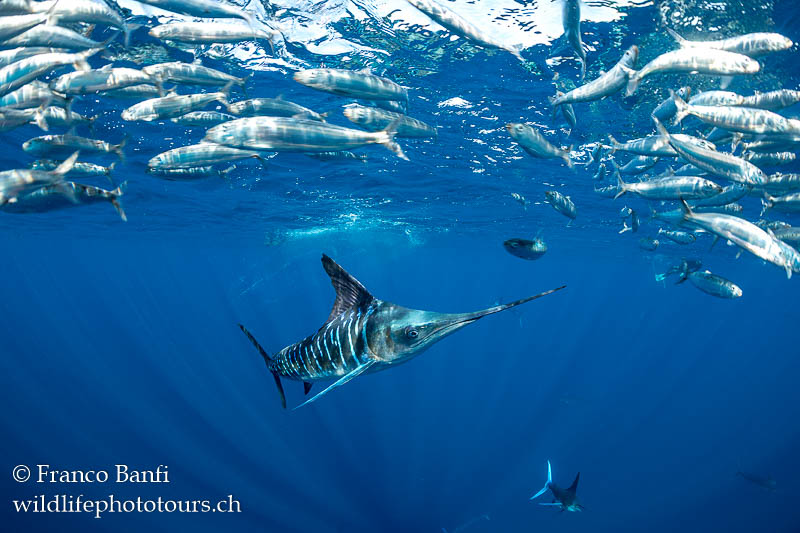 Bryan: What really excites you about this encounter in particular, and got you to start running this trip?
Franco: For many years I dove around the world, photographing nice reefs and colorful fish. In the past few years I started to be more interested in blue water and pelagic animals. It's another kind of photography, mostly free-diving. With the marlins there is a lot of action, and pure adrenaline. It can happen that you find yourself in the middle of the baitball with a few marlins swimming very fast and close to you! And you have to be fast to catch the action!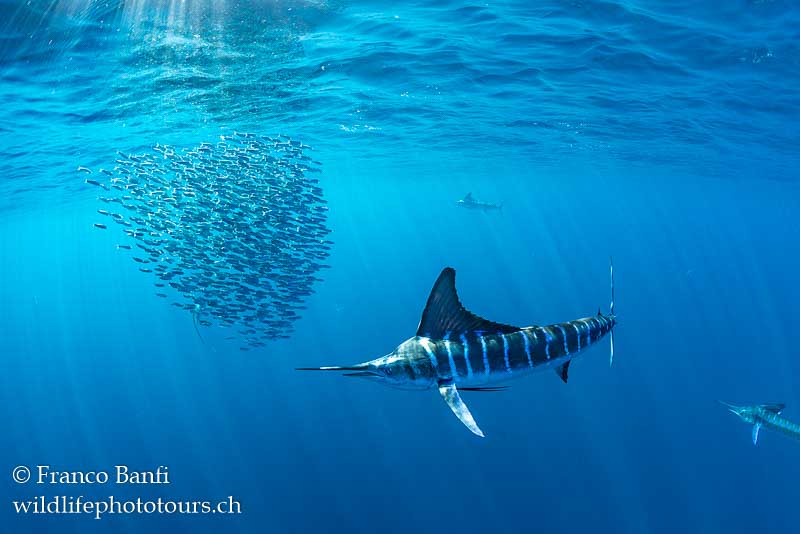 Bryan: What's it like being in the water with a bunch of huge predators feeding on a baitball?
Franco: As I mentioned before it can be very exciting. When the marlins start to feed on the sardines, they are excited and very fast. The first time you swim with these predators you watch but you don't go to close, it's a little frightening. But, after a while you start to go closer and closer, and at the end you find yourself in the middle of the action, the sardines swimming like crazy to survive and the marlins following them and speeding up to catch their prey.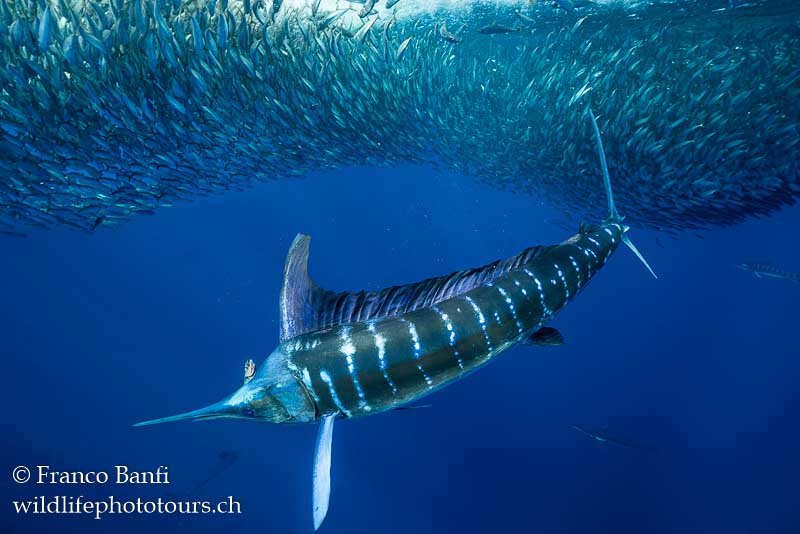 Bryan: What does a "normal" day swimming with marlins look like?
Franco: After breakfast we go to the pier where we load the "panga" and we leave to the sea. We have to cross Magdalena Bay and then we go out to the open ocean, where we cruise for another 10-20 miles, depending on where the marlins are. When we arrive at the hot spot we start to look for the baitball. At this point every day is different; some days we find the baitball immediately, some days it takes longer.
We spend all day at sea and we come back to land late afternoon. We go back to our hotel to relax, shower, review images, have an aperitive and then dinner.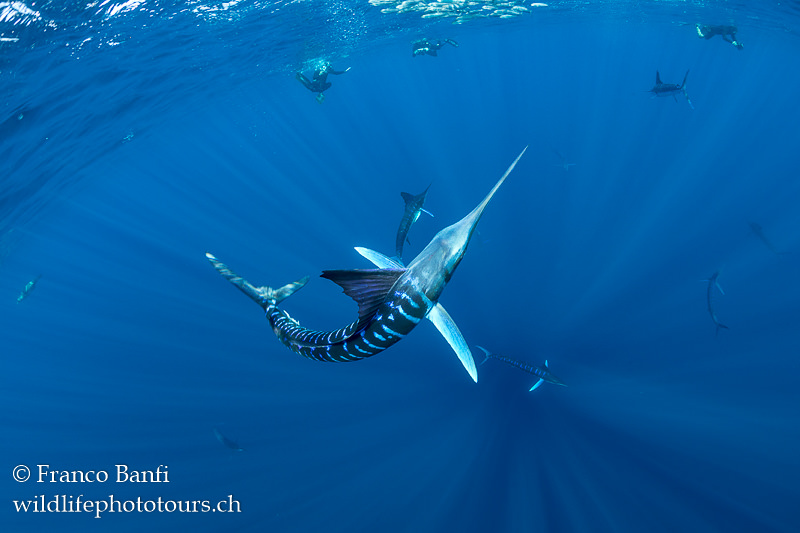 Bryan: What are some cool facts about striped marlin?
Franco: The striped marlin has the capability of swimming large distances and reaching speeds of up to 80 km/h; it is the third fastest fish in the ocean, after the blue marlin (130 km/h) and the sailfish (110 km/h). It does this via the anatomy of its body and its elongated tail lobes, which reach undisturbed water beyond the turbulence created by its body.
The striped marlin is an apex predator of the open ocean and a highly migratory pelagic species, broadly distributed throughout tropical, subtropical, and temperate waters. It shows considerable variation in spatial distribution, as a consequence of habitat preference. Striped marlin are found in more temperate waters than other billfishes, such as the blue marlin.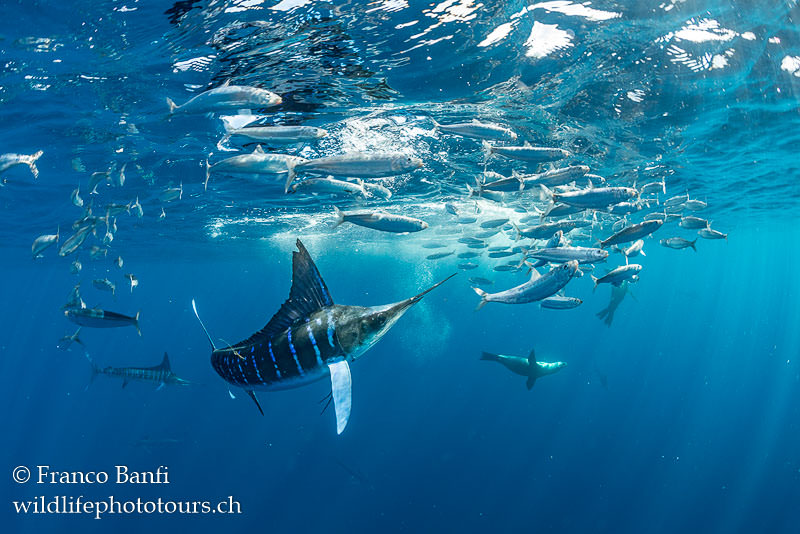 Bryan: What other predators do you get to see on these trips?
Franco: Usually around the baitball there are sea lions that hunt the sardines as well. Somebody has seen killer whales around but not really close to the sardines. If you spend enough time, I guess eventually you can see a whale feeding on the sardines, but although I would like it very much, it has never happened to me!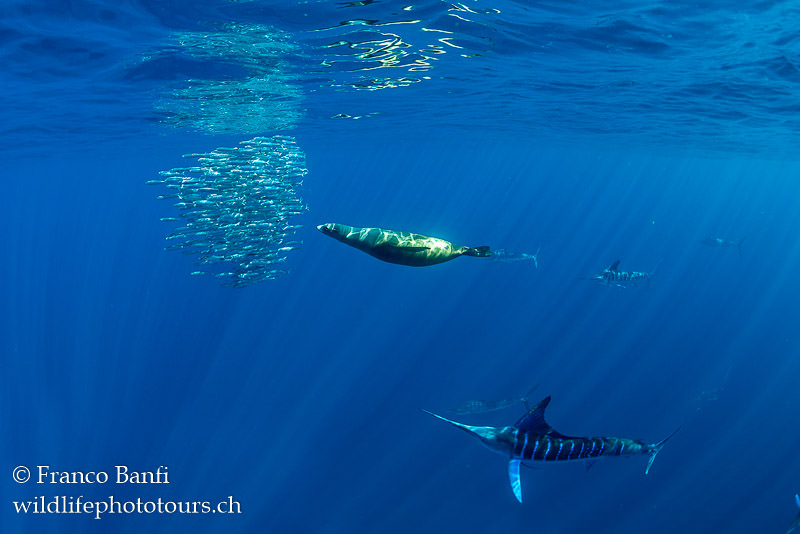 Bryan: Do you get to see predators ever fighting, or cooperating with each other?
Franco: What I have observed is at the beginning of the baitball the marlins are really very excited and swim like crazy. Then, after they have eaten some fish they start to slow down and they are more precise in catching the sardines. When the sealions are close to the baitball, at the beginning they don't feed, but just they watch the action. Then, once the marlins to slow down, they start to hunt too.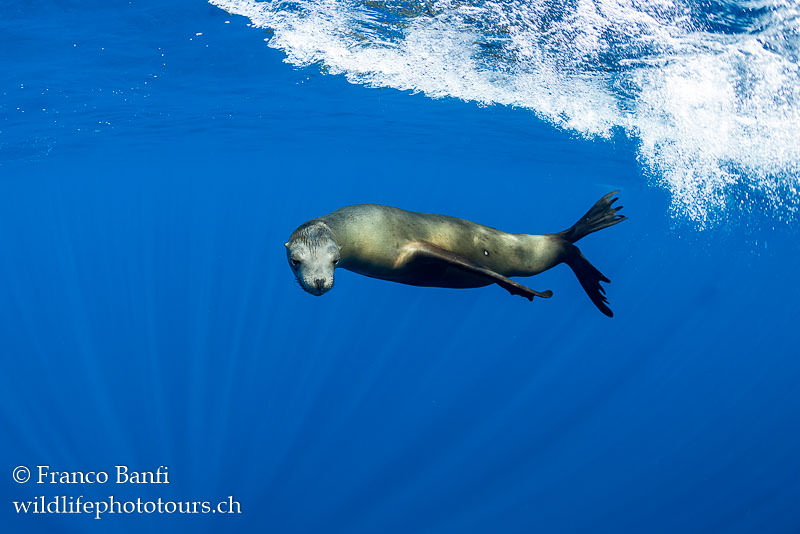 Bryan: What's the most surprising thing you've seen snorkeling with marlin?
Franco: A seahorse floating in the middle of the ocean!!!
Bryan: How long does baitball action last for?
Franco: There are no rules... it depends on the size of the baitball and the predators. Sometime it can last for 15 minutes, sometime hours! For us to photograph it's important that the baitball is stable and it doesn't move too fast. If the baitball is moving too fast, you get into the water, the sardines swim away, you are not able to follow and then you have to go back on the boat and try to find the baitball again.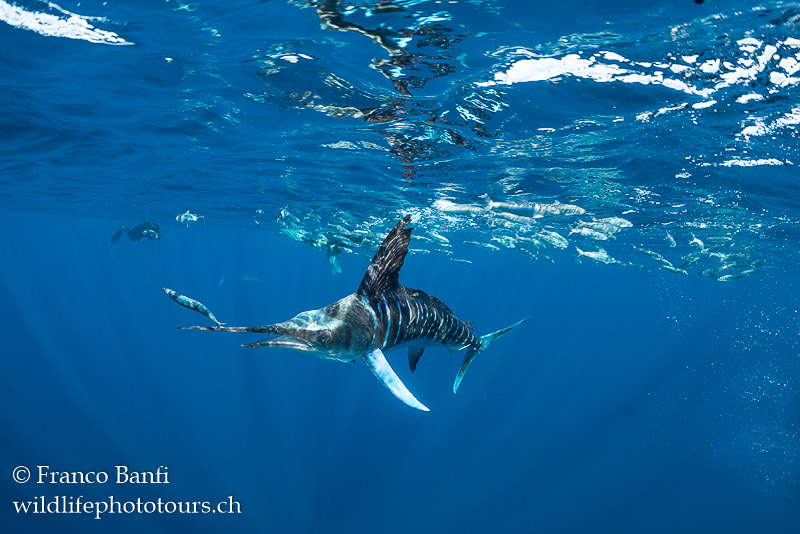 Bryan: Any close calls?
Franco: So far nothing bad has happened, though sometimes the marlins dart very close. But I think they have very good eyes, they are precise and focus on the sardines... of course you never know. They can make mistakes! I hope not.
Bryan: What camera gear do you use/recommend for people?
Franco: I have used a Canon 5D MKIV and now a Sony A7RIII, with a fisheye lens, both in Isotta underwater housings. I find these setups very nice and compact for this kind of photography. But you can use any camera, also smaller cameras, the important thing is to use a wide lens. Most shots are done with ambient light, no strobes.
The faster the autofocus and the shutter speed, the better result you'll get. Though you can also use an action camera like the GoPro!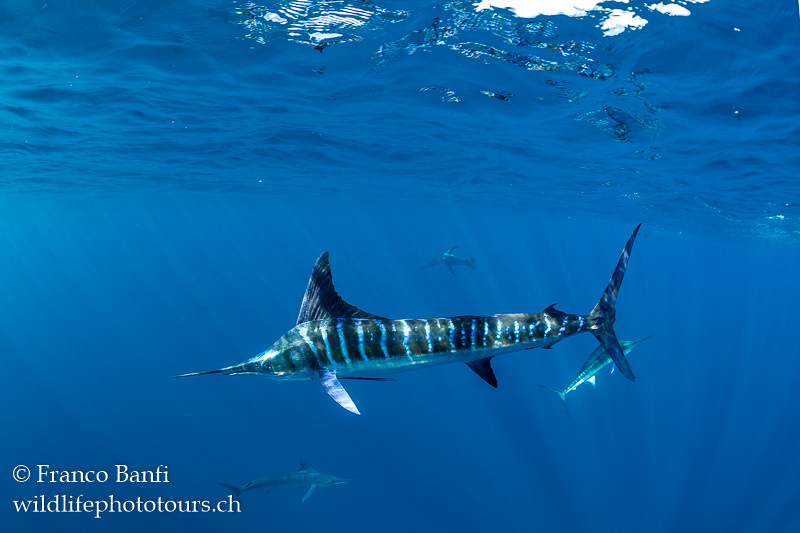 Bryan: What are your top photography tips for capturing the experience?
Franco: I use a camera with a wide angle or fisheye lens, these lenses have lot of depth of field and the focus is not as critical as it would be on a longer lens. I check the light on the first day and I set my camera according it, around 1/500, f/8 and ISO automatic. This gives me around ISO 800 normally. I use continuous shooting to get more chances and to get the right light.
I use the multi focus area 1/3, I move it right or left depending on the situation, it's quite easy and fast. Of course some of the pictures I have taken are not in focus, especially when you try to follow the action and you move the camera fast. Some of the pictures are also shot without watching in the viewfinder, just pointing the camera in the right direction. When the action is very fast you don't have time to point and focus on the subject.
(Editor's note: check out this tutorial for tips on using semi-automatic modes for ambient light photography, and this sea lion photography tutorial for tips on focusing your camera on really fast moving subjects).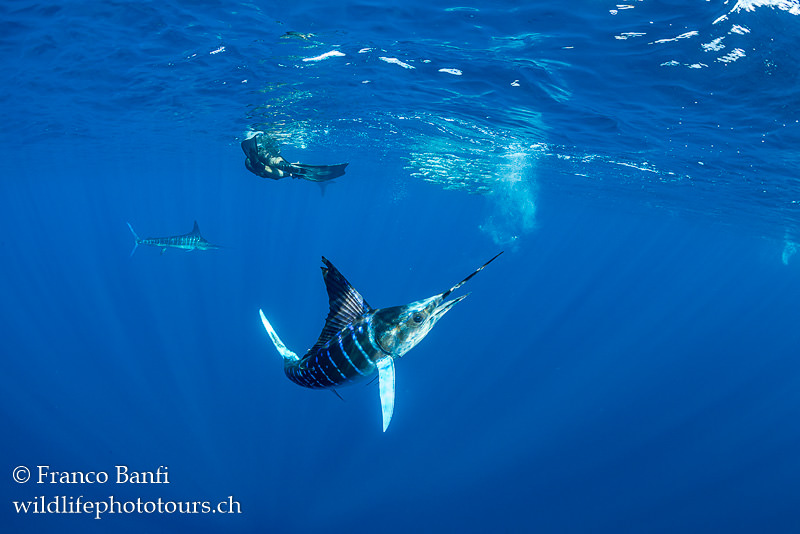 Bryan: What time of year do you go, and why?
Franco: End of October to beginning of November is the best time for me, for weather conditions as well as animal quantity and activity.
Bryan: What are the conditions like? What level of fitness do you need?
Franco: Everybody can join this trip. You don't need a special fitness level; of course if you are a fit, good swimmer you can reach the baitball even when it moves quickly. And you have to be comfortable to stay out at sea the all day. I limit my group sizes to 5 participants plus the guides.
Bryan: Cool, thank you so much for sharing your awesome photos and great stories! Where can people find out more information about your trips and see more photos?
Franco: No problem. If people want more info about my tours they can email me at tour@banfi.ch or check out my tours and photos at www.wildlifephototours.ch!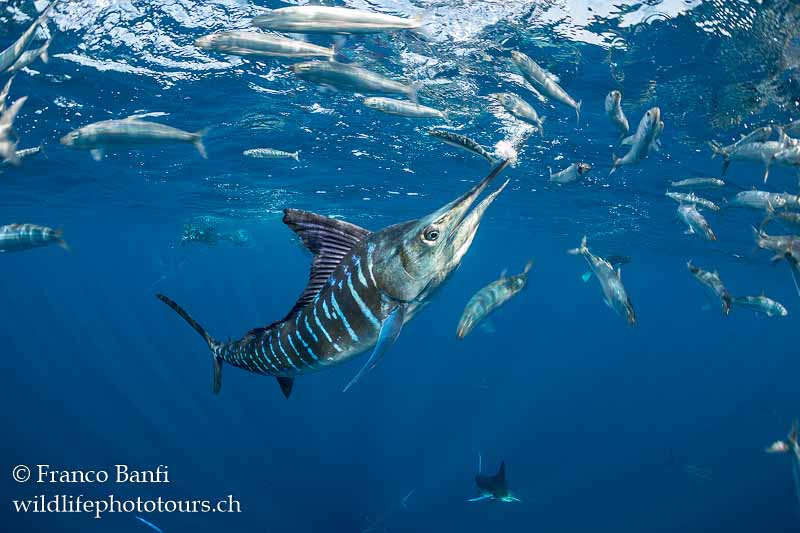 SUPPORT THE UNDERWATER PHOTOGRAPHY GUIDE:
The Best Service & Prices on u/w Photo Gear
Visit Bluewater Photo & Video for all your underwater photography and video gear. Click, or call the team at (310) 633-5052 for expert advice!
---
The Best Pricing, Service & Expert Advice to Book your Dive Trips
Bluewater Travel is your full-service scuba travel agency. Let our expert advisers plan and book your next dive vacation. Run by divers, for divers.
---