Sony a6400 Underwater Video
Sony a6400 4K underwater video featuring marine life of the Pacific Northwest
When I first entered the chilly waters of Whidbey Island, Washington, Sony a6400 in hand, I had one mission above all else – to capture some 4K underwater video. I have to admit, I'm no Spielberg when it comes to videography. But the specs sheet for the Sony a6400 make it one of the top cameras for underwater video, and I was determined to see what I could do. I have to say, I wasn't disappointed.
The Story Behind the Video
This video was taken over the course of seven dives in the Pacific Northwest during a period of incredibly calm tides. Because the tides were so good, I was able to visit some of the best sites in the region that normally would be inaccessible due to strong currents. These sites have a plethora of invertebrate life that thrive on nutrients brought by currents that can reach up to 14 knots! Currents drive not only the life in the Puget Sounds but the diving. Because all the diving I do is from shore, I must time my dives with the tides so that I only dive on slack. This can make for a wild and difficult ride when shooting video if you don't get the timing quite right.
You'll notice that many of the clips in the video feature large walls covered with a rainbow blanket of invertebrates – especially these anemones. These sites off of Whidbey Island, Washington were the most interesting to shoot, and I tried to capture as much color as I could with by Venom 60 RGB video light and Symbiosis SS2 strobe. When panning, I had to be careful not to move too quickly in the current. Otherwise, I needed to find a good spot to anchor myself and position my lights for interesting angles with good shadows.
The wolf eels in the beginning of the video were also a joy to shoot. Many of us local divers know some sites in the Tacoma, Washington area that harbor a number of very friendly wolf eels. Wolf eels are a little like cats. They're cautious, but sometimes they're curious and might come out to let you play. On the day I shot this video, they were pretty happy to come out and ogle at the divers that were ogling them. Their quick movements made for interesting video. The orangish wolf eel is a sub adult – likely a female. The larger gray wolf eel is a large male that was going back into its den to join its female mate.
The macro clips were the most difficult but rewarding clips to capture. The a6400 is truly a marvel when it comes to capturing details in video. This is especially apparent when you look at the details of the eyes and skin in the macro clips of the sculpin and octopus. Although autofocus was a little more finicky in macro clips, I still managed to get some amazing video of a small red octopus traveling down a deep, muddy slope on a night dive with almost no visibility. Although it wasn't the best diving conditions, I was able to make use of the situation.
Be sure to check out our full Sony a6400 underwater review
See below for our Sony a6400 video review.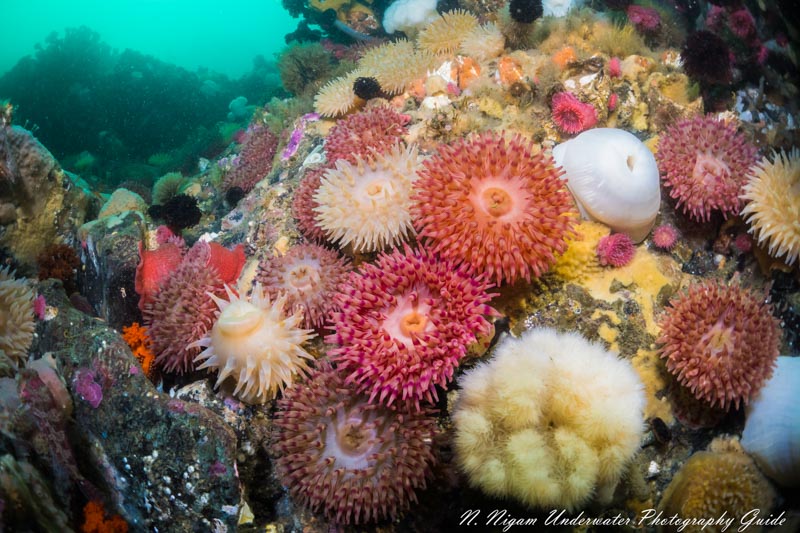 Quick Video Specs
• 4K video @ 30 fps – oversampled from 6K
• No 4K crop or pixel binning
• 1080p video @ 120fps
• Improved Color Rendering
• Latest BIONZ X processor
• Real-time autofocus tracking
• Animal eye autofocus tracking
• Can now shoot video with Hybrid Log Gamma (HLG), S-Log2, or S-Log3 picture profiles for HDR-ready footage
• No video recording time limit
Sony a6400 Underwater Video Performance
Build and Ergonomics
Taking underwater video with the Sony a6400 is like taking video with a device a couple sizes up from the physical size of a GoPro Hero 7 but ten steps up in quality. As we've mentioned in our review of the Sony a6400, it is one of the smallest, most streamlined APS-C sensor cameras out there. In fact, it's smaller than most mirrorless cameras, period. This made it great for swimming through currents, taking video in tight corners, and my arms didn't get tired after a day of diving.
Underwater video functions are very intuitive. On all available housings, you can take video at any time, with the simple press of a button. However, this will put you in manual video mode, so be prepared to adjust your exposure settings accordingly. Otherwise, turning the mode dial eventually brings you to video mode, that has more control than if you pressed the record button – with options to shoot in shutter priority, aperture priority, program mode and manual. Because conditions changed quickly at the sites I was diving, I shot mostly in program and aperture priority modes. The a6400's metering was spot on and I never had issues with exposure.
Video Quality
Video quality is really where the Sony a6400 stands out as camera. And in my opinion video quality is what really matters. Yes, many cameras can take the same 4K resolution, but people often mistake resolution for detail. The reason the Sony a6400 has such amazing video quality has to do with the BIONZ X processor. Many other manufacturers have weaker processors when it comes to being able to handle the substantial amounts of data that comes with 4K video. These manufacturers will not use every pixel on the camera's sensor to produce 4K video. Instead, they reduce the demand for processing power through methods like pixel binning and cropping.
The a6400, on the other hand, uses every pixel on its sensor when shooting video, and essentially records a 6K video. Then, it downsamples the 6K video clip to a 4K video. This results in an ultra-detailed image, more so than what most modern 4K cameras could over. In fact, the Sony a6400 is even better than some full-frame cameras when it comes to video for this reason. The Canon EOS R, for instance, crops in 4K mode to a sensor size that is even smaller than the a6400.
When I took this camera underwater, I could not believe the level of detail I was seeing in my video. The smallest tentacles on the tiniest anemones and even the pigments on the skin of some of the fish I was shooting came out in the video better than in real life! You can really see this in the opening clip of the video and the shots of the anemone wall. The dynamic range performance was excellent with shadows and highlights rendering a lot of detail. This made post processing and color grading a breeze – even though I wasn't shooting in a Log profile.
White Balance and Color Rendering
One major improvement that differentiates the a6400 from the Sony a6300 and a6500 is the color rendering. Sony has always had a little bit of a problem with its JPG and video color rendering. But recently, Sony has finally taken the initiative to change this, and they've really improved their "color science". I found the colors and white balance on the Sony a6400 to be almost as good as Canon and Nikon. In most situations it performed great. However, there were instances – like in the wolf eel shot and the opening clip – where the color could have been a little more accurate. In these cases, I used a little color grading to fix the colors.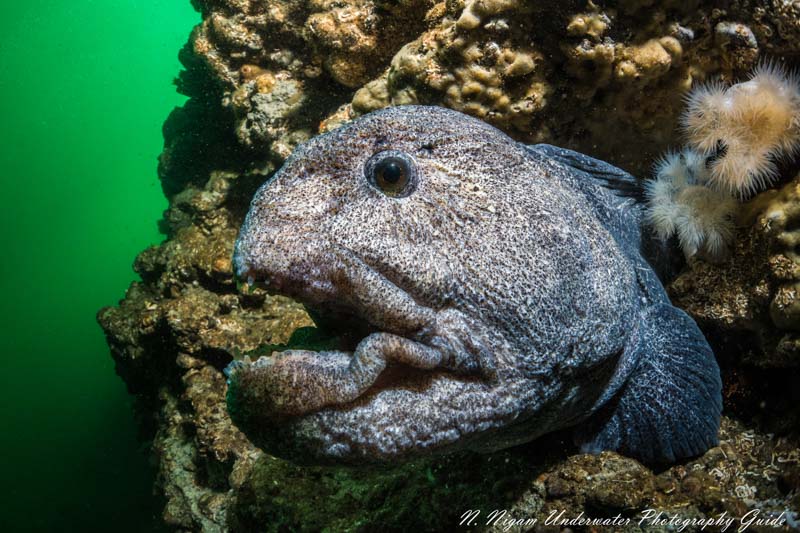 Image Stabilization and Rolling Shutter
Image stabilization and rolling shutter is where the Sony a6400 really takes a hit for video. There is no in-body image-stabilization, though it is available on the Sony a6500. Rolling shutter can also be an issue if there's a lot of movement in your video. This presented a small issue for me when I was shooting swimming wolf eels and panning over wall scenes. I had to really slow everything down in post to make sure the video wasn't too shaky. For some underwater videographers this could be a deal breaker. But honestly, for the price point there aren't really cameras that can offer this kind of video quality and stabilization.
Autofocus
Overall, I found the autofocus for video to be excellent. As you can see in the wide shots, the camera had no issues finding focus. When it came to macro video, however, the Sony 50mm f/2.8 macro lens' focus was a little wobbly. This can be seen in the final shot of the octopus.
When it came to the new animal eye AF system, I was really happy. It didn't work all the time, but when it did, it was spot on. You can see just how well it worked in the last video clip with the octopus.
Lighting underwater video with the Sony a6400 was a breeze because I had the right tools for the situation. For most wide scenes I used the iTorch Venom 60 RGB video light which features 6,000 lumens and multiple light modes – including some fun rainbow modes that I didn't feature in the video. I really enjoyed the beam angle on power of this light. All I needed was one to make the video. For macro video, I was able to use the iDiveSite Symbiosis SS-2 strobe and video light, in between shooting still photos. The video light on the SS-2 strobe is less powerful, but it's amazing nonetheless. It was perfect because I could shoot a bunch of photos of an interesting subject, press the record button and get professional quality video at the same time. Of course, there are plenty of other video light options to choose from, but this is what worked for me.
Sony a6400 vs the Panasonic GH5 for Underwater Video
In recent years, the Panasonic GH5 has been one of the world's leading interchangeable lens cameras for video. The Sony a6400 has proved to be a major contender for the title of best mid-budget underwater video camera, perhaps surpassing the GH5 in many ways. Which camera is better? It's hard to say. It really comes down to what you value in a video camera.
Sony a6400 advantages over the Panasonic GH5:
4K video on the Sony a6400 is created by downsampling from 6K video using the full APS-C sensor. This means the image quality is always going to be better than a four thirds sensor camera like the GH5. The video quality is also better than the Canon EOS R 4K video because the EOS R has such a large 4K crop factor
There is less noise in the Sony a6400 video than the GH5 (i.e., better ISO performance)
There is much better autofocus is in the Sony a6400 than the Panasonic GH5
The a6400 has improved in its color rendering compared to the a6300. It can now compete with the Panasonic GH5 when it comes to color.
Panasonic GH5 advantages over the Sony a6400:
The GH5 performs better in rolling shutter tests
The GH5 can capture 4K @ 60 fps instead of 30 fps
The GH5 has in body image stabilization
External Monitor Compatability and Log Picture Profiles
Both cameras have compatability with an external monitor. The GH5 has support for HDMI; the Sony a6400 has a mini HDMI port.
Neither camera offers RAW video recording. If you're interested in RAW recording, the Nikon Z6 is a great option.
Both cameras offer a series of Log picture profiles, including hybrid log gamma. Each has its set of advantages and disadvantages. It's up to the videographer to determine which one they like to process with.
Verdict? The Panasonic GH5 is a few inches ahead for any new underwater videographer just getting serious about underwater video. Because underwater 3D environments have so much motion, in-body stabilization is huge. The GH5 has great stabilization as well as the capability of capturing video at 60 fps. It's also the better option if you are capturing video of quick moving subjects like schools of fish. The Sony a6400 is going to be a better option for macro subjects and seasoned videographers who are used to going to great lengths to keep their video still. The image quality is better and more details come out in the video, so if you're looking for detail, go with the Sony a6400.
Equipment Links
Because I took a lot of video over the course of seven dives, I ended up using a lot of different equipment. Here are some links to the equipment I used:
Housings:
Check out the Bluewater Sony a6400 Underwater Housings guide for housing options
Lenses:
• Fantasea UWL-09F wet wide lens
Lights
• iTorch Venom 60 RGB video light
• iDiveSite Symbiosis SS-2 strobe and video light
Conclusion
The Sony a6400 is perhaps my favorite camera I've shot when it comes to underwater video – and I've shot a good number of cameras. It's the most intuitive camera for video on the market with extremely high video quality. It's also extremely compact with excellent underwater housing options and lenses. A lack of in-body image stabilization and issues with rolling shutter are a bit of a drawback. But for this price point, you won't get anything better.
SUPPORT THE UNDERWATER PHOTOGRAPHY GUIDE:
The Best Service & Prices on u/w Photo Gear
Visit Bluewater Photo & Video for all your underwater photography and video gear. Click, or call the team at (310) 633-5052 for expert advice!
---
The Best Pricing, Service & Expert Advice to Book your Dive Trips
Bluewater Travel is your full-service scuba travel agency. Let our expert advisers plan and book your next dive vacation. Run by divers, for divers.
---