Underwater Strobe Positions
Strobe positions for macro & wide-angle underwater photography
Some people are constantly changing their strobe positions. I fall into that category. I have other friends, excellent photographers, who never change their strobes, always leaving them in one position. There is no correct strobe position, it all depends on what you are trying to accomplish.
Here's some examples and tips of strobe positions that I have used. Since I'm never shooting in the clearest of water I'm always aware of the possibility of backscatter.
Looking for Todd Winner's article on shooting wide-angle with strobes? Click here
Quick Links
Strobe Positions for Macro Strobe Positions for Wide Angle
Strobe Position with a single strobe
Strobe buying guide Z240 review Ys110 review
No more backscatter No more hotspots Diffusers
Strobe arm length
The best solution is to use 2 strobe arms on each side. The arm connected to the housing should be 5-6 inches, and the arm connected to the strobe should be 8-9 inches long. This gives you maximum flexibility for macro, wide-angle, and CFWA underwater photography.
Strobe position diagrams for wide-angle
If you are using a single strobe, see the strobe diagrams here (registered users only).
Here's a position (photo above) for shooting with a 10mm fisheye lens. the strobes are pulled back and pointed outwards. However, if you are too close to your subject, you may get a dark area in the center. pull the strobes in closer (keeping them back and pointed out) to help alleviate this, or get a third strobe.
When using the Tokina 10-17mm fisheye lens, sometimes I close to the dome port at 17mm to photograph a subject. For this kind of photograph, it can be difficult to light the area directly in front of the dome port. I pull my strobes back even more, well behind the dome port, and I bring them in closer to the housing. The closer the subject is to the dome port, the closer I'll bring the strobes to the housing. See the photo above.
Strobe positions for Macro photography
For fish photos I'll often put my strobes out to the sides, avoiding backscatter since the area in between the lens and the subject is not lit up. See the photo above. For fish that are very close, I'll have to move my strobes in closer.
Here's a fish that doesn't like to get too close.
For macro, I'll often pull my strobes up and forward, pointing them slightly towards (but not directly at) the subject at an angle, giving a combination of side and front lighting. See the photo above.
Here's some photos lit with my standard macro position:
Sometimes I'll need to bring the strobes in tight, emphasizing front lighting more, especially if other positions are showing too many shadows. If needed, I'll bring them in even tighter, pointed forward in the direction of the lens, especially if a subject is in a crevice, inside a barrel sponge, or has nooks and crannies I need to light up. See the photo above.
I had to pull in the strobes tight to light the inside of this tunicate.
Here my strobes are brought way forward, emphasizing sidelighting and perhaps even a little backlighting, sometimes giving subjects a little glow. Experiment and think about where the light is going. See the photo above.
This Janolus nudibranch got a little bit of a glow beacuse I had my strobes pushed far in front, coming from slightly behind the nudibranch.
Here's a strobe position I use for direct, even front-lighting when shooting supermacro photography. See the photo above.
Shooting Macro underwater with one strobe
If you have one strobe, you can successfully do macro photography by placing the strobe over the subject.
Queen triggerfish getting cleaned. Using one strobe gives this photo a unique look and a sense of depth. F8, 1/60th, Nikon 60mm lens, film camera. To me, it looks like the light came mainly from above. Photo by Uwe Schmolke.
Strobe Positioning for Black Backgrounds
The easiest and most effective way to shoot black backgrounds is to find a subject you can shoot with open water behind it. This usually requires getting down low and shooting at an upwards angle. Then, adjust your settings to block out all the ambient light (ISO 100, 1/250 sec, f/14 is a good starting point), and your strobes will light up your subject but pass through the open water, as there is nothing to reflect the light back, thus creating the black background effect. You can read more about the basics in this tutorial.
However, if there is anything behind your subject other than open water, shooting with your strobes pointing forward in a traditional strobe position will light up that background. This is when turning your strobes inward can help. As long as you can find a subject with 6-12" or more of water between it and the background, you can shoot a black background using the following strobe position: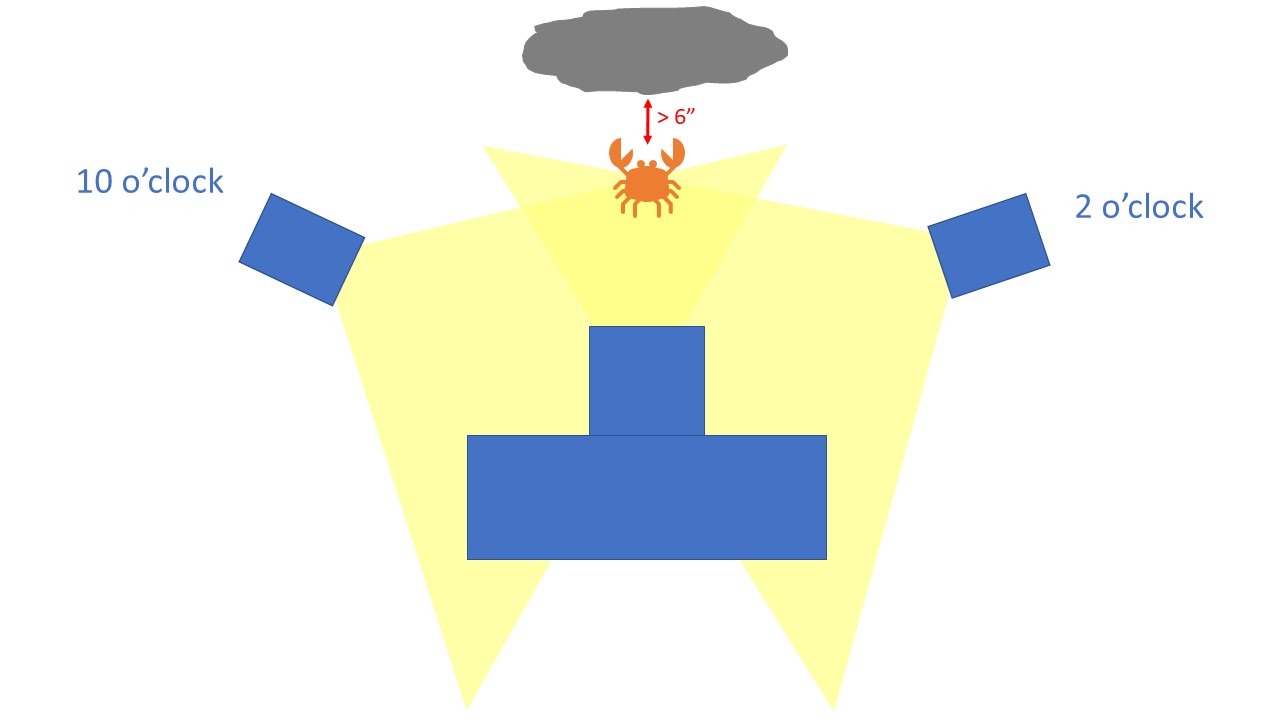 This technique sounds simple, and although it is easy to understand, it is quite difficult to master. I have seen a number of students try, fail, and give up on this technique. Check out this
detailed tutorial on black background strobe positioning
for more information and a step-by-step guide for how to learn this technique and then master it.
Here's a couple of sample photos taken of subjects with cluttered backgrounds, but that magic 6-12" of clear water, and inward-facing strobe positioning.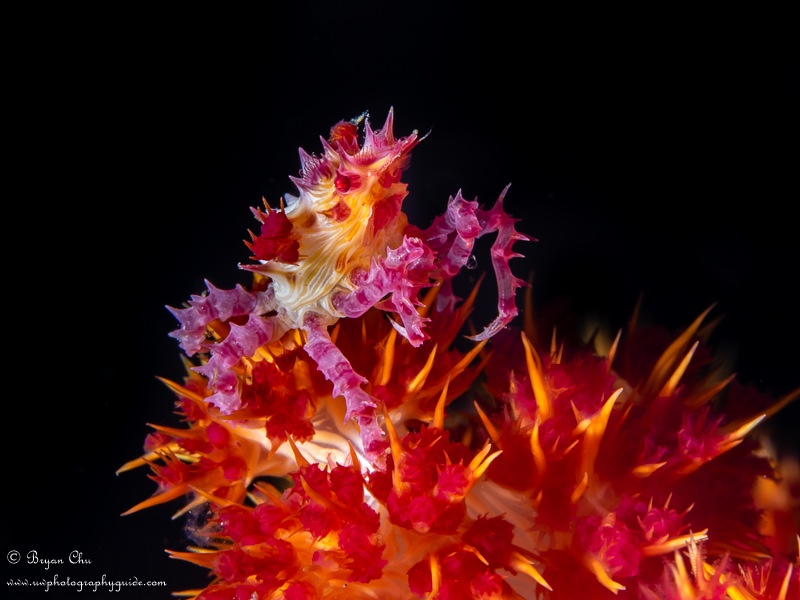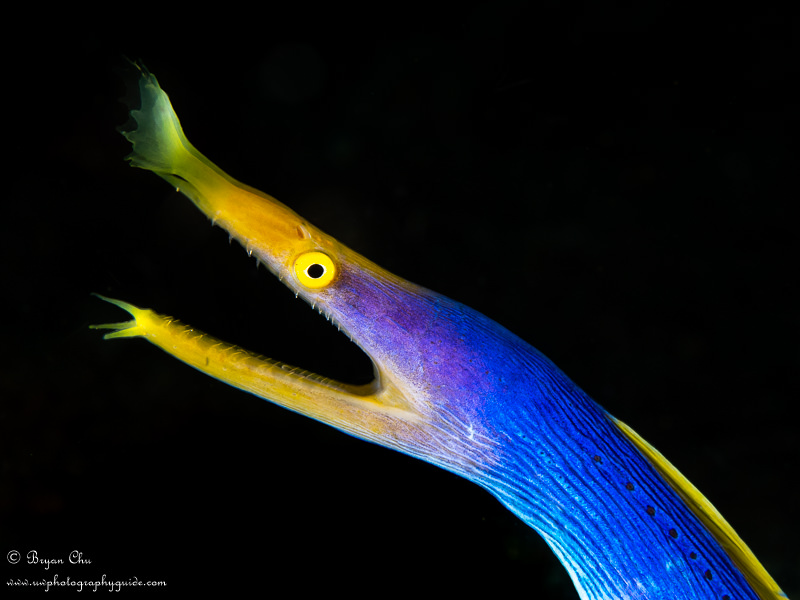 Further Reading
SUPPORT THE UNDERWATER PHOTOGRAPHY GUIDE:
The Best Service & Prices on u/w Photo Gear
Visit Bluewater Photo & Video for all your underwater photography and video gear. Click, or call the team at (310) 633-5052 for expert advice!
---
The Best Pricing, Service & Expert Advice to Book your Dive Trips
Bluewater Travel is your full-service scuba travel agency. Let our expert advisers plan and book your next dive vacation. Run by divers, for divers.
---