Underwater Digital Cameras
Review of the best Compact, dSLR & Mirrorless cameras for underwater photography
Choosing the best underwater camera can be difficult, even with an underwater camera guide. New cameras from compact type to dSLR are constantly being released. Deciding which one is best for your underwater photography can be challenging but this comprehensive guide helps break down the specs of current, premier cameras in each category.
If you are looking to purchase a new underwater camera, we recommend also checking out Bluewater Photo's Best Underwater Camera Guide.
Jump to:
Best Compact Cameras for Underwater Photography
Best dSLR Cameras for Underwater Photography
Best Mirrorless Cameras for Underwater Photography
Links to:
Bluewater Photo - Expert Advice on Underwater Housings & Accessories
Compacts vs. Interchangeable Lens Cameras for Underwater Photography

Which type of underwater digital camera should you buy? What is the best underwater camera? There are compact cameras, mirrorless, and dSLRs each with their own pros and cons.
Compact cameras have one attached lens while both mirrorless and dSLRs use interchangeable lenses. After shooting with a compact underwater camera, many people consider switching to a mirrorless or a dSLR. The obvious advantage is the interchangeable lens choices. This is a significant difference that limits the flexibility of a compact camera, although wet lenses can help bridge this distance to some extent. You also have more flexibility with different focal lengths and better image quality from superior optics and a larger sensor. Interchangeable lens cameras also have reduced shutter lag and better focusing capability. These are huge advantages. Shooting with a dSLR is quite a joy and very few people regret changing. However, a compact camera in the right hands can sometimes take shots that rival a dSLR shot.
For more information on how compacts differ from dSLRs underwater, and how to use your compact camera underwater, read about using compact cameras underwater.
The best camera for underwater photography may be a full frame high resolution dSLR or a full frame mirrorless camera. New models like the Nikon Z7 and the Canon EOS R are setting a new standard for stills and video in one package.
Let's look at more advantages and disadvantages of a compact camera, when compared to a dSLR:
Compact Digital Underwater Cameras
All compacts involve tradeoffs. If you just want to take snapshots underwater, well then there are dozens of cameras that will all produce similar results. Most of the Sony, Canon or Olympus cameras will be excellent choices. The cameras I list below are the best ones I feel for underwater photography, especially if you ever want to grow past taking a few snapshots.
Is full manual mode important for a compact camera?
Anyone considering purchasing an external strobe at some point, should get a camera with full manual controls. Most of the time, but especially when using an external strobe, it is very helpful to have complete control over how much ambient light comes into the camera. Although exposure compensation can be used to accomplish this to a limited degree, setting the shutter speed and aperture yourself is the best way to control the ambient light.

Compact underwater camera advantages:
Smaller size for travel

Less drag underwater

Ability to change lenses underwater (wet lenses only) giving the ability to go from wide angle to macro during the dive

Much less cost (although the cost of a high-end housing, wet lenses, adapters, etc. can start to add up)

Less weight, easier to carry and beach dive with
Compact underwater camera disadvantages:
Smaller sensor (more noise, less detail, smaller dynamic range, etc.), although the Sony RX100 series offers a larger sensor

Shutter delay and focus delay is slow compared to a dSLR - this is the biggest complaint

Optics are of lesser quality

Less battery life

Noisy at high ISO

Less control over depth of field. A large sensor dSLR will have a smaller depth of field at a large aperture, giving a blurred background. This is difficult to accomplish with a compact camera.

What To Look For In A Compact Underwater Digital Camera
Full manual mode - I think this is very important

Good quality underwater housing available. It should be easy to access and adjust the camera controls. Some housings make it very difficult to use in full manual mode.

Be sure the housing has the ability to take wet lenses - macro & wide angle

Macro mode (although this is less important if you are going to use wet lenses)

Ability to take a fisheye lens. This can be important for people who want to shoot wide angle, because really great WA photos means getting really close, and the best way to do that is with the UWL-04 fisheye lens. Not many cameras, however, support full manual mode and accept a fisheye wet lens. Scuba diving photography requires you to get close to the subject in order to get the best colors, which a fisheye lens makes easier.

Low shutter lag

Long battery life

Raw mode. This is only important if you plan on shooting in RAW and most compacts offer this now. It's nice to have it, but not everyone will shoot in raw. If you don't have the right settings and the right lens, then having RAW won't matter anyways.

Ability to fire strobes via sync cord. This is helpful because otherwise you must use the camera's pop-up flash which can be slow to recycle and use up battery time. However, sync cords can be a pain, so if you can find a fiber-optic solution that has decent battery life and a decent recycle time on the internal flash, this is the way to go .

Good auto focus capability. Some cameras are very slow to focus in less than ideal conditions, which is what we often experience underwater. All compacts come up short in this category usually.
Best Underwater Compact Cameras
A few of my top underwater camera recommendations are the Sony RX100 VII, Canon G7X III, and Olympus TG-6. Read our Sony RX100 VII review, the Canon G7X III review and the Olympus TG-6 review.
For older models, the Canon G16 and Olympus XZ-1 are also good choices. The Canon G-series and Sony RX-100 series have both taken some of the best compact camera photos that I've ever seen. The Canon G16 performs great for macro, but the Sony RX-100 set a new standard for compact cameras for wide-angle with their larger sensors and amazing wet lens results. (Not so much for the Sony RX-100 III, IV, V or VI, find out why in our Sony RX-100 III review).
Here is a list and quick notes on popular compact camera models available today. If the camera you are looking at is not on this list or the chart below, it is probably because I think there is a better option listed.
Canon G5X MKII - The 20mp CMOS Sensor with DIGIC 7 image processor features 14-bit RAW files and 4k video. The pros that make the G5 MKII stand out are its exceptionally fast focusing capability with dedicated macro focus, slow motion video setting, and 20 fps burst shooting Jpeg.
Canon G7X MKIII - One of the best overall value underwater compact cameras with a fast startup and longer battery life. Specs are very similar to the G5X MKII however, the camera does not have a viewfinder and has a slightly less zoom at 24-100mm compared to 24-120mm. See the Canon G7X MKIII review here.
Canon G16 - An older camera released in August 2013 with housings still available. The macro on the Canon G16 is superb and it is fast to focus. The G16 was the top in its class of compact cameras for a long time but has since been outnumbered by the newer, updated Canon Powershot G series compacts.
Sony RX100 VI - Considered one of the best underwater compact cameras available today along with the Sony RX100 VA. Upgrades include improved quick auto focus and a new 24-200mm lens (compared to the 24-70mm.) Macro images are stunnning especially with added wet lenses such as the Bluewater +7 close up lens. 4k video with full pixel readout and 24fps burst shooting sets the Sony RX100 VI apart from all others. Read the full review here.
Nikon Coolpix W300 - If you're on a budget, this is the camera to consider. The camera itself is waterproof to 100ft and costs less than $400. It shoots 4k video, has a zoom range of 24-120mm and a 16mp CMOS sensor. Of course it has limitations which is mainly that it lacks RAW capabilty (it only shoots Jpeg) but if size and weight are priorities (it only weighs 8oz!) then this is one to look into or carry as a backup solution.
Olympus TG-5, TG-6 - Both models are rugged, shockproof and waterproof to 50ft on thier own without a housing. They are without a doubt popular for all kinds of watersports and have many housing options for diving. The TG-6 is 12mp, 4k video and shoots RAW. Read our full review on the TG-6 here.
Panasonic Lumix DC ZS80 - 20.3mp, 4k video with 5-axis optical image stabilization and RAW 10fps
Panasonic Lumix LX100II - 17mp, shoots Raw, 4k video. Considered a top-quality compact. A little on the pricey side for a compact at at just under $900 new. Check out recommended settings and further reading on the LX100 series.
Panasonic LX10 - The LX10 has excellent video quality with 4k photo capture. At 20mp, the image quality is great especially recording as RAW format. See the LX10 at Bluewater Photo Store.
SeaLife DC2000 - A solid choice for compact and simplicity. Often sold / rented by dive shops and always sold as a camera/housing combination. It is up to par with the 20mp sensor, RAW and depth rating of 200ft in the housing or 60ft on its own. It shoots 10fps per second for those looking to shoot in burst mode but only records 1080p video.
SeaLife ReefMaster- For those whose priority is wide angle video, the ReefMaster records 4k video at 30fps, is waterproof to 130ft with a 14mp image sensor but does not offer RAW format.
Sea & Sea DX 6G - A popular choice for water sports as it is waterproof to 46ft on its own and to 180ft with the housing. 28-140mm focal length with digital image stabilization and a 16mp CMOS sensor. Does not offer RAW or 4k. Check out our detailed review of the DX 6G here.
Mirrorless Cameras for Underwater Photography
Mirrorless cameras are all the rage right now and certainly the most popular type of camera on the market. What makes them so different? Interchangeable lens cameras use a mirror to reflect the scene back to the viewfinder so the user can tell what the camera "sees". By omitting the mirror, the entire system is smaller and much lighter. The mirrorless design was first developed in 2008 by Olympus with Pansonic for micro-four thirds cameras. Choosing a mirrorless camera can be tough - there are many excellent models out there, many with only small differences between them.
Micro-Four Thirds
MFT cameras produce a higher quality image than point and shoot compacts. Although the 4/3 sensor measuring 17mm x 13mm is larger than a compact sensor, it is smaller than the APS-C and considered to be the "in between" compact cameras and cropped sensor types. Our top choices for mirrorless cameras with a micro-four thirds lens mount are the Olympus OM-D E-M1 Mark II and Pansonic GH5. You can read more in our micro-four thirds and mirrorless camera guide.
Olympus OM-D M1 MKII - 20mp micro 4/3 sensor. Fast auto focus with a wide range of quality lenses. Considered the best MFT camera for photography.
Panasonic GH5 - 20mp micro 4/3 sensor. Excellent for 4k video with 5-axis image stabilization. Options for a range of wide angle to macro lenses.
Click here for a Complete Overview of MFT mirrorless cameras for Underwater Photography.
APS-C Mirrorless Cameras
APS-C or "cropped" sensors, measuring approximately 22mm x 15mm, are larger and better quality than the smaller micro four-thirds. The bigger the sensor the more image fits into the frame. But don't let the name confuse you; cropped sensors are actually getting their name from being smaller than the full frame sensors explained in the full frame section below.
The Sony a6500, a6400, a6300, a6100 are excellent cropped sensor mirrorless cameras, with great image quality and video capability. The sensor size is the same as a Nikon D500 or Canon 7d MKII. Image quality, dynamic range and focus speed is excellent. The cameras, lenses and housings are much smaller than a dSLR and less expensive. Read our Sony a6400 Mirrorless Camera Review.
Sony a6100 - Sony's latest budget base model with many perks of the a6400. 24.2mp, 4k at 30fps and super fast auto focus.
Sony a6400, a6500 - Probably the most popular interchangeable lens cameras for underwater photography today. Read the full a6400 review here.
Nikon DX Z50 - A newly released cropped sensor camera with all around great entry level features for less than $900. 20.9mp, 4k. We are looking forward to getting this one underwater.
Canon EOS M6 MKII - Great for the advanced amateur photographer. Small overall size, 32.5mp, 4k.
Full Frame Mirrorless Cameras
Nikon's Z7 has proved to take the stage in the full frame mirrorless category. Although Sony is more popular, the image quality from Nikon is superior. Canon EOS R probably has the best, fastest focus ability underwater, but not topside.
The Sony A7r series are small, full-frame mirrorless cameras that can take exceptional images. Although Sony lens selection is a little limited, there are adapters to use high quality lenses from Nikon or Canon. The A7r II improved on the less than stellar auto-focus of the A7, making the A7r II, III and now the A7r IV the top choices for underwater photographers although the auto focus topside is still faster than its performance underwater. A full-frame sensor, plenty of megapixels, a range of lens choices, a small size and professional video capability make the A7 line a popular choice. Battery life has much improved but don't expect it or the responsiveness to be at the level of a high-end dSLR.
Nikon Z7 - Nikon's flagship full frame mirrorless camera. 45.7mp, built in 5-axis image stabilization, 4k, 9fps Read why this is a favorite.
Canon EOS R - Canon's 30.3mp full frame mirrorless, great focu speed underwater with Canon's tried and true high quality optical glass lenses. Read more about the EOS R here.
Sony A7r IV - 60mp high resolution full frame sensor, 10fps, improved autofocus. We had the opportunity to be the first to take it underwater with a prototype housing from Ikelite. Check out the details of shooting wide angle and macro close ups with the new A7r IV.

APS-C Cropped Sensor vs Full-frame
Cropped sensor type cameras are great for advanced enthusiasts looking to step up the quality of their images. They are the most popular mirrorless and dSLR's underwater. So who shoots full frame? Generally people who already own a full-frame camera (for indoor sports, weddings, and landscape photography), and want to house it, or pros that have specific shots in mind with a wide-angle lens, often of sharks, dolphins or other pelagics. Professionals who have a requirement to print larger than 20x30 at 300DPI also must sometimes shoot full frame to get the required resolution. Full frame sensors measure 24mm x 36mm with an unsurpassed quality right down to the pixel level.
Why did I get a Nikon D500? I shoot a lot of telephoto and wildlife photos topside, so the low-noise and fast frame rate of the D300 was perfect for my topside use. The increased dynamic range will help my WA shots "pop" like those Canon full-frame shots, and the Nikon 60mm and 105mm VR lens are excellent macro lens. But I must say, after shooting with a Nikon D810 on several trips, having 36 megapixels is truly amazing - and you should definitely consider that camera if you can afford it. Read out full Nikon D810 review here. The D850 gives improved low-light auto-focus performance over the D810.
Crop Sensors Advantages
Generally considered better for macro, especially for super-macro

Approximately 60% more depth of field than a full-frame sensor, given an equivalent field of view

For most people, cropped sensors are "good enough"
Full Frame Sensor Pros
Less noise in high ISO (limited use underwater, except in dark conditions shooting ambient light)

Some cameras have more megapixels for larger prints

Slightly better IQ and dynamic range for more "pop" in WA and pelagic photos

Better viewfinders

High resolution for the best detail
Full Frame Cons
Housings are generally a little more expensive

Technique, lenses and dome optics all must be top-notch to take advantage of any increase in resolution

More difficult to get good corner sharpeness with rectilinear wide-angle lenses
dSLR Underwater Cameras for Underwater Photography
There are a large number of dSLR camera bodies out there. The main 2 brands used in UW photography are Nikon & Canon. Whichever brand you choose, make sure you are happy with the lens selection that brand supports.
A good lens, proper composition, and proper lighting are important for making great photos. The camera body is less important, and excellent shots can be made with Canon or Nikon bodies. Your photography is unlikely to improve dramatically just by switching camera bodies.
If you choose Canon or Nikon, you will also have to choose between cropped sensor or full frame sensor cameras. If size and cost are less of an issue, a full frame dSLR may be the best underwater camera for you due to exceptional image quality and the fastest focusing speed and response time - but mirrorless beasts like the Nikon Z7 and Canon EOS R are not far behind in those areas.
APS-C dSLR Cameras
Nikon d7500 - 20.9mp, 4k and 8fps. Paired with Nikon's quality optical lenses this is a great mid range choice.
Nikon d500 - Nikon's flagship DX camera. 20.9mp, 4k. Read the review specs.
Canon 7d Mark II - 20.2mp, Rugged semi-pro dSLR with good auto-focus during video. See the review and compatible lenses.
Canon SL3 - Excellent entry-level and the smallest dSLR. 24mp, 4k. Read the review here.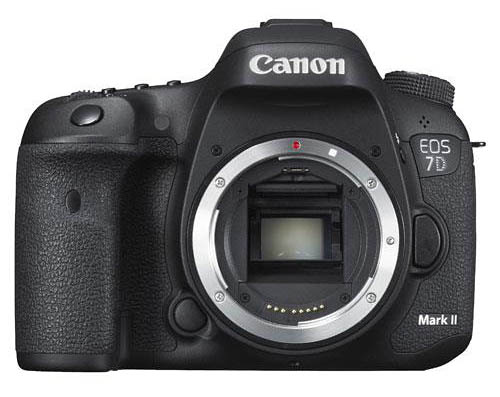 Full Frame dSLR Cameras:
The Nikon D850 and Canon 5d MK IV are top choices for the ultimate pro underwater photography and video. With unsurpassed quality lenses from Nikon and Canon, the following are the best underwater cameras available today.
Nikon D5 – Excellent camera, but keep in mind people have been having problems getting the 14-24mm lens sharp behind a dome port.
Nikon D850 - 45mp high resolution sensor, true 4k full frame, max flash sync 1/250 Read the full review on the D850
Canon 5D Mark IV - The latest camera in this long line, and one of the most popular dSLR choices for underwater video. Read our 5D Mark IV review.
Canon 5DSr - High resolution, professional camera with advanced mirror vibration control and low pass filter effect cancellation to take full advantage of the 50mp clarity right down to pixel level. Dual memory card slots.
Some Personal Suggestions (mirrorless / dSLR cameras)
On a budget? Go for a Mirrorless camera like the E-M1 II, E-M5 II, Sony A6400 / A6500 series or OM-D E-M10 III
Into macro? Get a Nikon D500 or NIkon D850 (although great macro shots can be taken with Canon or Olympus cameras)
My top choice for a dSLR? Get a NIkon D500, Canon 5D Mark IV or Nikon D850
Looking for an entry-level dSLR? Try a Canon T5i or a Nikon D7500
Into wide-angle? Canon 5d Mark IV & Canon 5DSr take some excellent wide-angle shots
Really interested in live view underwater, or great image quality in a smaller package? Look into the Sony A7R IV, Sony A6400 or A6500, or the Olympus OM-D E-M1 II or E-M5 II. The Panasonic GH5s / GX9 and Sony A7 III cameras take the best video.
Looking for the most compact setup with a larger sensor? Look at a mirrorless camera setup.
What's the hottest bodies out there right now for underwater use? Look at the Nikon D500 or a Canon 5D Mark IV, or a Nikon D850, Sony A7R IV, Sony A6500 or the Olympus OM-D E-M1 II.
Sync Speed and Underwater Photography
The faster the sync speed, the easier it will be to light up subjects with your strobe with the sun in the background. With a slower sync speed, you need a small aperture to properly expose the sun, and therefore even stronger strobes.
New or Used Camera?
Used cameras are fine; just make sure you check the shutter count. Mechanical shutters will eventually fail. The shutter count is also referred to as the number of actuations.
Checking actuations
If you're buying used, and your camera uses a mechanical shutter (e.g. - D90,D7200) - check the number of actuations (shutter clicks) by getting a jpeg file from the camera and using an exif viewer. You can't check on the camera, so you'll need to bring your laptop and a card reader if you're meeting someone to buy a used camera. Look for "shutter count" or " camera actuations"
You can get one for the Macintosh here: http://homepage.mac.com/aozer/EV/index.html

And for the PC here: http://www.opanda.com/en/iexif/index.html
---
Further Reading:
We hope this guide helped you find the best underwater camera for you. Please enjoy this further reading.
SUPPORT THE UNDERWATER PHOTOGRAPHY GUIDE:
The Best Service & Prices on u/w Photo Gear
Visit Bluewater Photo & Video for all your underwater photography and video gear. Click, or call the team at (310) 633-5052 for expert advice!
---
The Best Pricing, Service & Expert Advice to Book your Dive Trips
Bluewater Travel is your full-service scuba travel agency. Let our expert advisers plan and book your next dive vacation. Run by divers, for divers.
---