Kraken KR-S02 Strobe Review
The Kraken KR-S02 is Kraken's first strobe. It features amazing battery life and excellent ergonomics.
Perhaps one of the most overlooked tools in underwater photography are strobes. Yes, most underwater photographers have them, but strobe manufacturers are often slower to innovate their strobe lines than they are housings, video lights, wet lenses, etc. Well, 2020 has been an exciting year, because many of these manufactures, like Sea & Sea, Ikelite, Isotta, and Kraken, are coming up with some major updates!
Kraken's DEMA announcement of their first underwater strobe, the Kraken KR-S02, was a big surprise. Kraken has been one of the world's top innovator in underwater imaging tools, so it was only a matter of time – after all, Kraken underwater video lights are legendary. We couldn't wait to get our hands on a pair and take them underwater, so we decided to bring them home directly from their DEMA announcement! We put them to the test in the cold Southern California ocean just outside our office. After all, the kelp forest is the perfect place to test a strobe with all the different lighting conditions.
The clear highlight of the KR-S02 is the battery life, with over 900 full cycles on a single charge! It's going to be quite some time before another strobe comes to the market with that kind of battery life. When it comes to power, this strobe is more of a mid-range strobe. It has a guide number of 24. That is powerful, but not necessarily the highest end of the market (which is closer to 33, or even 64). The KR-S02 is definitely sufficient for macro photographers and most types of wide-angle photography. If you're shooting a lot of sunballs, you might want a little more power. The strobe features a 200 lumen white and red spot light, which is can be used as a focus light. The beam is 90 degrees with a color temperature of 5000K. Finally, the KR-S02 should be even more versatile in the future – Kraken plans to develop diffuser and snoot accessories for the strobe.
Status: Available Now at Bluewater Photo!
U.S. MSRP: $599.00

The Kraken KR-S02 is Available at Bluewater Photo!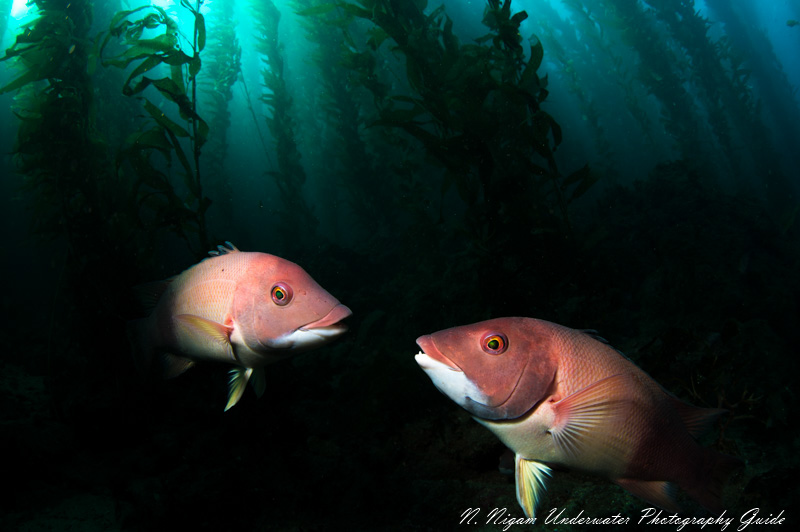 Kraken KR-S02 Key Specs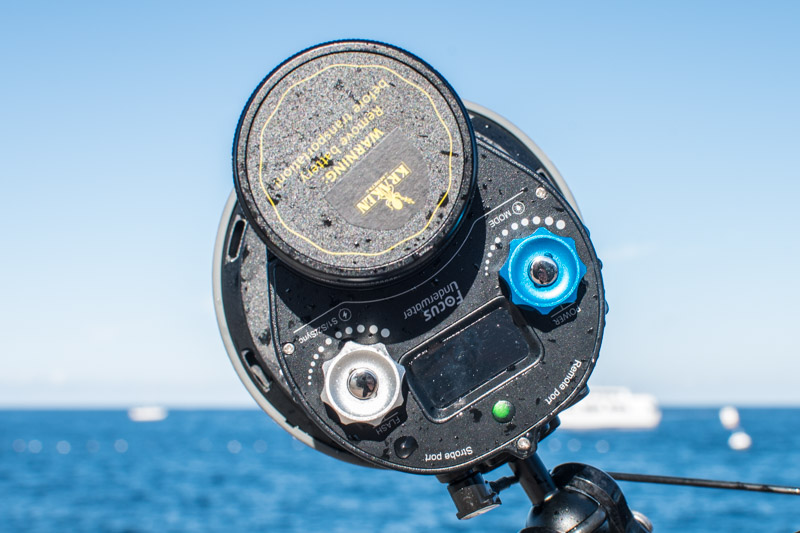 • Guide Number: 24
• Beam Angle: 90°
• 900+ full power cycles at full charge
• Color Temp: 5000K
• Recycle Time: ~1.5s on full power
• LED Spot Light: 1 watt (200 lumen, 6000K) spot light, and 1 watt red light
• Uses lithium ion batteries - the same as the Hydra 5000
• Battery: 4X18650 (3400mAh) wrapped into a single cell
• Depth Rate: 330ft/100m
• Can be used only with fiber optic cables (universal Sea & Sea style plug), no sync cord connection. 1 multi core fiber optic cable with each strobe included
•Weight: 1050g (on land including battery), 240g (underwater including battery)
• Dimension: ~119mm (L) X 119mm (W) X 135.5mm (H)
• Included in Box: Strobe, battery, YS mount, ball mount, charger, knob extensions, manual
• Dimension: Diffusers and other accessories will be made in the future!
Build and Ergonomics
The Kraken KR-S02 is fairly unique in its build. The body of the strobe is rather "short and squat" but wide. Rather than a long cylinder with a short radius, it's a short cylinder with a long radius. This provides a benefit to the beam because the KR-S02 is build with a large circular flash tube. The flash tube creates a nice, even beam that is great for getting even lighting in macro photography. When it comes to weight, the strobe weighs in at 1050 grams on land (240 grams underwater). On land, this is much more weight than some of its competitors. Part of the reason for this is the heavy lithium ion battery that results in the spectacular amount of battery life. And when we tested the strobe underwater, it was fairly easy to manipulate and move around. It didn't make a noticeable difference in the weight of the rig underwater. Because the strobes are fairly wide, it does take some getting used to them when it comes to placement in the water.
Despite the size and shape of the strobes, they're pretty easy to pack up for a trip. Like all Kraken products – they come with a nice case that can store everything, including chargers, mounts, and a manual.
As far as ergonomics are considered, this strobe is very easy to use – even in cold water with thick gloves. The power and mode selection knobs are easy to grip and turn. We didn't have any problems with sand making them stick. The KR-S02 comes with knob extensions, to make gripping them even easier if you really are diving in a cold place. Both buttons are easy to press. The digital screen on the back is easy to read. It relays important information, like the battery level and how many shots you have left. No other strobes on the market will tell you how many shots you have left. We found the information to be extremely useful in planning our day of diving. Another nice feature is the ability to flip the display screen, in case you need to turn the strobe upside down while positioning it. We ended up using that function quite a bit while testing.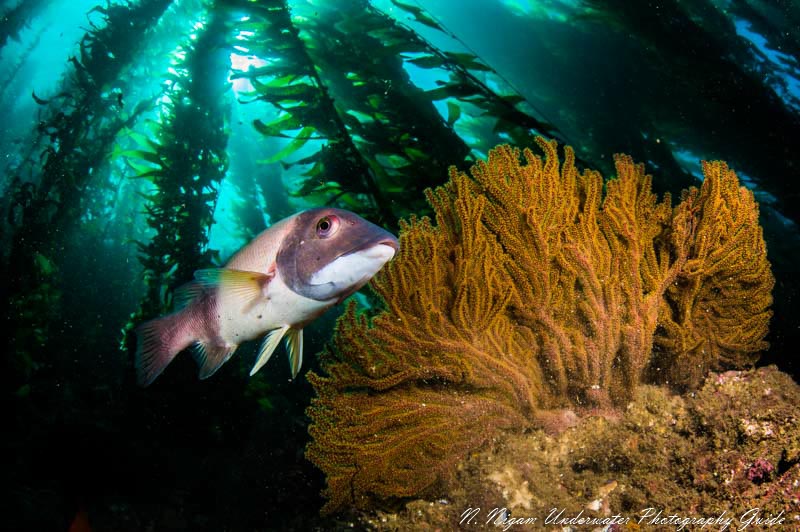 Guide Number (Strobe Power)
The KR-S02's guide number is 24. This is a typical guide number for a mid-range strobe. The KR-S02 will be a great option for macro shooters that want the nice, even beam from the circular flash tube. It's also great for wide shooters in most conditions. However, back-lit, wide angle subjects are going to more difficult to shoot than if you are using a strobe with a guide number of 33 or 64. That's why we chose to shoot this type of photograph throughout our tests. Considering the beam angle and power, we would recommend using two for wide angle, but for macro you could get away with using one. We used two strobes, and they did quite well. But when we were taking photos of sunballs shallower than 30ft, we preferred a little more power. If you are going to be shooting wide angle images in shallow, clear, tropical water on sunny days, we would recommend a powerful strobe like the Sea & Sea YS-D3 or Isotta Red 62. In any other conditions, the KR-S02 is a great tool!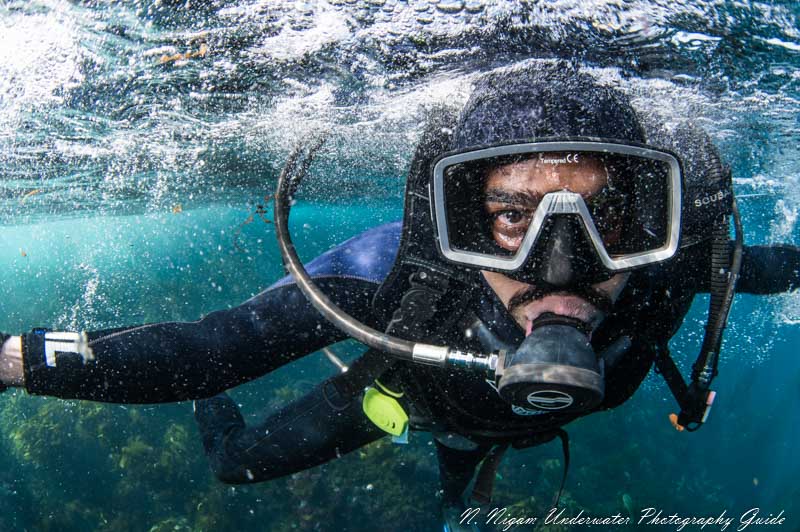 Beam Properties
The ring flash tube is one of our favorite features on the KR-S02. Its shape produces an even beam underwater. However, it is only 90 degrees – which is relatively narrow for most wide angle shooters. Kraken does plan to come out with a diffuser that can attach to the threaded bezel. But until then, we found the narrow beam angle did change our shooting style underwater. We often had to point the strobe much more directly at subjects in order to light them properly in wide angle shots. At times, we missed shots because the strobes needed to be oriented more directly. Although it doesn't apply quite so much to macro photography, more direct lighting did produce more backscatter. Kraken also plans to come out with a snoot that can attach to the threaded bezel for creative macro lighting.
The 5000K color temperature is an excellent temperature for underwater photography. It isn't too warm or too cold, and it replicates color well.
Battery Life
The battery life on the KR-S02 is the highlight of the strobe. No other strobe on the market has yet to match its rating of 900 full power shots on one charge! The KR-S02 is equipped with the same lithium ion battery that is found on the Kraken 5000S+ video light. Because the batteries are interchangeable, the Kraken KR-S02 is an especially good choice of strobe if you already have one or two Kraken 5000 series lights for underwater videography. During our tests, it was easy for us to get at least three dives with the strobes. However, we sometimes found that the shot count on the strobe display would be reduced by more than one shot after firing a shot. The shot counter was very useful in that we could know how many shots we had left at any moment!
Recycle Time
The recycle time with the Kraken KR-S02 is relatively quick for a strobe at that price point - ~1.5 seconds. In most situations, it's enough for fast moving fish – like this pair of California sheephead that was fighting for territory. At lower power, the strobes recycle even quicker.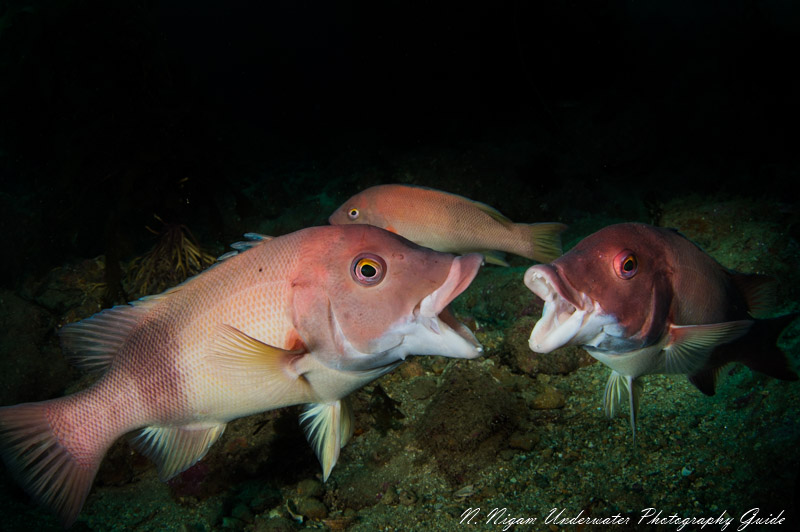 Sync Modes
The KR-S02 must be synced to your camera via a fiber optical cable. There is no option for sync chord connection. Make sure you use the multicore fiber optic cable that comes with each strobe, especially if you are shooting with a flash trigger. The strobe has three sync modes – S1 single flash mode (for flash triggers), S2 double flash mode (for on-board cameras flashes with preflash), and Sync mode (TTL). Manual adjustments are pretty easy in the S1 and S2 modes with the knobs. We used the sync mode (TTL) throughout most of our tests and it worked well. We only missed a few exposures – the rest were pretty accurate.
Spot Light
The spot light on the strobe is good for focusing, but at 200 lumens it isn't strong enough for video. We enjoyed using the red light to focus on subjects that would normally shy away from our white light.
Pros
• Easy to use knobs and nice screen display on back
• Amazing battery life
• Fast recycle speeds
• Easy to pack
Cons
• Strobe output could be brighter (guide number of 24)
• Beam angle could be wider
• Heavy (1050 grams)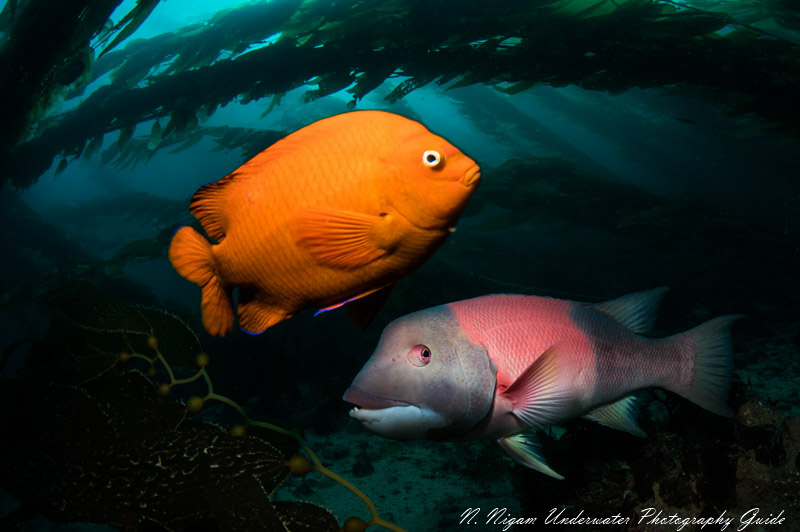 Conclusion
The Kraken KR-S02 is a very capable strobe with a lot of potential in underwater photography. It's definitely a great first push by Kraken into photographic lighting. The KR-S02 offers some of the best battery life of any strobe on the market. That's a big deal when you're diving multiple dives in a remote location. However, we do wish the strobe had a little more beam angle so that we didn't have to point it so directly at subjects. This won't be as much of an issue when the diffuser comes out. As far as macro photography, the KR-S02 is a reliable option, especially when the snoot is released. Currently , the nice even beam and beautiful color temperature make it a very compelling strobe for macro and wide-angle photographers who are looking for quality light, unlimited battery, and quick recycle times.

The Kraken KR-S02 is Available at Bluewater Photo!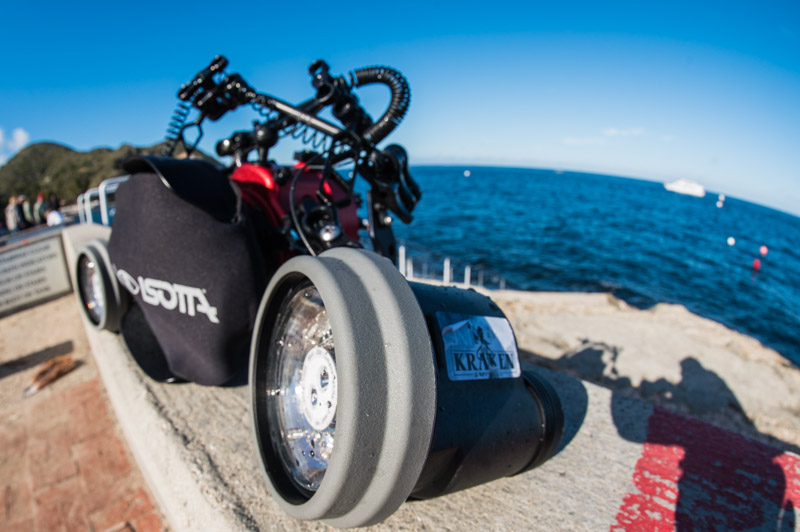 SUPPORT THE UNDERWATER PHOTOGRAPHY GUIDE:
The Best Service & Prices on u/w Photo Gear
Visit Bluewater Photo & Video for all your underwater photography and video gear. Click, or call the team at (310) 633-5052 for expert advice!
---
The Best Pricing, Service & Expert Advice to Book your Dive Trips
Bluewater Travel is your full-service scuba travel agency. Let our expert advisers plan and book your next dive vacation. Run by divers, for divers.
---