Wide Angle Macro Photography
The Ultimate Oxymoron of Underwater Photography
"Wide angle macro photography" is the ultimate oxymoron of underwater photography. Yet, our data shows that variations of this search in Google are very popular among our readers. So we thought we would address what wide angle macro photography is, how to take wide angle macro photos, and the best equipment for wide angle macro photography. Wide angle macro photography can mean something different to every underwater photgorapher, but generally it is when you take a photo of a small subject with a wide field of view. It can produce very unique and creative perspectives - like a nudibranch with a diver behind it.
What is Wide Angle Macro Photography?
To understand wide angle macro photography, you have to understand both wide angle underwater photography and macro underwater photography. Wide angle photography is when photos are captured with a field of view that is wider than you can see with your eyes. Wide angle lenses generally have smaller focal length and can be anywhere from 8-35mm on a full frame camera. Because the field of view is so wide (up to 180 degrees), subjects tend to appear very small in wide angle photos - producing the opposite effect that you want in a macro photo. Wide angle macro photography tends to be difficult becaue you need a very short working distance to produce a macro image with a wide angle lens - sometimes just a few millimeters from your subject.
Macro photography is a form of photography where you take a close up photo of a subject in order to reproduce it with a magnification of "life size" (i.e., 1:1) or greater. Macro lenses tend have a very narrow, telephoto field of view (narrower than you can see with your eyes) of about 60-200mm on a full frame camera. This is because macro lenses need to get very close to a subject to produce a 1:1 reproduction ration. A telephoto lens allows you to stay farther away from your subject when you take the macro photo, giving you more "working distance". Contrary to popular believe, not all macro lenses have a telephoto focal length. Some wide angle lenses can produce as 1:1 macro reproduction ratio or greater. These are true wide angle macro lenses, or "bugeye" lenses.
---
These Wide Angle Optical Innovations are AVAILABLE NOW at Bluewater Photo:
Kraken KRL-09s Wide Angle Conversion Lens
Nauticam Macro to Wide Angle Lens - MWL
Nauticam Exended Macro Wide-Angle Lens - EMWL
Bluewater Photo Laowa 24mm f/14 macro probe options:
Laowa 24mm f/14 2x macro probe
Nauticam N120 Port Adaptor for Laowa 24mm f/14 2x macro probe
---
Close Focus Wide Angle Photography
You don't need a true bugeye lens to produce a wide angle macro photo, unless you're a macro purist (and very few of us are). The simplest and most accessible wide angle macro lenses tend to be fisheye lenses because they allow you to focus extremely close to your subject - not always enough to produce a true macro photo, but at least pretty close. This is known as close focus wide angle photography. Close focus wide angle photography is the easiest way to get a macro wide angle photo - all you need is a macro lens, like the Nikon 8-15mm fisheye, Panasonic 8mm fisheye, or Canon 8-15mm fisheye, a compact dome port, and some underwater lighting. Here are a few tips for taking underwater close focus wide angle photos:
Get VERY close to your subject. Try to approach from below and shoot into the sun if you can to get a nice blue or green background
Stop down your aperture for more depth of field unless you want the nice, blurry "bokeh" look. (see below for the example)
Bring in your strobes and turn down the power. Think of your strobes almost like you would for macro photography. Because there is less water between you and your subject, you can aim a little more directly. Be wary of shadows from your dome port
Be careful not to bug your subject with your dome or hit the substrate - it's very easy to scratch your dome shooting close focus wide angle. If you do have a scratch, Bluewater Photo has a great micro mesh kit to fix any scratches on acrylic domes. Unfortunately, you can't fix a scratch on a glass dome.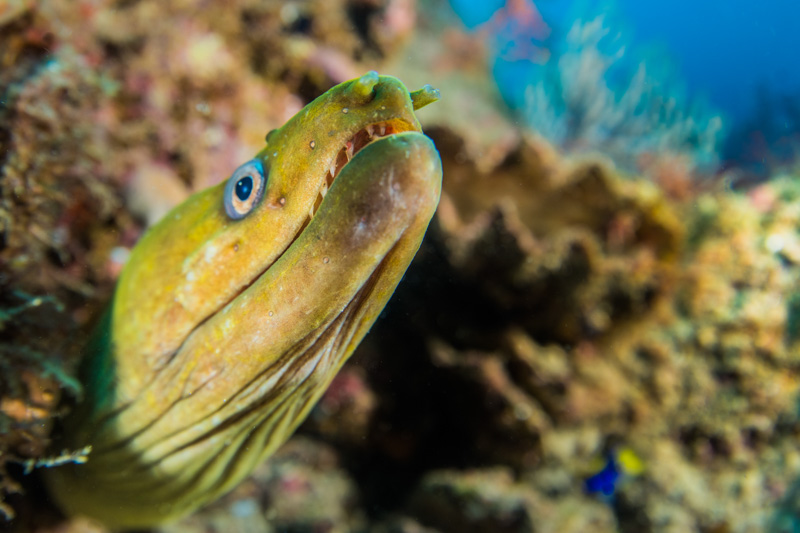 Wide Angle Macro Probes - "Bugeye" Lenses
Wide angle macro probes are true wide angle macro lenses. They often have short focal lengths but are capable of supermacro photos - like the 24mm LAOWA probe capable of 2X macro. These lenses are much harder to operate underwater than a typical fisheye lens, but they produce very creative compositions. You are more likely to capture a small nudibranch with a sunball or diver with a macro probe. This is because you can "get at the subject's level" with the probe. Because you often have to be millimeters from your subject, you will need to stop your aperture down quite a bit, requiring you to light your subject with a lot of light. This is especially true if you are shooting into the sun. Some macro probes like the LAOWA lens also require you to manually focus. The Nauticam EMWL (sold at Bluewater Photo), is probably the most advanced macro probe and allows you to autofocus with your camera. The LAOWA probe is designed for underwater video where the Nauticam EMWL is a better option for underwater photography.
LAOWA 24mm f/14 2X Macro Probe
The Laowa 24 mm macro probe is optimized for video, which is an exciting and somewhat rare attribute when it comes to underwater lenses. In fact, we felt that underwater videographers will reap the most benefits from this lens. It's smooth, sharp, and produces gorgeous results - that is, if you can handle the manual focus and 2:1 macro. The lens is compatible with two cinema mounts – the Arri PL and the Canon EF mounts.
The reason the LAOWA lens is so good for macro video with the field of view. The wide angle view helps stabilize macro video and put the subjects in the context of an environment rather than just standing alone. Although many of our shots looks like they were taken with an ordinary macro lens, if you look closely you'll notice that you can see a lot more of the environment. Perhaps the most exciting feature of this lens for underwater video is that it can focus to infinity. This means that you can take both true wide angle video and true macro video with this lens. Although we don't recommend the lens for wide angle photos, in a pinch it did a great job at shooting wide angle video - especially when we used Log profiles to improve dynamic range lost from the long barrel.
With video, as well, the LAOWA 24mm macro has it's set of challenges. 2:1 macro (supermacro) is extremely cool, and the video is extremely crisp, but it's very difficult to keep stable. Because the lens is a manual focus lens, turn your focus dial can sometimes move your video and affect stability. Sometimes you have to trade off between getting the proper focus and taking stable video. As with photography, the long barrel, small aperture and extreme macro make it a very dark lens with a significant loss of exposure.
Laowa 24mm macro lens specifications
• 24 mm focal length (f/14 max aperture)
• 2:1 macro photography - & infinity focus capability
• 27 lens elements (19 groups)
• 7 aperture blades
• 470mm minimum focusing distance
• Manual focus
• Multiple mounts – Canon EF, Nikon F, Sony FE, Pentax K. Cinema mounts: Arri PL/Canon EF
• Wide-angle macro "Bug-Eye" perspective – 84 degree field of view
• LED ring light embedded into lens tip
• Maximizes depth of field (f/14 speed lens)
• Compatible with both a 35mm full frame and Super35 image sensor
• Designed for both video and still photography
• Front of lens barrel is waterproof
• 40cm long lens barrel
• Weight: 474 grams (1.04 lb)
Nauticam Extended Macro Wide Angle Lens (EMWL)
The Nauticam Extended Macro Wide-Angle Lens EMWL is a long bugeye wet lens that incorporates a wide angle field of view to macro images - truly a unique shooting style. It is built to work with popular macro lenses and shoots both stills and video. It is a wet lens so the lens can be attached and removed underwater. This makes it a very versatile lens and can even work with diopters such as the Nauticam SMC and CMC. The lens design is long and narrow which enables you to put the lens extremely close to your subject while keeping the bulk of the camera system at a distance.
The lens has a modular designed, and is comprised of 3 parts - a focusing unit, a relay module and an objective lens. It is optimized to work with different cameras and macro lenses.
Lens Components
Focusing Unit
The focusing unit is the part that is connected closest to your port, and it is designed with 6 glass elements in 3 groups and attaches via the Bayonet Mount System. You can also have the option to add a manual focus gear. Lens adapters such as the Nikon FTZ, EF to EOS R or the Sigma MC-21 can also be used. There are three options to choose from Canon, Sony, and Nikon/Micro Four Thirds
Compatible Lenses:
| | | | | |
| --- | --- | --- | --- | --- |
| Canon | | Sony | | Nikon & Micro 4/3 |
| Canon EF 100mm f/2.8L Macro IS USM | | Sony SEL90M28G FE 90mm F2.8 Macro G OSS | | Nikon AF-S VR Micro Nikkor 105mm f/2.8G IF-ED |
| Canon EF-S 60mm f2.8 Macro USM for APS-C | | | | Olympus M.Zuiko Digital ED 60mm f2.8 Macro |
Relay Lens
The relay lens was designed with 14 glass elements in 10 groups. The EMWL Objective Lenses generates an inverted image, making it appear upside down. The Relay Lens corrects the inverted image and relays the image back to the focusing unit and sensor. It is 150mm in length and only 62mm at its widest point.
Objective Lens
The objective lens completes the EMWL and there are three different versions wihich produce varying degrees of angle-of-view - 130°, 100,° and 60° - in your image. You can swap the objective lenses underwater to change your field of view. Having multiple objective lenses gives you a larger creative pallet. It's possible to focus as close as the front element of the lens
130° - Widest of all objective lenses and is made up of 9 elements in 7 groups. It is perfect for larger macro subjects or any image where you want to see more of the background.
100° - The most versatile of the 3. It is the smallest in physical size, making it a good choice for timid subjects and tight spaces. It is designed with 9 elements in 6 groups.
60° - This lens has a narrower angle-of-view and the background elements look a little more compressed. There are three focusing ranges that can be set on the lens, 00-55mm, 55-25mm and 25-0mm. It is designed with 9 elements in 6 groups.
The EMWL uses the Nauticam Bayonet Mounting System II. You can easily attach or remove the lens underwater.
Recommended Accessories for EMWL
Macro to Wide Angle Conversion Lenses
Another interperatation of wide angle macro photography is literally taking a macro lens and turning it into a wide angle lens. Underwater this is possible with macro to wide angle conversion lenses. Currently, there are two on the market that have very similar optical properties - the Kraken KRL-09s and the Nauticam MWL. These lenses convert a 60mm macro lens on a full frame camera to a 154/150 degree field of view respectively. They are both wet leses that can be placed directly over a port underwater and function somewhat similarly to a fisheye lens with a slightly smaller field of view.
Kraken KRL-09S Wide Angle Conversion Lens in the field attached to Ikelite Nikon Z6 housing and Nikon 60mm macro lens
Kraken KRL-09S
The Kraken Sports KRL-09S Wide Angle Conversion Lens is an ultra-wide angle wet lens that has been designed to be used with a 60mm macro lens. It converts a 39° macro field of view to a 154° fisheye, wide angle field of view. The KRL-09S threads directly into your 67mm flat port. This gives you the flexibility to shoot macro and wide angle all during one dive! The Kraken wide angle conversion lens has a built-in buoyancy collar which makes it very lightweight underwater,with a weight of only 212g. We find the trim to be very nice and even underwater. The dome of the lens is made from a high grade and durable polycarbonate material. It is optically very sharp, but durable. If it does get scratched, it can be buffed out.
Kraken KRL-09S Wide Angle Conversion Lens Specifications
Field of view: 60mm (39.7°) -> 4.9mm (154.8°)
Depth Rating: 197 ft.
Thread: 67mm
Weight on Land: 2kg
Built-in Buoyancy Collar
Weight Underwater: 220g
Lens Construction: 7 Elements; 6 Groups (6 Glass 1 Poly Carb)
Magnification: 0.32X
Dome Lens: Optical Grade Polycarbonate Resin
Glass/Coating: Optical Glass / Multi Layer BBAR Coating
Does not focus on land
Close focus wide angle photo of anemones captured with the Kraken KRL-09S, Nikon Z6, and Nikon 60mm macro lens in an Ikelite housing. f/18, 1/80, ISO 500
Nauticam Macro to Wide Angle Lens (MWL)
Aiming to allow DSLR and other interchangeable lens shooters the freedom of high quality wide angle and macro photography during the same dive, Nauticam created the Macro to Wide Angle Lens.
This lens is designed to work with a full frame 60mm macro lens (or equivalent APSC / Micro 4/3rds). It converts the narrow macro lens into an ultra-wide 150° angle of view.
About the MWL-1
The MWL-1 is constructed from precision ground optical glass with advanced anti-reflective coatings to eliminate glare and internal reflection. The lens is able to focus from the front element to infinity, offering the best results at aperture F16 or higher on a full frame camera. Photographers can capture unique close focus wide angle images of macro subjects by placing the subject extremely close to the front of the lens where the exaggerated perspective will make that subject pop out from an ordinary background.
Multiple Camera Compatibility
DSLR, Mirrorless, Compact. APS-C, MFT, 1" or Full Frame. The MWL-1 supports a wide variety of lenses and camera platforms. Field of View may vary with different lenses.
Nikon AF-S DX Micro Nikkor 40mm F2.8
Nikon AF-S Micro Nikkor 60mm F2.8
Canon EF 40mm F2.8 STM
Olympus M.Zuiko ED 30mm F3.5 Macro
Panasonic Lumix G Macro 30mm F2.8
Carl Zeiss Touit 2.8 / 50mm
Compact Cameras (Sony RX100 III / IV / V / VI, Canon G7X I & II, Panasonic LX-10) when zoomed from 65mm.
SUPPORT THE UNDERWATER PHOTOGRAPHY GUIDE:
The Best Service & Prices on u/w Photo Gear
Visit Bluewater Photo & Video for all your underwater photography and video gear. Click, or call the team at (310) 633-5052 for expert advice!
---
The Best Pricing, Service & Expert Advice to Book your Dive Trips
Bluewater Travel is your full-service scuba travel agency. Let our expert advisers plan and book your next dive vacation. Run by divers, for divers.
---