Best Underwater Video Lights
The ten best video lights for underwater videographers in 2022
Choices, choices, and more choices. The team at UWPG have put a list of underwater video lights together that range from budget to high-end cinema lights. Manufacturers of underwater video equipment offer a wide array of options, however with options come questions…
Our advice is to buy the most powerful light that your budget allows for.
A few questions and answers to help you make an informed decision about which video light best suits your needs:
Are two video lights better than one? Invariably. Two lights provide more even lighting, and help to make your rig more balanced underwater.
What's the maximum runtime of your light, and will it stay at max output for the entire time? Read the spec sheet that comes with your light, and test it in the bathtub before you dive.
How wide is the beam angle, and how soft are the edges of the beam? Wide soft beams are generally better for general videography underwater. It's best to avoid lights that produce hard edges. Those with narrow beams are less suitable for underwater video. Softer edges produce a more even, and realistic look underwater, especially when shooting wide angle.
Are the batteries interchangeable, and are spares readily available? Some lights have batteries sealed in the body which means you need two bodies if you want carry a spare. Lights that come with commonly used batteries might be a big help if you're in need of a replacement, perhaps on a liveaboard, etc.. Chances are someone else might be carrying one.
Are they safe for travel on modern aircraft? Most, if not all airlines these days want you carry your batteries in cabin luggage. If you have a light that's a sealed unit, it means that you've got to take the entire light in your carry-on bag. This is something to keep in mind.
Is CRI (Color Rendering Index) important? CRI is a measurement that's used to determine how accurate the color of the light is compared with sunlight. The best rating is 100, which means it's very accurate. If you're an experienced videographer CRI might be very important, less so if you're only a beginner. Generally a CRI of 80 and up is a good sign.
Do your light heads have flat lenses or dome ports? If they have a flat lens on the light head, then the beam angle will not be as wide when you take it underwater. Conversely if there's a dome port over the bulb, then the beam angle will be the same on the surface as it is underwater. Something to consider if you're planning on testing things on the workbench at home.
Now that you're armed with a bit more knowledge, check out our list:
Jump to:
Kraken Solar Flare Mini 12,000
Sola Pro 15,000 with Dome Port
Kraken Sports Hydra 15000 WRGBU
1.Light & Motion Sola 2500F Underwater Video Light - A Bluewater Exclusive!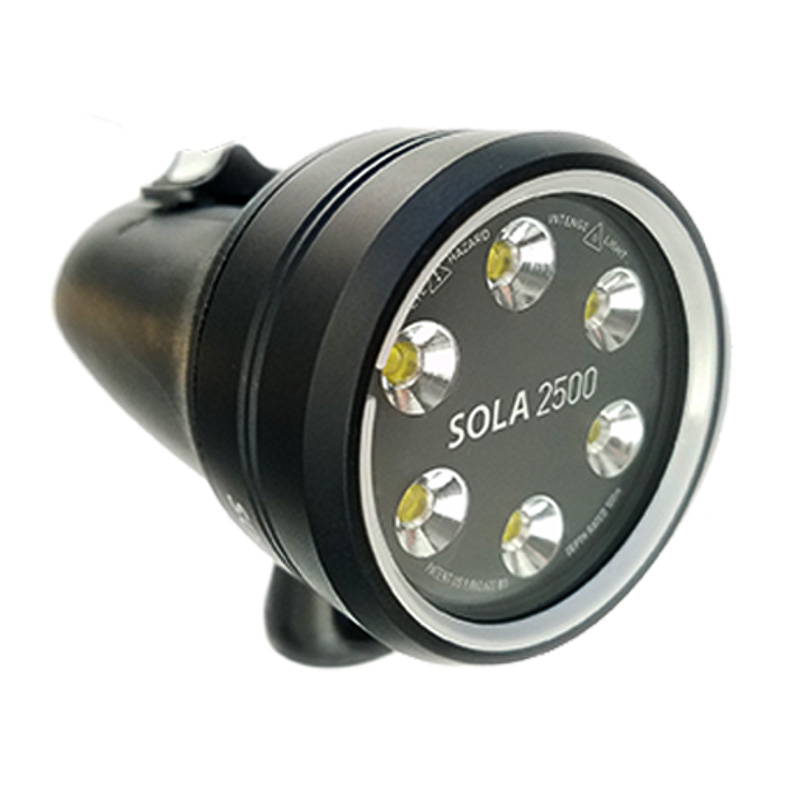 The Sola 2500F video light from Light & Motion is a neat, compact, and surprisingly bright light for underwater videographers. Light & Motion are well known for producing quality, high end underwater video lighting. This light is one of the most powerful for its size. It employs an easy to use magnetic switch which can be locked to prevent accidental activation when not in use. Slide forward or back to turn on. Hold forward or back to turn off. Rotate in off position to lock in for traveling.
Three power modes provide flexibility on light output. Recharge time is approximately two and a half hours. The status window on the Sola 2500F has three indicator lights behind the bezel that displays: output level, battery, and charge status. The Sola underwater lights are hermetically sealed so you don't need to worry about flooding. Simply plug in the charger to the back of the light to charge. Sadly no mounts are included with this light, but there are several available.
Key Specs:
2500 Lumens
Most powerful light for its size
Ease of use
Sealed body
---

Light & Motion Sola 2500F Underwater Video Light
---
2. Big Blue VL4200P Video Light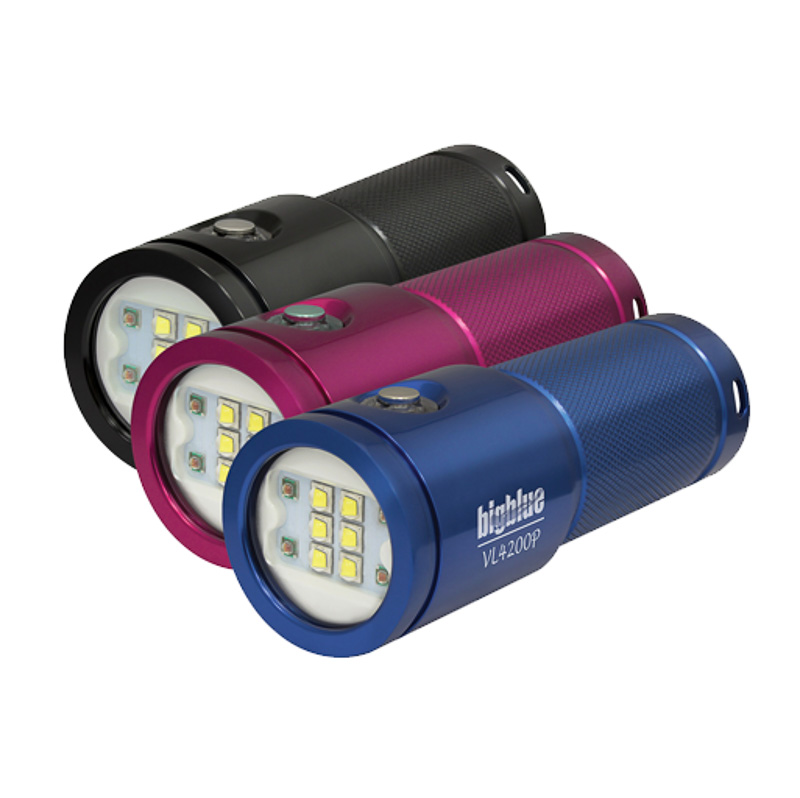 The Big Blue VL4200P Video Light is a powerful yet versatile underwater video light. It's often paired up with action cameras like GoPros or Paralenz. With 4,200 lumens in a compact body, it can also double as a dive light. Well suited for video it's got a wide beam angle of 120°. The video light also features a red light setting which is ideal for shooting skittish marine life. It comes with a 1" ball mount which will adapt with any ball and clamp arm system, additionally it includes a soft goodman hand grip. It's available in three colors: black, blue or pink.
Key Specs:
4,200 lumens at 6500K color temperature
Four power levels. Max burn time of 1.5 hours at 4000 lumens.
120° beam angle
Realiable push button system
---

---
3. iTorch Venom 60 Video Light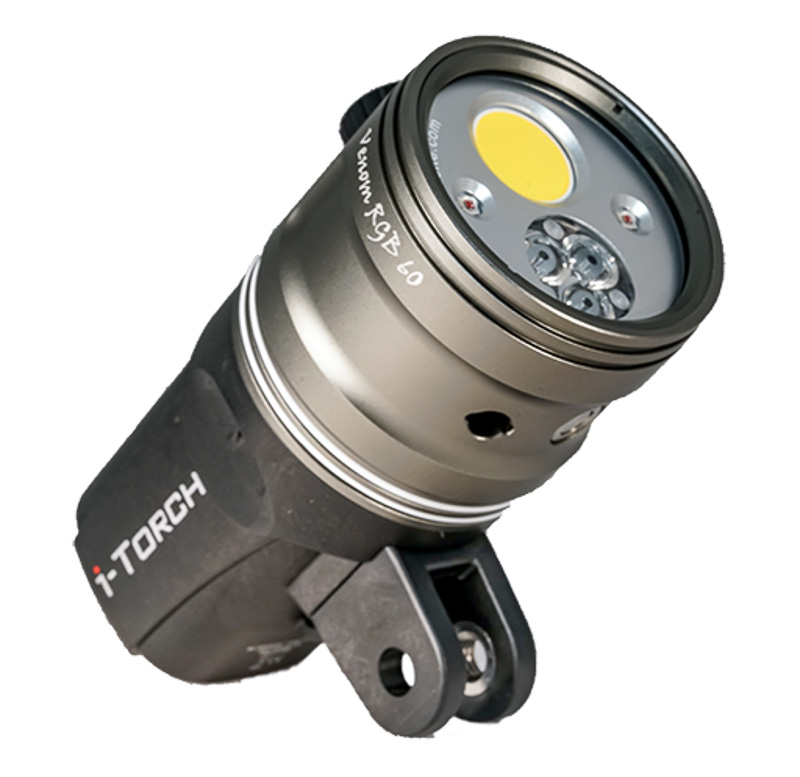 The iTorch Venom 60 Video Light boasts 6,000 lumens output with a CRI rating of 80! Wrapped up in a compact, and lightweight body, it's excellent to travel with. One distinct feature of the video light is the ability to adjust RGB light output. You can create some interesting lighting effects by adjusting the background tone. It is also compatible with the iTorch Remote Control which makes for easy adjustments of video light settings. This does come as a optional extra though.
Key Specs:
6000 Lumens Output
CRI rating of 80
Remote Control Available
Adjustable RGB

10 incremental power settings 10 of white & red, Spot RGB, and Spot White
---

---
4. Big Blue VL5800P 5800 Lumen Tri-Color Underwater Video Light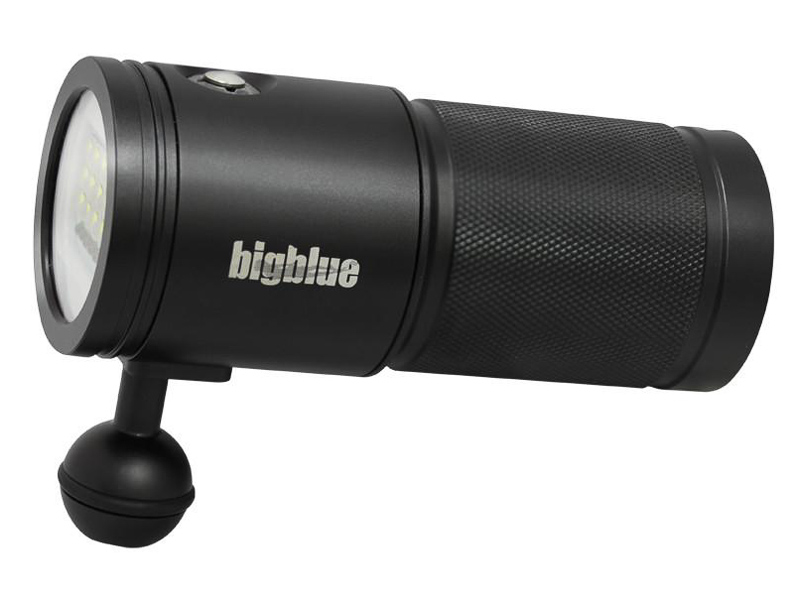 The VL5800PTC or Tri-Color is a compact, yet powerful all-purpose dive light, and is well suited for video purposes with a 120° beam angle. The 2016 model comes with 3 color settings - a cool white, warm white, and red mode. This light generates 5800 lumens, and is controlled by a simple, and reliable push-button. The Bigblue VL5800PTC Light uses 15 x XML LED plus 6 XPE Red LED for its light source. The color temperature in cool white mode is 6500K and 5500K in warm white mode. The lights lumen output/burn times (Cool White Mode) in level one at 1450 lumens with a burn time of 12 hours down to 3 hours in level 3 at 5800 lumens. The burn time with other settings is somewhere in between.
The package includes a Goodman-style glove , a universal 1" ball joint for easy camera set-up. A removable yellow warming filter, a Lithium ion battery and charger. The Big Blue battery design makes it easy to remove and replace the battery in-between dives with an optional spare battery, sold separately.
Key Specs:
5800 Lumens Power
120° beam angle
Three color settings: Cool/Warm White, Red
---

Bigblue VL5800P 5800 Lumen Tri Color LED Light
---
5.SeaLife Sea Dragon 5000F Auto Video Light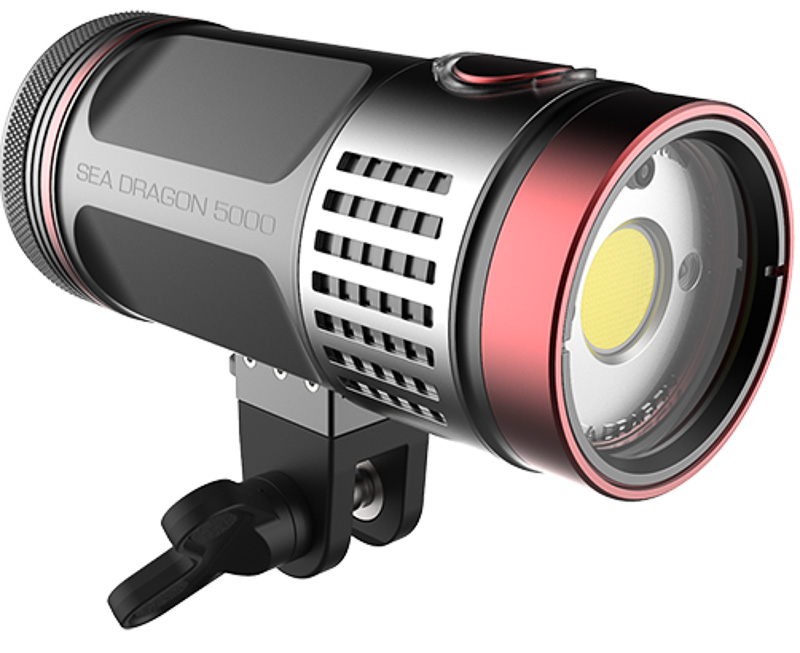 The SeaLife Sea Dragon 5000F Video Light is a small and compact video light yet is packed with lots of great features. With 5,000 Lumens of output, a high color rendering index (CRI) of 96, and a proprietary COB LED array that duplicates natural sunlight adding natural brilliance to your videos. It's designed as a pro level video light with a Television Lighting Consistency Index (TLCI) value of 97. The Dragon 5000F produces a very nice even beam at 120°. A nice little extra is the Flash-off mode. When a strobe is fired the light automatically shuts off for one second. There's also a stealth mode which emits a red light to help when recording shy creatures.
Key Specs:
5000 Lumens
120° Beam Angle
Auto-Off Mode
CRI of 96
---

SeaLife Sea Dragon 5000F Auto Video Light
---
6.Light & Motion Sola Video Pro 9600 Light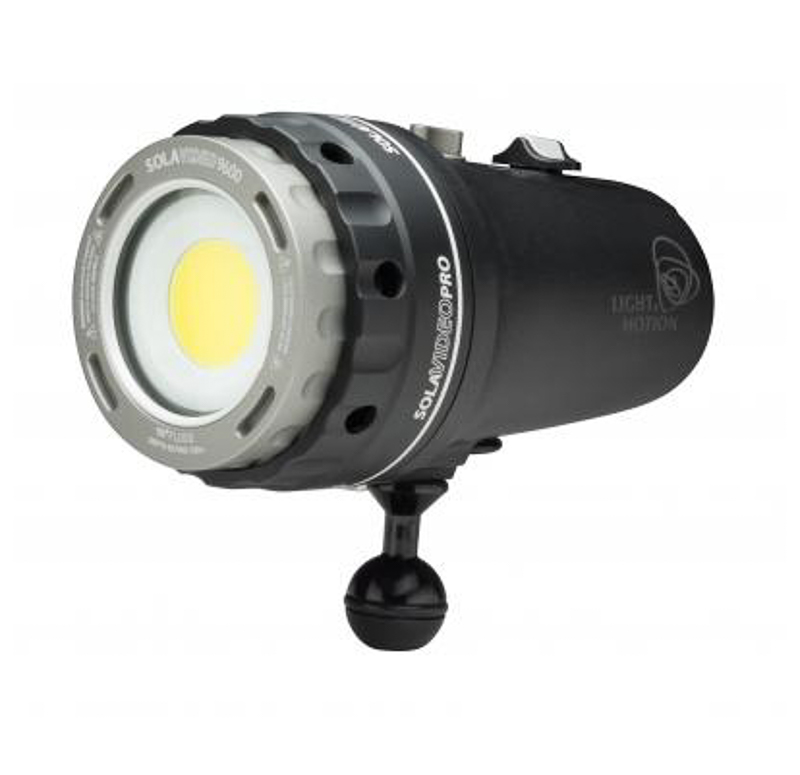 The Sola Video Pro 9600 is a stunning light that meets the needs of demanding underwater photographers and videographers. The Sola Video Pro features 9,600 lumens with a 90° beam. The light has an integrated cooling system which allows it to stay powered on without overheating above water.
Key Specs:
9600 Lumens
90° Beam Angle
In-built cooling system
---

Light & Motion Sola Video Pro 9600 Light
---
7. Keldan Video 4X 10,000 Lumen Light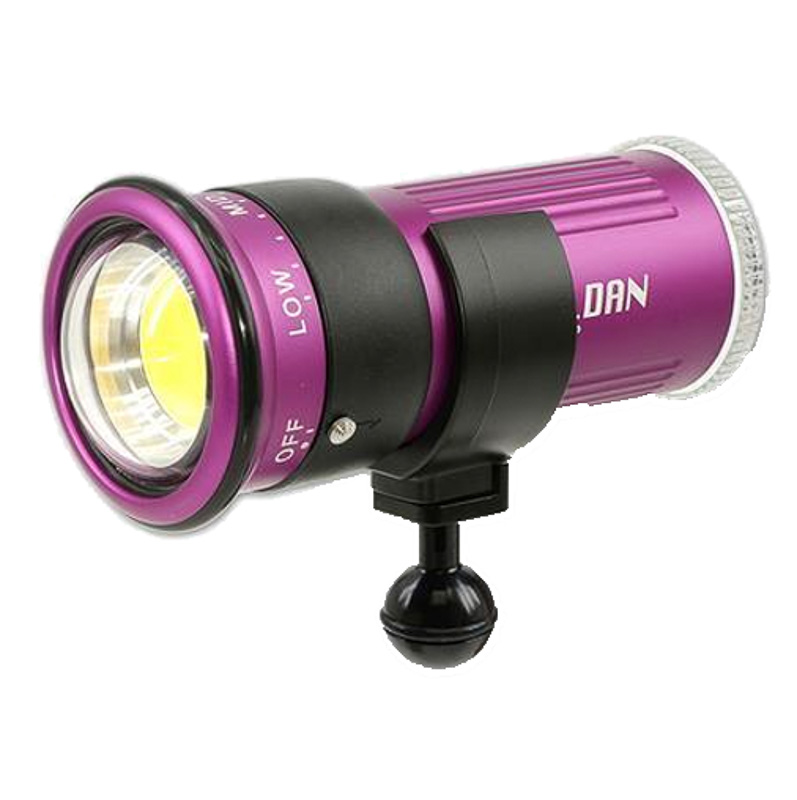 The Keldan Video 4X 10,000 Lumen Light is a compact unit yet it packs 10,000 lumens of power, and has a CRI of 85. Combined with a 110° beam angle, the light quality is top knotch, and free from hotspots. Perfect for the travelling videographer, it doesn't take up much space in your luggage, and is lightweight at 1.4 lbs. The Keldan 4X has 9 variable settings, you can run on max power for 40 mins, and upto 18 hours on low. It comes with a ball mount.
Key Specs:
10,000 Lumens
110° beam angle
9 Power Settings
CRI of 85
---

Keldan Video 4X 10,000 Lumen Light
---
8. Kraken Sports Solar Flare Mini 12,000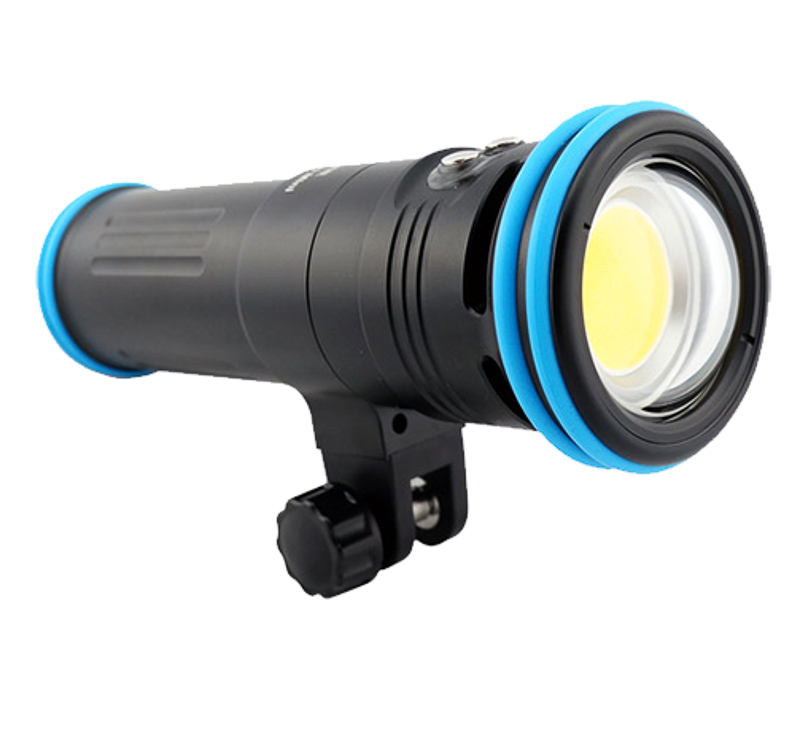 The Kraken Sports Solar Flare Mini 12,000 is a compact 12,000 lumen high output video light It's 50% more powerful than its predecessor, the Kraken Sports Solar Flare Mini 8000 and it's the same price which is a bargain.
The Solar Flare Mini 12,000 video light is equipped with the latest in LED technology. A Chip-on-Board (COB) LED provides 120° of smooth even lighting. Kraken have a convenient remote control that lets you control two lights at your finger tips. The light head and the battery compartment are both factory sealed, so if you do have a mishap the light head and body are protected. The package includes battery and charger, a YS and ball mount, and spare o-rings.
Key Specs:
12,000 Lumens
120° smooth beam
Hermetically Sealed lighthead, and Body
Remote Control (optional extra)
---

---

9.Light & Motion Sola Pro 15,000 Video Light with Dome Port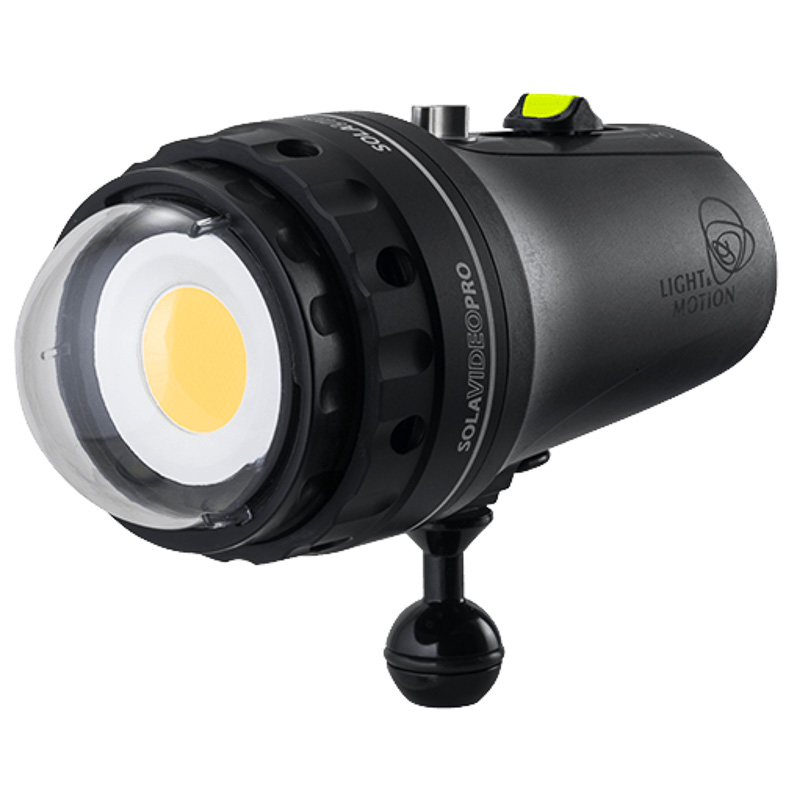 The Light & Motion Sola Pro 15000 is the professional's choice for a video light. The Sola Pro 15000 provides a very powerful output of 15,000 lumens with a wide beam angle of 110°. With even light dispersion, there's no hotspots. The regulated output owing to customer firmware ensures that power output is constant during operation. The OLED dashboard displays output, runtime, and charge status.
These lights work great as backlights or fill lights for wide scene shoots. If you are trying to do a reef scene with backlighting, the 15000's provide you with options you might not have considered previously. The team had the opportunity to use these lights as key lights on a "bonfire" night dive. Within minutes a feeding frenzy was brilliantly illuminated, which made for an incredible shoot. The Light & Motion switch mechanism makes changing the power output a breeze even with thick gloves on. Fast-charge technology allows a full recharge in 105 minutes.
Key Specs:
15,000 Lumens
110° beam angle
Fast-Charge Technology (1hr 45 mins)
---

Light & Motion Sola Pro 15,000 Video Light with Dome Port
---
10. Big Blue 33,000 Lumens Video Light VL33000P-II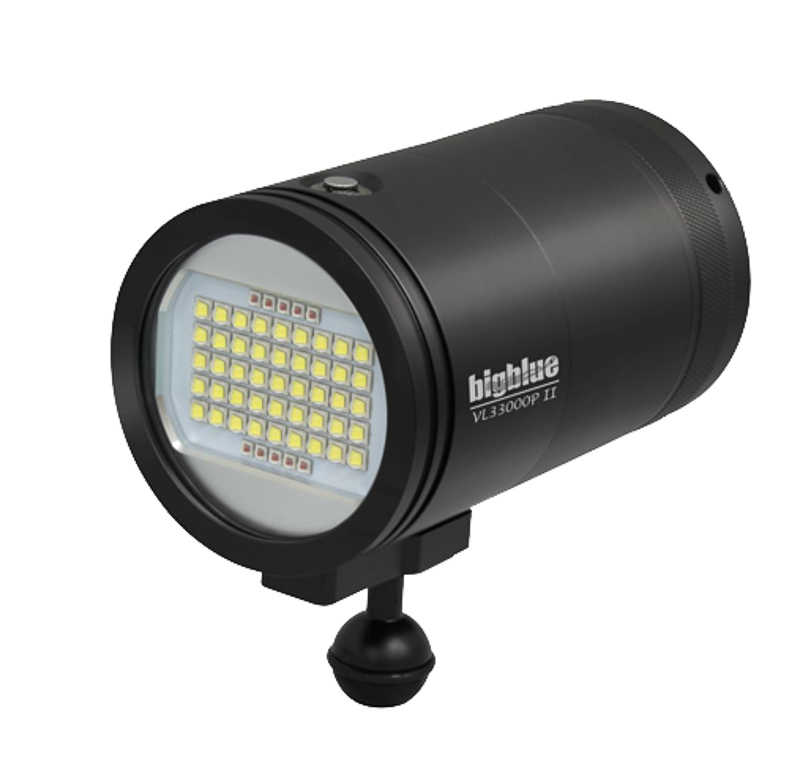 The Big Blue VL33000P-II Video Light is a very powerful video light! It provides a monstrous 33,000 lumens output at 6500K color temp which can illuminate your subject in any condition. It has also an ultra wide beam angle of 160° and no hotspots. The red light setting is great for capturing skittish critters, and is also great for staging shots. Included is a universal 1" ball mount which makes it easy to attach to your housing and adapts to most arms. It can also be used as a dive light, and the package comes with a slick, ergonomic handle.
Key Specs:
33,000 Lumens!
160° Ultra Wide Beam Angle
Four power settings to reduce intensity and increase battery life
LED Battery Indicator
Light Source: 45 XML LEDs
Hard Case included
---

---
11. Kraken Sports Hydra 15000 WRGBU Video Light
The Kraken Sports Hydra 15000 WRGBU video light is lightweight and compact, but don't let that fool you; it is an extremely capable tool. It has a huge output of 15000 lumens, which is very impressive for a light of its size. It can also be an effective strobe when attached to a camera via a fibre optic cable and used in burst mode. A bright LCD screen provides all of the information you'll need when using this light.
Key Specs:
Lightweight and Compact
Powerful 15000 Lumens!
Burst Mode
WRGBU
---

---
SUPPORT THE UNDERWATER PHOTOGRAPHY GUIDE:
The Best Service & Prices on u/w Photo Gear
Visit Bluewater Photo & Video for all your underwater photography and video gear. Click, or call the team at (310) 633-5052 for expert advice!
---
The Best Pricing, Service & Expert Advice to Book your Dive Trips
Bluewater Travel is your full-service scuba travel agency. Let our expert advisers plan and book your next dive vacation. Run by divers, for divers.
---