Sony A7R V Initial Thoughts & Review
The Sony A7R V represents an evolution in autofocus and extreme resolution
In 2019, the Sony A7R IV revolutionized underwater photography as the highest resolution full-frame camera ever to hit the market. It quickly became one of the most popular cameras among our readership and remains a solid offering today. As can be expected, Sony's recent annoncement of the Sony A7R V is making waves as well. Retailing at $3899 for the body, the A7R V is Sony's answer to the Canon R5's excellent price point as the flagship Sony A1 is unaffordable for many. Although it does not represent a major update to the A7R IV and features the same sensor, the A7R V debuts a technological revolution in autofocus as well as updates to in-body image stabilization (IBIS) and video. One thing is for sure - we will be the first to bring this camera underwater as soon as a housing is available so stay tuned!
US MSRP: $3899.99
Sony A7R V Specifications
61 MP full-frame Exmor R BSI CMOS Sensor
Dual Bionz XR processors
AI based real-time tracking AF system with a dedicated AI processor
8K/24p and 4K/60p (10-bit) video recording
4K 16-bit RAW video
S-LOG3 and S-Cinetone picture profiles
10 fps burst shooting
8 stops of 5 axis in-body image stabilization
3.2" 4-axis multi-angle touchscreen
9.44 million dot EVF with 120 fps refresh rate
Dual CFexpress type A/SD card slots
Size: 131 x 97 x 82 mm
723 grams
Key Sony A7R V Features
The World's Highest Resoltion Image Quality
While the Sony A7R V features the same 61 megapixel sensor as the A7R IV, it does have two new updated Bionz XR processors. 61 megapixels gives users the most resolution of any camera on the full-frame market, but it also ads noise to the image. We hope that the new processors will allow Sony to pull more image quality from the photos and reduce some of the noise we see at higher ISOs.
In our experience we prefer higher resolution sensors for macro underwater photography as it allows photographers to crop quite a bit while still retaining a lot of detail in photos.
A New AI Autofocus Processor
Autofocus is the shining feature of the Sony A7R V. That's not to say the A7R IV didn't have great autofocus, it did. But the A7R V is Sony's first camera with a dedicated AI autofocus processor and promises to be Sony's best ever focusing camera. Now the term "AI" gets thrown around a lot when it comes to new technologies. In the case of the A7R V, Sony has developed subject detection algorithms that can learn from data provided to the camera on movement and form. This makes Sony's autofocus subject tracking a lot more accurate in real world situations and includes improvements in animal eye autofocus tracking. Moving the autofocus processing to a dedicated processor improves speed as well. And though autofocus from most modern full frame cameras is excellent, underwater photographers can always do with better - especially as we deal with low light, fast moving environments. We are very excited to test this new feature underwater, so stay tuned!
Improved In-Body Image Stabilization
Sony developed In-Body Image Stabilization, or IBIS, but Canon perfected the feature on the Canon R5, offering 8 stops of image correction. With the Sony A7R V, Sony promises to match the R5 with 8 stops of stabilization of its own. For those who are confused on what "8 stops of correction" even means, it's important to picture the sensor in the camera. IBIS allows the sensor in the camera to move and respond to movements in the camera body so that the image sensor stays in one place. It's sort of like a gyroscope. So if you normally get camera shake in your images at a certain shutter speed, when you turn IBIS on, you will no longer see that camera shake and can, in fact, shoot at shutter speeds 8 stops slower! When we tested this feature on the Canon R5, we were easily able to shoot at 1/8th of a second while shooting non moving subjects without getting motion blur. We could have pushed this even farther, but then there'd be too much ambient light in the photo. So we anticipate the A7R V will produce similar results, and can't wait to try it out.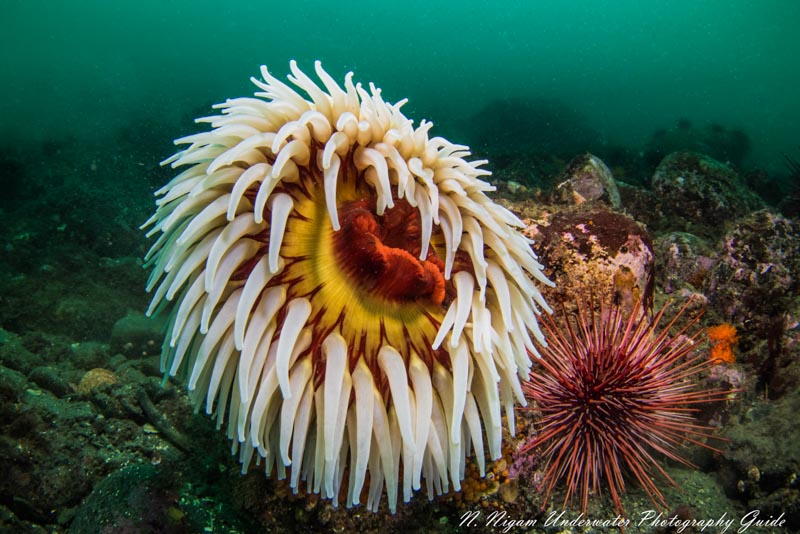 Improvements to Video Features
The Sony A7R IV and A7R V will never be cameras of choice for underwater video shooters. Both cameras have too many megapixels to produce extremely clean (low noise) video at higher ISOs. However, the Sony A7R V is a major upgrade to the R IV for underwater video, allowing hybrid shooters to easily make use of the camera. The Sony A7R V can capture 8K video up to 24 fps, allowing for significant crops in macro video, and 4K video up to 60 fps, allowing for stable, slowed-down footage. The Sony A7R V also dissipates heat quite well and allows for unlimited record time. Finally, the A7R V allows you to shoot in S-Log and S-Cinetone picture profiles, as well as RAW video to an external recorder. All of these recording options allow for excellent color correction and detail retention in post processing.
Sony A7R V for Underwater Photo & Video
We think the Sony A7R V will be an excellent camera for both underwater photo & video, but definitely more loved by underwater photographers than videographers. A high resolution camera typically detracts from video quality by adding noise at higher ISOs. However, with unlimited 4K/60p recording and even 8K recording it's a much better tool for video than the original Sony A7R V.
The Sony A7R V will truly shine with underwater macro photographers who need extra resolution for cropping. For wide angle photography, it will be an excellent camera but the added megapixels do require you to shoot at higher shutter speeds in order to get less motion blur relatively to lower resolution cameras. Yet, this was of the older Sony A7R IV, and with its improved IBIS, the Sony A7R V may not present these problems. In fact, improved autofocus speeds and IBIS do make the A7R V a solid workhorse for underwater shooters that need to shoot quick action photos and don't need high burst rates. If you're shooting with strobes, you likely won't need higher bursts rates than 10fps anyway. Overall, we expect the Sony A7R V to be just as popular, if not more than the A7R IV for underwater photography.
Sony A7R V Underwater Housing Options
The Sony A7R V is thicker than its predecessor to allow for heat dissipation. This means you will not be able to use the A7R V with previous Sony housings, except potentially the Sea & Sea Sony Universal Housing, though Sea & Sea has not confirmed this. In the meantime we anticipate underwater housings for the Sony A7R V from Aquatica, Ikelite, Marelux, Sea & Sea, Isotta, and Nauticam.
---
Purchase a Sony A7R V underwater housing at Bluewater Photo:
View All Sony A7R V Underwater Housings
Order a Sony A7R V Caemra Body
---
Sony A7R V Underwater Lens Options
In recent years, Sony has gone from having a limited supply of lenses for underwater photography to one of the best repertoire of native lenses for full-frame mirrorless cameras on the market. Sony A7R V users have an excellent set of choices for shooting macro, wide, mid-range, and fisheye.
Wide-Angle Lenses
The Sony 16-35mm F4 lens is the top wide-angle lens choice for photo and video. If you're looking for something even wider to get nice close-focus wide-angle (CFWA) shots of reefs there are a couple of options for shooting fish-eye. The 28mm prime lens with a fisheye conversion lens will give the widest possible angle of view. The fisheye conversion lenscan be used behind a large or small dome port, while the Sony 16-35 mm F4 les is recommended for use with an 8-inch dome or larger.
Wet wide-angle lenses are a great option with this camera. We recommend the Nauticam wet wide-angle lens or the Kraken KRL-01 wet wide-angle lens with the 28mm prime lens. All of these options are very sharp and will result in stunning wide-angle photos.
If you have a Nauticam or Marelux housing, our top recommendation is to pair the Sony 28-60mm kit lens with the Nauticam WWL-1B and Nauticam CMC-2 for the best wide angle and macro combination.
Mid-Range Lenses
The Sony 24-70mm F 4 or the Sony 28-70mm F3.5-F5.6 are good choices along with the 35mm F2.8 portrait lens.
Macro Lenses
For underwater photography, the Sony 90mm macro prime lens is the best choice for small fish and macro subjects. It is exceptionally sharp and produces high quality images. A 50mm macro lens is another great option, though it doesn't focus as quick as the Sony 90mm. Recently, the Sigma 105mm f/2.8 DN DG Art macro lens was reviewed by Bluewater Photo. It looks like it's going be an excellent alternative to the Sony 90mm with potentially better image quality!
Recommended Topside Sony Lenses
Telephoto
In our opinion, the four best Sony telephoto lenses are the Sony 600mm F4, Sony 100-400mm F4.5-5.6, Sony 200-600mm F5.6-6.3 and the Sony 70-200mm F2.8. These four lenses are Sony's flagship telephoto lenses and will each produce stunning image quality. If you're looking to add to your topside kit bag as well as your underwater one, consider these top-of-the-line options.
Wide-Angle
The Sony 12-24mm F4 FE wide-angle lens is a high-quality zoom lens that's perfect for landscapes, seascapes, interiors and any other time when getting as much in the frame as possible is the goal.
Canon Lenses
Canon lenses can be attached to the Sony A7R V with the Metabones, Sigma MC-11, or Photodiox adapters, but auto-focus is generally better with Sony lenses. Lenses like the Canon 8-15mm, 16-35mm, 17-40mm, and 100mm can work well.
We did our review with a Canon 8-15mm fisheye lens and a metabones adapter, behind the Ikelite 8 inch compact dome port for close focus wide angle. Unfortunately, we noticed that the autofocus with this setup is very slow. We only recommend using the Canon 8-15mm if you intend to shoot slow scenes or plan on shooting with manual focus.
Who Should Buy the Sony A7R V?
If you are a current Sony A7R IV user, there may not be much need to upgrade to the A7R V - unless you value autofocus and image stabilization above all else, or you shoot video. The image quality, however, will be roughly the same and both cameras are fairly similar. In fact, if you are invested in the Sony A7 system and looking to upgrade, you may even want to consider the Sony A7R IV which will be cheaper now that the A7R V has been announced.
If you are entering the full frame market for the first time, then the two options you would be considering at this price point are the Canon EOS R5 and the Sony A7R V. Here the choice is a little more difficult. If you are a video shooter, it would be a better idea to consider the Canon EOS R5 with it's 4K/120p recording and 8K/30p recording. If you are a photographer, then the Sony A7R V is a slightly better choice for macro, with more resolution, and the Canon EOS R5 is a better choice for wide angle, with better lens options and burst rates. Either way, you can't go wrong with either camera.
Conclusions
While the Sony A7R V is a relatively moderate update to the Sony A7R IV, it brings forth to light exciting new technologies. In a hobby where autofocus is so essential, it's nice to see the influence AI technology is having on autofocus tracking systems - particularly when it comes to finding fish eyes. We can't wait to try this new feature out underwater and report back. But more importantly, Sony is introducing a solid, well rounded professional camera at a price point that is much more affordable than their flagship A1. With better video, better stabilization, and improved processing capabilities, it's going to be a popular option for years to come. So stay tuned for the full underwater review!
SUPPORT THE UNDERWATER PHOTOGRAPHY GUIDE:
The Best Service & Prices on u/w Photo Gear
Visit Bluewater Photo & Video for all your underwater photography and video gear. Click, or call the team at (310) 633-5052 for expert advice!
---
The Best Pricing, Service & Expert Advice to Book your Dive Trips
Bluewater Travel is your full-service scuba travel agency. Let our expert advisers plan and book your next dive vacation. Run by divers, for divers.
---