Best Video Cameras Underwater
The Ten Best Cameras for the Underwater Videographer
Top Ten Video Cameras Underwater
It's an exciting time for underwater videographers. Once upon a time still photographers used cameras that did just that, they took still pictures. Those of us old enough to remember using film underwater had great challenges getting images right. The 21stcentury comes with massive array of technological advancements in photographic technology, we now not only expect our camera to be equipped with video, we expect it to be professional quality. So what does professional quality mean to underwater videographers today?
Being able to record in 4k is key. Mirrorless, DSLR, and compact cameras today are often armed with 4k. 4k capability comes in a few different flavours. The best cameras use full-pixel-readout from a full-frame (35 mm) sensor, the initial recording is done in 6k, and then down-sampled to 4k. The mid-range cameras use a process called pixel-binning, while lower quality cameras rely on cropping to get their video output.
Other options to consider are frame rate, the higher the better. The best cameras incorporate 60 frames-per-second (fps). Discerning videographers are now on the look out for cameras that have the facility to capture video in uncompressed formats RAW, or PRORES. These formats offer the greatest latitude in post processing, and colour grading. Peripheral components like the Atomos Ninja which is used to process RAW data. Nauticam ever responsive to market demands has a natty housing for the Atomos Ninja. External monitors are also available like the Angler Fish. Other important facets to consider are auto-focus systems, bit rate, budget of course, colour science, in-body stabilization (aka IBIS), choice of lenses, dynamic range, and low light capability.
So let's walk through what we believe are the most notable video cameras on the market today.
1. Panasonic Lumix S1H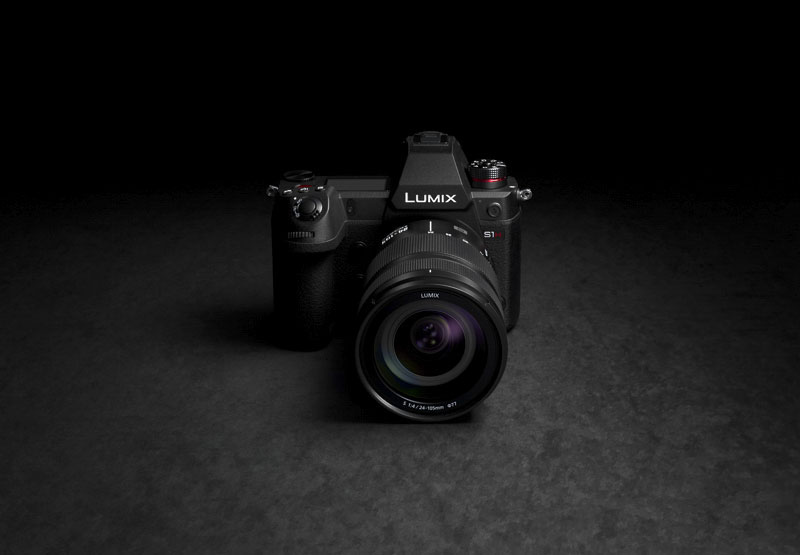 Panasonic recently announced their line-up of mirrorless full frame cameras. The Panasonic Lumix S1H has videographers excited with it's 6K video recording ability. The Panasonic Lumix S1H is designed specifically for video. It features fewer, but larger photosites that provides for some pretty awesome low light performance. The Panasonic Lumix S1H comes with a 24MP, full-frame sensor, supported by a new Leica-L mount. The Panasonic S1H shoots 6K /24 fps and 4K/ 60fps. Again the great thing about mirrorless cameras is you get a free upgrade each time the latest firmware is released! The latest firmware from Panasonic S1 allows you to take 4:2:2 10-bit footage internally. This certainly opens up the possibilities in post production and colour science. Having said all that, the S1H uses lenses (albeit there's a limited selection) that already come with their own internal stabilization, combine this with the 5 axis IBIS, you're getting 6 stops of stabilization. This is a major advantage for videographers.
The Atomos Ninja V can be used with the Nauticam Panasonic S1/S1R housing which offers an M28 bulkhead, and accommodates an HDMI 2.0 cable.
Key Specs
6k / 4k Video
24.2 MP CMOS Sensor
5 Axis Image stablization with Dual IS 2 technology
---

Bluewater Photo Panasonic Lumix S1H Camera and Housing
---
2. Canon EOS 1DX Mark III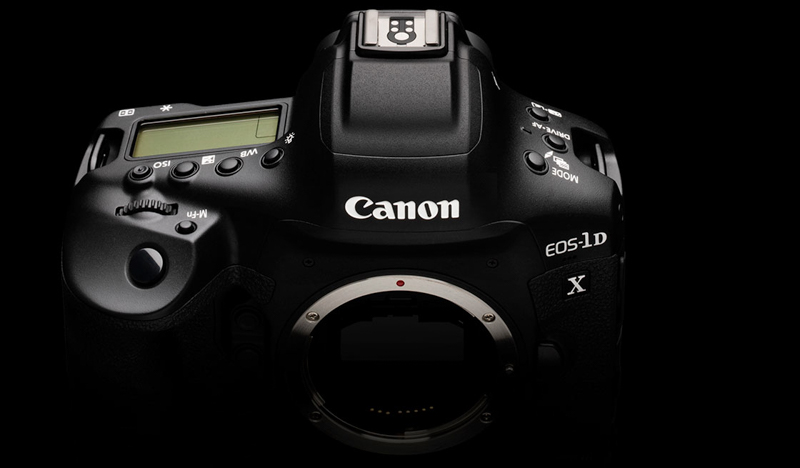 Canon have really packed a lot into their latest flagship EOS professional camera. At UWPG we think that the Canon EOS 1DX Mark III might just be the best camera ever made by Canon for underwater videography. A first for Canon there is no cropping, even with 5.5K at 60 frames-per-second (fps). The no crop also applies to 4k and in ultra high definition mode. When you're using Canon Log it's able to capture 10-bit, 4:2:2 video internally. The 20.4MP full-frame CMOS sensor delivers superb quality in shadowy low light conditions, Composition can be accomplished using the 3.2" LCD which exceeds 2.1 million dots. The Mark III comes with a dual CFexpress slots plus built-in Wi-Fi, Bluetooth and GPS. At the moment we're still waiting for housings to hit the market. You can pre-order your Nauticam housing here. If you already own the Nauticam 1DX Mark II housing an upgrade kit is available to accommodate the new Mark III. Underwater videographers who are looking for the best they can get out of a DSLR system look into this. It's camera without compromise, not for the budget conscious.
Key Specs
5.5K Video at 60 FPS - no crop
Canon Log 10-bit 4:2:2 video internally
20.4 MP Full-frame sensor
---

Bluewater Photo Canon EOS 1DX Mark III Housings
Aquatica Canon EOS 1DX Mark III Housing
Nauticam Canon EOS 1DX Mark III Housing
---
3. Blackmagic Pocket Cinema Cameras 4K & 6K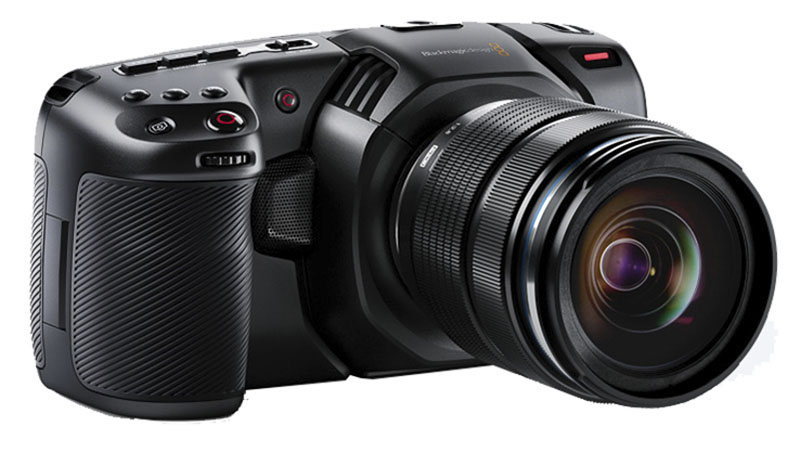 The Blackmagic Pocket Cinema Camera 4K (BMPCC4K) is a surprising innovation in a small package. It's way more affordable than the average purpose made cine-camera camera which will set you back thousands $$, and that is not exaggerating by any stretch. The BMPCC4K is a micro four thirds camera that offers 4k Video at 60 FPS and is capable of recording in both RAW and ProRes formats. These formats really open up your potential in post processing. The LCD screen is crisp, has excellent contrast, and makes video production underwater an easier task. Although the BMPCC4K lacks in-body stabilization when you buy the camera, you get a free subscription to Davinci Resolve software. The Pocket 4K incorporates a Micro Four Thirds mount, which is perhaps the most widely used lens mount available. With a good choice of mount adapters, realistically any number of lenses can be used with this camera. The BlackMagic Pocket Cinema 4K Camera fits nicely into the Nauticam BMPCCII Housing, and makes an excellent system for the underwater videographer at a decent price point.
Key Specs
4K RAW at 60fps
Micro Four Thirds Lens Mount
Small Size Cine Camera at Incredible Price Point
---

Bluewater Photo Blackmagic Pocket Cinema Camera 4K Camera and Housing
Blackmagic Pocket Cinema Camera 4K Camera
Nauticam Blackmagic Pocket Cinema Camera Housing
---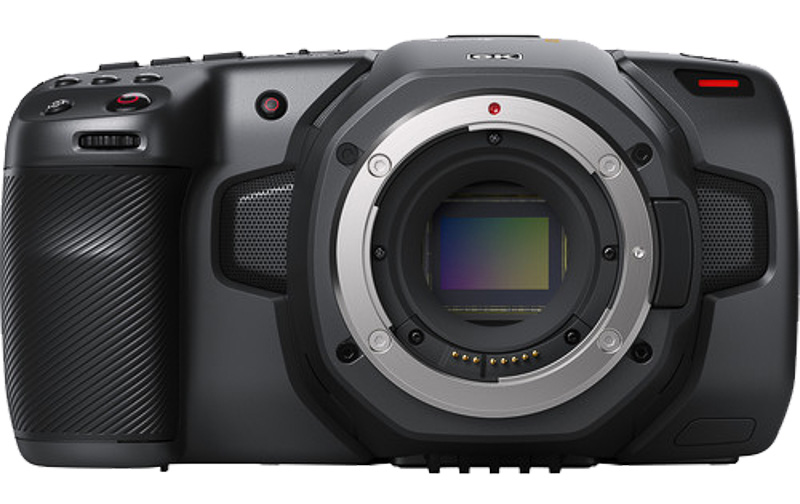 When compared with the 4K version you'll find some significant changes in Blackmagic's Pocket Cinema Camera 6K model. The first thing to be aware of is the 35mm full-frame sensor that accepts Canon's EF mount. This mean's a you've got access to a massive selection of top quality EF glass. Your decision between 4K and the 6K the may come down to what you're trying to achieve, and whether it fits your budget. As ever with a larger sensor you'll benefit from increased dynamic range, hence, better low light performance. Dual-Gain ISO is another enhancement, with 13 stops of dynamic range and dual native ISOs (400 / 3200), it's also tuned to reducing noise and preserving tonal detail in situations infamously hard for video. The 6k camera promises inventiveness in most lighting conditions, smoother backgrounds owing to its larger sensor, and better detail rendition in darker situations. Blackmagic certainly have a reputation for bring cine cameras to the market that were once only available to pros with deep pockets. We're looking to Nauticam to come out with a housing like the they did for the 4K. Stay tuned.
Key Specs
S35 sensor 6K
Canon EF Lens Mount
Dual-Gain ISO
---

Bluewater Photo Blackmagic Pocket Cinema Camera 6K Camera and Housing
Blackmagic Pocket Cinema Camera 6K
Nauticam Blackmagic Pocket Cinema Camera 6K Housing
---
4. Z CAM E2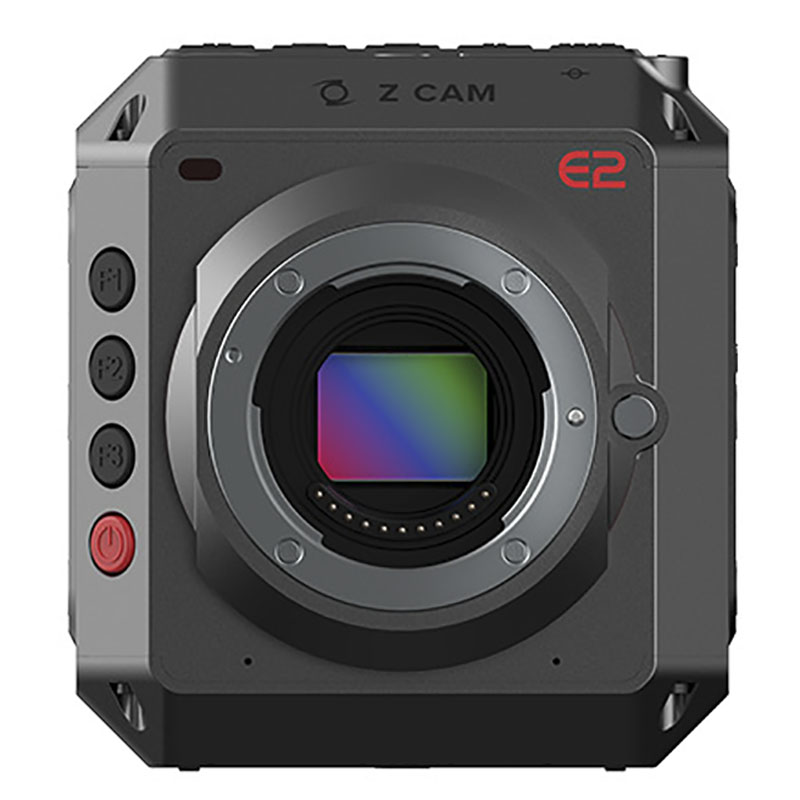 The Z CAM E2 features high frame rates, 4K ProRes recording all in a small but robust package. The ZCAM E2 is a micro four thirds (MFT) camera capable of shooting 4K DCI and uses LOG profile (Z-LOG2) recording ProRes HQ. Additionally, it delivers 10bit 4:2:2 internally to 60fps, and 4K H265 to 120fps, 160fps in 1:2.4 mode. It's body size allows for more inputs, frame rate options, and modernized codecs. The camera dimensions are 3.6 x 3.9 x 3.5 inches. It never ceases to amaze what manufacturers are able to squeeze into small camera bodies. The build quality is stunning. The battery life is excellent, especially when comparing it with cameras from Blackmagic. Power consumption is kept to a minimum through the use of an application-specific integrated circuit (ASIC chip). The use of this chip also helps to keep the circuity cool in a such a small body. Lens choices for the Z Cam E2 are vast with the MFT mount. You can also use the Metabones Speedbooster adapter and take advantage of full frame lenses depending on what you are trying to achieve. Nauticam currently offer a housing for Z Cam which can used with external monitors, and as usual offers excellent ergonomics.
Key Specs
ProRes Recording
MFT Mount
Small but durable form factor
---

Bluewater Photo Z Cam E2 Housing
---
5. Nikon Z6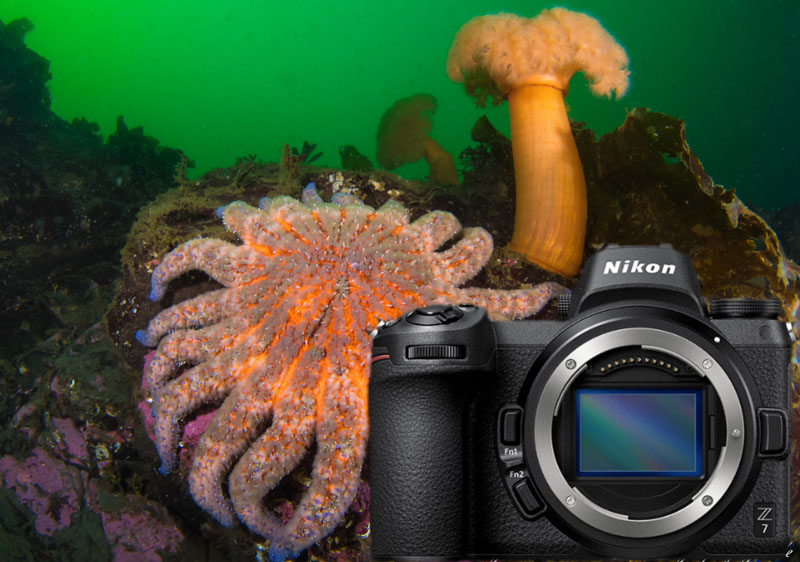 The Nikon Z6 stands firmly among the best full-frame mirrorless video cameras on the market, offering a full-frame, full-pixel sensor readout for crystal clear 4K video. You can output 10-bit, 4:2:2 log video to capitalize on dynamic range and shoot 1080p video at up to 120 fps. RAW in video gives you the potential to affect changes in post-processing. Colour grade, dynamic range, white balance, and more can all be modified, all to suit your personal taste. The only limitation is your your own imagination. While the selection of native lenses is still suffering from a limited range, the Nikon MTZ adapter allows you to adapt most of your F-Mount DSLR lenses. Image quality and colours captured on the 24.5-megapixel sensor are outstanding. Combined with the 5-axis in-body stabilization both your still images and video output will have a greater chance (5 stops greater) of being sharp and smooth. Autofocus tracking once maligned is now greatly improved with the latest 3.0 firmware release from Nikon. This is one big advantages of shooting mirrorless system, it helps to future proof your system.
Nikon have teamed up with technologists at Atomos to help unleash the potential of RAW recording for video. The Z6 and the Z7 both have some internal limitations processing uncompressed data. That's where the Atomos Ninja V HDR monitor recorder comes into its own. Connect the camera via an HDMI cable to the Atomos and you can capture 12 bit RAW. This ability was something once only seen on professional series camcorders.
Key Specs
N-Log recording (with an external recorder only)
Up to 10 bit internal recording, 12 bit external
4K at 24p, 25p, 30p
5 Axis In-Body Image Stabilization
---

Bluewater Photo Nikon Z6 Housings
---
6. Sony A7S II /A7 III / A7R III /A7R IV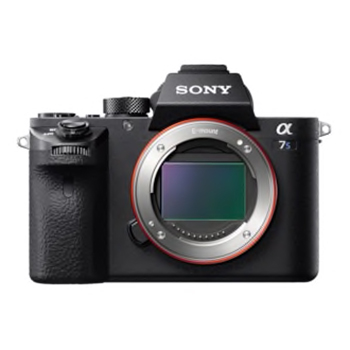 Meet the Sony A7S II - the S stands for Sensitive. Although this camera only has a 12.2 MP sensor, which means fewer but larger photo-sites, tests have shown this camera to excel in low light conditions with minimal noise. If you are a dedicated videographer this may be the camera of choice. 4K recording mode offers full pixel readout, and no pixel binning. ISO goes up to a staggering ISO 400,000, hence sensitivity position in the Sony A7 line-up. Tests show decent results at ISO 8000 after color grading. Hats off to Sony as reports show that white balance works quite well in underwater mode, which often isn't the case. The Sony A7S II has a reputation for excellent stabilization during long clips, and very respectable dynamic range. Tests have also shown in available light work that the LCD is representative of the final result, which instils trust in the camera while you are working underwater. If you're price sensitive, this may be great option over the A7R III, and A7R IV bodies. This camera performs well in available light, and low-light videography.
Key Specs
Native ISO 100 - 102400 => Expanded ISO 50 - 409600 !!
Full-pixel readout video at Full Format
4K Video at 30FPS
---

Bluewater Photo Sony A7S II Camera and Housings
---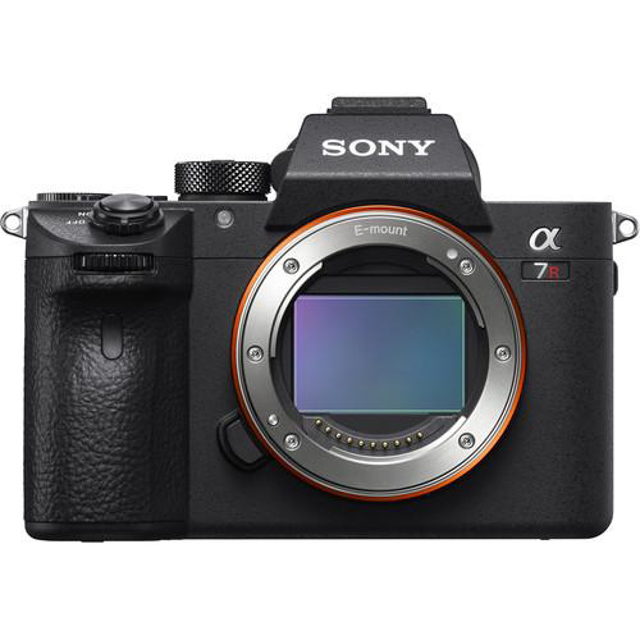 The Sony A7R III is a great all-round camera delivers both high quality stills and video. Shooting in video mode offers great low-light performance, 4K video, focus peaking, and easy custom white balance. Slow motion is available at 120 frames per second video in full HD mode now (1080p). The A7R III uses two 4K video modes, either full-frame or Super 35. In Super 35 mode, an 18 megapixel crop of the sensor is used, resulting in sharper images and video with less aliasing and moiré.
Our team took some beautiful video of mating squid at night. Overall, they found the 4K video to be incredible with excellent dynamic range and detail, especially in low light. They found video operation intuitive. This was certainly aided with excellent ergonomics on the Nauticam housing for the A7R III. The Sony A7R III is ideal for compact and mirrorless users thinking about upgrading to take better video.
Key Specs
42 MP Back-Illuminated Full-Frame Exmor R CMOS Sensor
120fps video supported in 1080p mode versus 720p mode in the A7r II
Battery life almost doubled from A7R II
---

Bluewater Photo Sony A7R III Camera and Housings
Sea & Sea Sony A7R III Housing
---
Less than six months since the release of the A7R III Sony came out with the A7 III which Sony positioned as 'The balanced Mark III' . It comes with a smaller resolution sensor than it's predecessor (24.2MP Mpx Exmor R BSI-CMOS), which offers potentially better low light performance. It's also cheaper than the A7R III, which might be appealing to some. The A7 III can record full pixel readout, with no pixel binning, and uses the entire width of the sensor (except in 4K 30p a 1.2x crop is applied). At higher ISOs the A7 III delivers greater sensitivity and goes up to 51200, or 102400 ISO with the extended range. The A7R III's ceiling is 32000 ISO, excluding the extended ranges possible. Overall the A7 III has the advantage at higher ISO settings. Your decision between the two cameras may well come down to price. You'll need to dig $1000 deeper into your pocket to get the A7R III. You're likely wondering whether the extra money is worth it. You need to do your homework to decide which model has what you need.
Key Specs
24.2MP Mpx Exmor R BSI-CMOS
Native ISO 100-51200
$1000 cheaper than the A7R III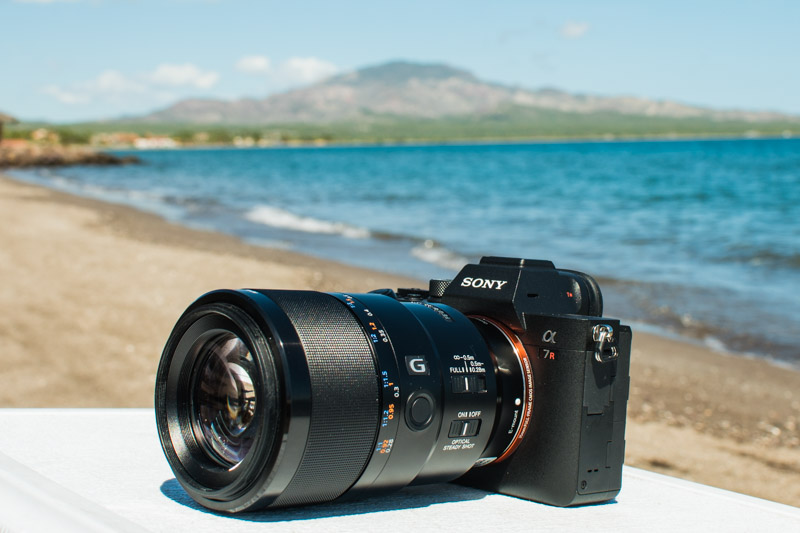 The Sony A7R IV opens the door to top notch video. Down sampled from 6K it renders amazing detail on video. The A7R IV records 4K @ 30p with S-Log2/3, with hybrid log gamma picture profiles available. The auto-focus is definitely an improvement over the A7R III, features real time AF tracking in video. For underwater video, the Sony A7R IV sits comfortably among the top cameras on the market, but it won't be a revolutionary upgrade if you're moving up from the Sony A7R III. Our advice if you're an underwater videographer is to check out the Sony A7R III or A7S II in order to save money, and get similar results.
Key Specs
61.0 MP Exmor R CMOS Sensor
4K video @ 30P
S-Log2/3 and Hybrid Log Gamma picture profiles supported for video
---

Bluewater Photo Sony A7R IV Camera and Housings
---
7. Sony a6400 / a6600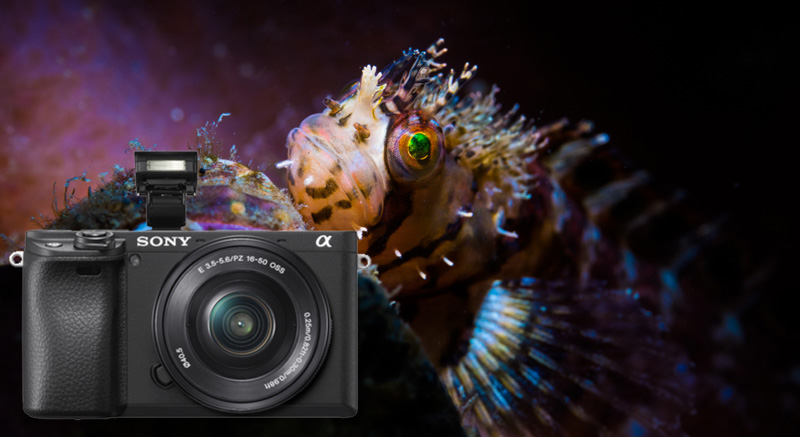 The Sony a6400 mirrorless camera is an excellent choice for the underwater videographer. That said, it's not worlds apart though the video capability from the a6300. The quality of the video is where this camera really delivers. The a6400 records 4k resolution at 30 fps, and no pixel binning. For action videos the a6400 is capable of 1080p at 120 frames per second. One significant improvement on the a6400 is that it can now shoot video using Hybrid Log Gamma (HLG), S-Log2, or S-Log 3 picture profiles. HD proxy video recording is another new option that allows videographers to capture lower quality video for streamlined editing and replace it with full resolution footage during rendering.
The team are super pleased with the underwater video from the Sony a6400. The details are compelling, even in lowlight. The Sony a6400 shoots in 6K and then downscales the footage to 4K for extra sharpness. Colors captured with the Sony a6400 are fairly accurate. With no crop factor and no pixel binning, the video on the Sony a6400 is almost everything you could ask for with the exception of no in-body stabilization. For this you need to look to the a6600.
Key Specs
24.2 MP APS-C Exmor CMOS Sensor
Advanced High-Resolution 4K with Fast Hybrid Autofocus
Can now shoot video with Hybrid Log Gamma (HLG), S-Log2, or S-Log 3 picture profiles for HDR-ready footage
---

Bluewater Photo Sony a6400 Camera and Housings
---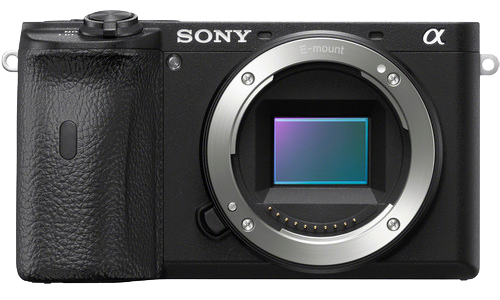 The Sony a6600 has the best to offer from the a6000 range. With a 24.2 MP APS-C sensor, 5 axis in-body image-stabilization, 4K video (no crop), AF tracking, and decent battery life makes the a6600 a strong contender for underwater videography. We do find it a little on the pricey side though. It's not miles away from critically acclaimed full-frame systems like the Nikon Z6 and Sony a7R III. The biggest benefit of purchasing the Sony a6600 for underwater videography is 5 axis IBIS and greatly improved battery life, so longer recording times. The new HDR features might be interesting to experiment with but the jury is still out. The video quality on this camera is particularly good because the 4K video is down sampled from 6K – so expect even more fine detail at 4K. Videographers will get the biggest advantage as the majority the upgrades from the a6500 are targeted at video.
Key Specs
Greatly improve battery life with new NP-FZ100 battery
4K @30fps video, 1080p @ 60fps
5 axis in-body image-stabilization
---

Bluewater Photo Sony a6600 Camera and Housings
---
8. Panasonic Lumix LX10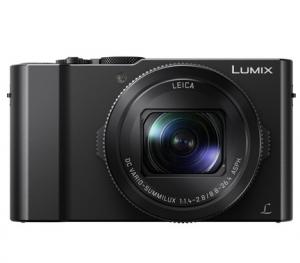 Good things come in small packages. The Panasonic Lumix LX10 ticks a lot of boxes. This is Panasonic's response to its competitors, the Canon G7X MK II, and the Sony RX100 Mark V. Its on board 20.1MP 1 inch CMOS Sensor delivers outstanding quality images for a compact, and 4K Video at 30p! Panasonic have cleverly implemented the ability to reassign the shutter to function buttons. The very same functionality seen on top DSLRs taking advantage of back-button auto-focus. This essentially de-couples the record button (shutter) from the auto-focus, and will start recording as you soon you press the button. No more half-pressing the shutter to get auto-focus locked! This is still a major complaint with compact users. The LX10 has greatly improved, and simplified its white balance capability at depth. Once you've locked your white balance where you want it, you can bank up to four settings which is pretty handy when you're holiday diving the same sites repeatedly. This little compact could be considered a purpose made video camera. In addition to some of the feature I've already mentioned, it also has focus-peaking, and zebra stripe highlight warnings. With the LX10 you can shoot video in manual exposure mode mode, and track it while you're shooting. Shooting 4K video uses a cropped sensor which does narrow your field of view down to a 36mm equivalent. While often considered detrimental, it can actually be a benefit when using wide angle accessory lenses, and for macro allows for more working distance when shooting macro. The LX 10 comes with a 24-72 equivalent lens which is makes it's highly compatible with many underwater accessories. All in all this compact delivers a lot punch, and very well suited to any serious compact shooters. Those looking for more freedom to unlock angles with a smaller system, and still get pro like results this could be your next camera.
Key Specs
4k video capable. 4k 30p video
Great control set for underwater operation.
One inch sensor for decent low light performance.
Accurate and simple white balance. 4 white balance memory
---

Bluewater Photo Panasonic Lumix LX10 Camera and Housing
Ikelite Panasonic Lumix LX10 Housing
Nauticam Panasonic Lumix LX10 Housing
Nauticam Panasonic Lumix LX10 Pro Package
---
9. Canon G7X Mark III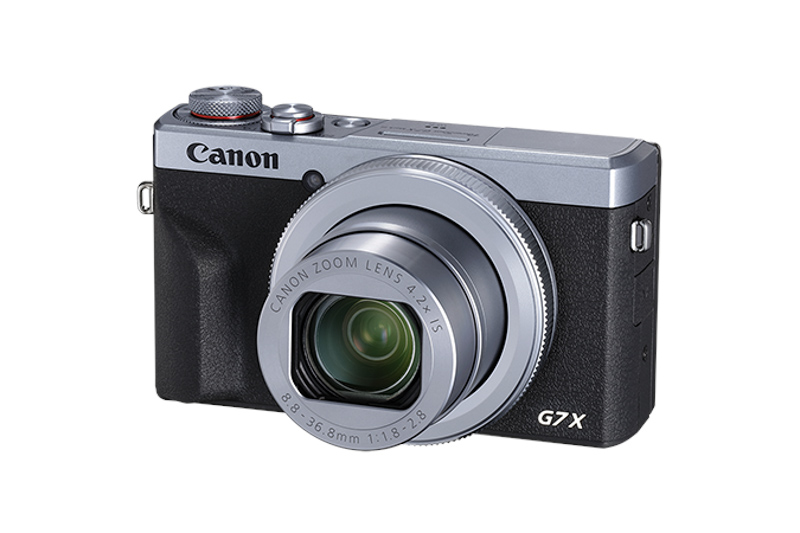 The G7X Mark III comes with 4K@30p capability, which now appears to be the new standard in today's video cameras. Canon, thankfully has done away with the crop, so the maximum potential of the sensor is realized resulting in brilliant video detail. Slow motion video capability (120 fps) is also delivered at 1080p. This will be a welcome addition for the underwater videographer wanting to capture the action; a big pelagic, quick moving sea lion, or a polarizing schools of fish are all possible. A sidebar for many, but worth mentioning, G7X Mark III features support for live streaming on YouTube, as well vertical video shooting which we imagine may be trying to replicate what you do with your smartphone
Our team at UWPG took the camera for a test dive in the cool, and shadowy waters of the Pacific Northwest, namely Hood Canal. They report that the camera performed well in low light and markedly better than the G7X Mark II. They're not missing the crop factor on previous models, and said they really like bringing home that looks the same as it did when it was taken. People looking to upgrade from the G7X Mark II should check this out. This camera holds its own with the addition of 4K, slow motion, and greatly improved video quality over it's ancestor.
Key Specs
4K video at 30fps and 1080p at 120 fps
Slow mo video - 120 fps in 1080p
Live streaming videos to YouTube supported
---

Bluewater Photo Canon G7X Mark III Camera and Housings
Fantasea Canon G7X Mark III Housing
Ikelite Canon G7X Mark III Housing
Nauticam Canon G7X Mark III Housing
Nauticam Canon G7X Mark III Pro Package
---
10. GoPro Hero 8 Black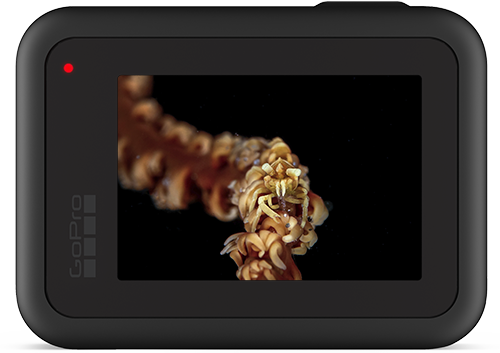 The GoPro range of action cameras is with out a doubt the most popular underwater camera in use by enthusiasts and industry pros alike. We're not sure how, but GoPro release a new model every year always at the same price. We are comfortable saying that the GoPro Hero 8 Black is the best action camera for both photography and video. The latest Hero 8 comes with 4K at 60p video, alongside Hypersmooth image stabilization 2.0, and Timewarp 2.0. There are no changes from the previous model to frame rate, or resolution. However, if you happen to own a model older than the Hero 7 you will see a significant difference in quality. There are a lot of updates for the topside shooter targeting vlog users, if this of interest, it might justify an upgrade. It's not a major overhaul like we've seen in the past. The latest version of Hypersmooth is definitely worth checking out. The stabilization is beefier than we've seen previously, and it can be utilized at any frame rate, or resolution. The team has said after testing it on Malibu beach that it may well negate the need for a gimbal. You can read more about our full review. In the end we feel that this camera offers better stabilization, is simpler to use, and has improved camera pre-sets. GoPro continue to be an innovative leader in the action camera arena.
Key Specs
4K Video @ 60/50/30/24fps
HyperSmooth image stabilization 2.0 at any frame rate / resolution
Cool Top Side additions for Vloggers
---
SUPPORT THE UNDERWATER PHOTOGRAPHY GUIDE:
The Best Service & Prices on u/w Photo Gear
Visit Bluewater Photo & Video for all your underwater photography and video gear. Click, or call the team at (310) 633-5052 for expert advice!
---
The Best Pricing, Service & Expert Advice to Book your Dive Trips
Bluewater Travel is your full-service scuba travel agency. Let our expert advisers plan and book your next dive vacation. Run by divers, for divers.
---