Olympus OM-D E-M5 Mark III Review
A detailed look at the new Olympus OM-D E-M5 Mark III for underwater photography and videography
As Olympus turns 100 years old, they have recently released the long awaited Olympus OM-D E-M5 Mark III micro four-thirds mirrorless camera. The Olympus OMD line of cameras (EM1, EM5, EM10) is a very popular line of cameras with underwater photographers. This is partly because of the wide range of high quality specialty lenses that are perfect for underwater use. Attend an underwater photography workshop and you are likely to see a number of OMD shooters shooting the full gamut from wide angle to super macro. As an avid Olympus user for over 6 years now (EM1 and EM1 II), I have been looking foward to this announcement for awhile. And it has been awhile...4 years since the EM5 II was announced.
U.S. MSRP: $1,199
Availability: Available Now!
Micro Four Thirds Format - What's Next?
Like many others, I was very concerned with the OMD EM1X announcement...it just seemed the micro four thirds format was getting larger and larger, and pricier and pricier. It seemed like Olympus was trying to compete with full-frame mirrorless cameras using a sensor half the size, and for a niche market as well. What happened to the low size, relatively low cost, high spec offerings that drew me any many others to Olympus in the first place?
Well thankfully, Olympus seems to be getting "back on track" with their latest offering - a very exciting blend of strong specs, small size, and reduced cost. At a time when full frame mirrorless cameras are rapidly evolving and becoming ever more popular, it is going to keep getting harder for Olympus' micro four thirds lineup to compete...however, in my opinion, the OM-D EM5 Mark III is a step in the right direction.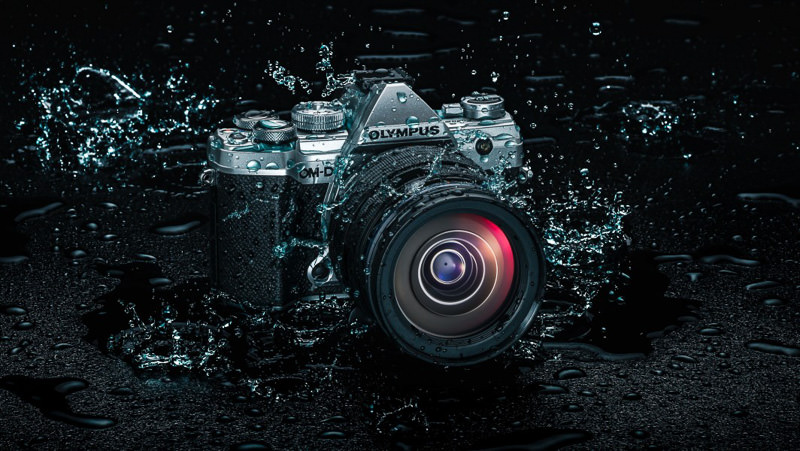 Olympus OM-D E-M5 Mark III
---
Jump to Section:
OM-D E-M5 Mark III Specifications | Olympus E-M5 III vs E-M5 II and E-M1 II
Underwater Photography Features | Underwater Video | Limitations
Best Lenses for Underwater | Underwater Housings
Comparison to Other Cameras | Conclusion
---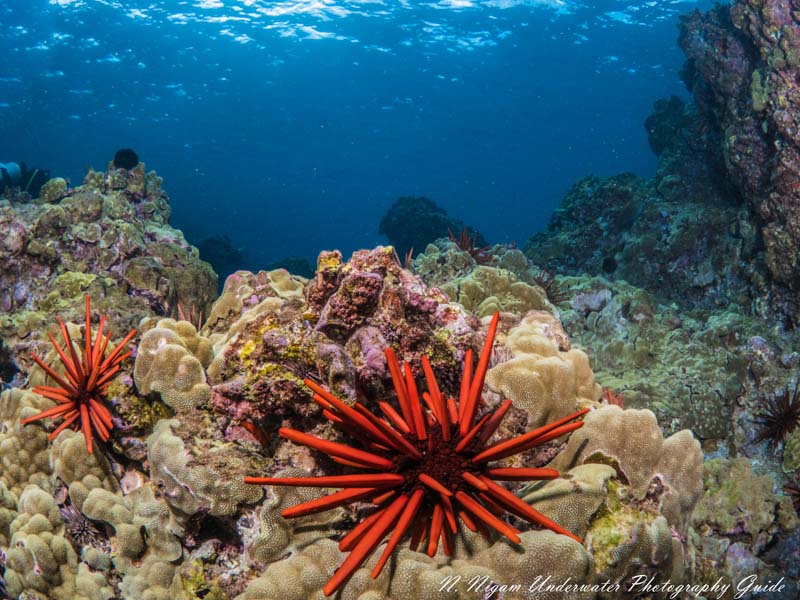 Olympus OM-D E-M5 Mk III Specifications
Key Upgrades from OM-D E-M5 Mark II
20.4 Megapixel Live MOS Sensor with TruPic VIII Quad Core Processor

Advanced 5-axis Image Stabilization (5.5 stops, 6.5 with compatible Olympus IS lenses)

Dual F.A.S.T. AF (Contrast & Phase Detection AF) 121 Point (All Cross Type) On-Chip Phase Detection

50 MP Tripod Hi-res Shot Mode

4K Cinema Video (4096x2160) at 24 fps (max rate 237 Mbps), 4K 30p video (approx 102 Mbps)

Vari-Angle (fully articulating) touch LCD

% Battery Status Display

Lighter body (414 g vs 469 g)
Olympus OM-D E-M5 III Complete specs
20.4 Megapixel Live MOS Sensor with TruPic VIII Quad Core Processor

Advanced 5-axis Image Stabilization (5.5 stops, 6.5 with compatible Olympus IS lenses)

Dual F.A.S.T. AF (Contrast & Phase Detection AF) 121 Point (All Cross Type) On-Chip Phase Detection

50 MP Tripod Hi-res Shot Mode

10 fps mechanical sequential shooting/30 fps electronic sequential shooting

Focus Bracketing and Stacking

4K Cinema Video (4096x2160) at 24 fps (max rate 237 Mbps)

4K Video (3840x2160) at 30/25/24 fps

FHD video up to 1080/60p

1/8000 high speed mechanical shutter

1/250 shutter sync for flash

ISO range of 200-25600, with extension down to 64 ("low")

Very lightweight and weatherproof body

3 inch fully articulating touchscreen monitor

414 g (0.9 lb) camera body weight, including SD card and battery

Ports: Microphone, USB Micro-B, Micro HDMI, remote, flash sync

Memory card compability: SD, SDHC*1, SDXC*1 (

*1 UHS-I, UHS-II compatible)

Built-in WiFi and Bluetooth

Battery CIPA rating of 310 shots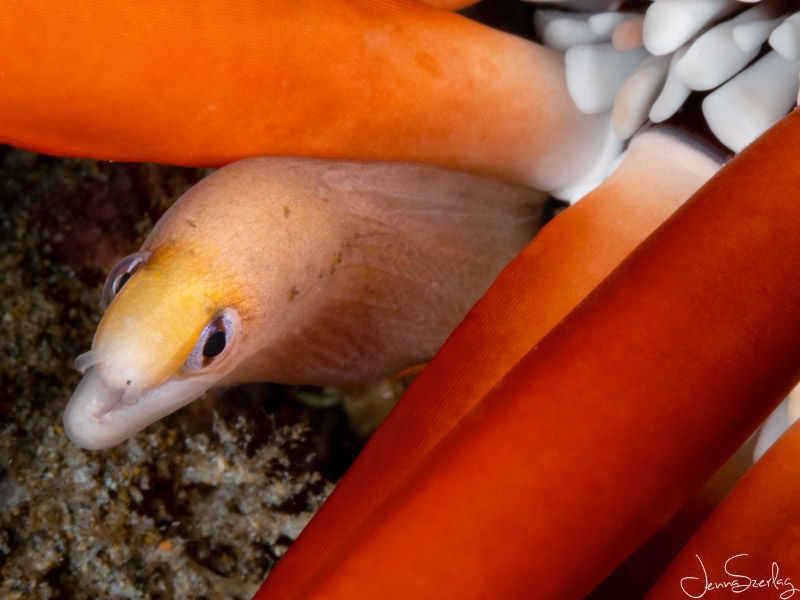 Olympus OM-D E-M5 Mark III vs E-M5 II and E-M1 II
Here's a comparison of how this camera stacks up against its predecessor, the OM-D E-M5 Mark II, and the camera it has inherited technology from, the OM-D E-M1 Mark II.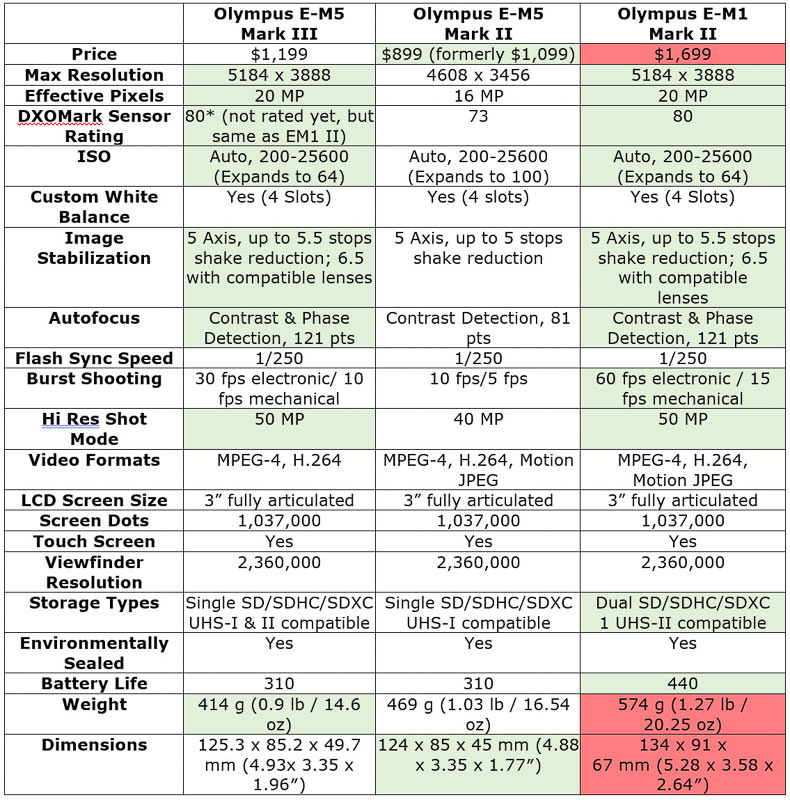 The first thing that jumps out from these specs is that it's pretty much a smaller, cheaper OM-D E-M1 Mark II. It has the same sensor, same image processor, same image stabilization, same 121-point dual phase/contrast auto focus system, same video modes, and many other similarities. However, Olympus has kept it in a much ligher and smaller body (150 g lighter) by keeping it to only one SD card slot, using a small battery (instead of the E-M1 Mark II's beefed up battery).
The advantages of the OM-D E-M1 II are only a few: better battery life, faster burst shooting, and dual SD card slots. Especially for underwater photography, where having a higher fps for burst shooting mode is not very important, the E-M5 III is essentially almost the same camera as the E-M1 II, but for $500 cheaper (though the E-M1 II price may be reduced again).
Compared to the EM5 II, the EM5 III is a huge step up. The main advantages are the higher resolution, the much better sensor, and the way better autofocus. It is quite a large step up to go from 81 points contrast detect autofocus only, to 121 points of dual contrast/phase detect autofocus.
You can read more about these other cameras in our detailed reviews:
Body and Build
The camera body is light and compact, very similar in size to the E-M5 Mark II, and 60 grams lighter! Olympus calculates this camera is about 55% smaller and 64% lighter than leading full-frame mirrorless cameras, which is nothing to sneeze at. Yes, that is for a sensor that is about half the size, but this camera has some great other specs backing it up.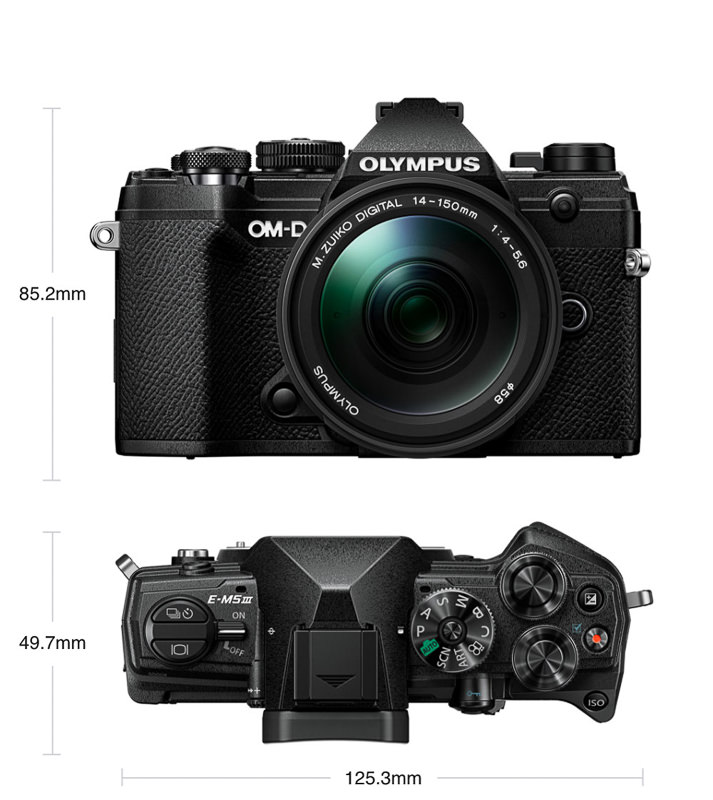 EVF & LCD
The electronic viewfinder (EVF) has the same resolution as the E-M5 Mark II's: 2.36M-dot. However, it has been upgraded to an OLED screen, which should provide a crisper, sharper viewfinder experience, but which comes at the cost of magnification dropping from about 0.74x to 0.68x.
The LCD is the same 3" fully articulating touchscreen as was on its predecessor.
Controls
The top controls have been redesigned to be more similar to the E-M1 II, while the back controls are similar to the E-M5 II. This means more customization options, which is always a welcome thing for an underwater photographer, as that will allow for more things to be done by control buttons, rather than having to go into the menu system.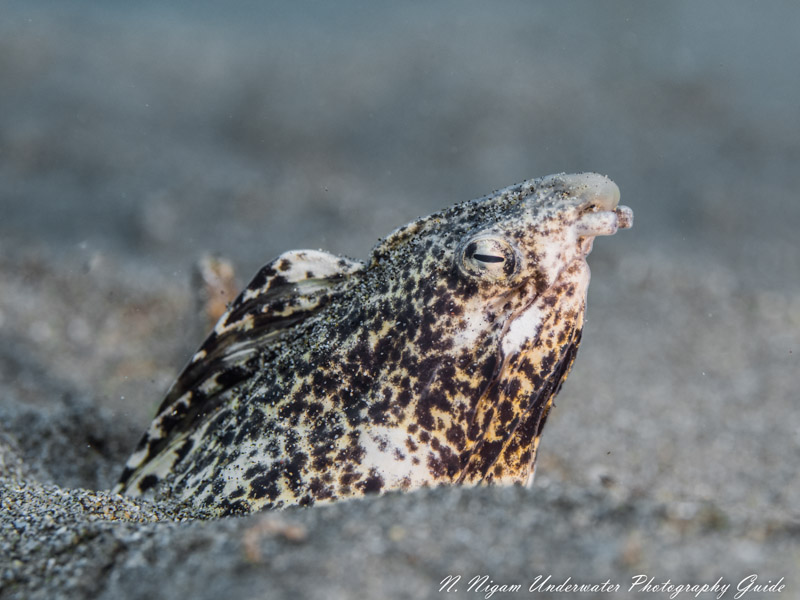 Olympus OM-D E-M5 Mark III for Underwater Photography
We had a blast testing the Olympus OM-D E-M5 MK III in Maui, Hawaii with the Ikelite 200DL/A housing and dual Ikelite strobes. Maui's south shore offered both wide angle dive sites with reef sharks and Hawaiian Green Sea Turtles and macro sites where we found the elusive endemic Freckled Snake Eel and beautiful Harlequin Shrimp hidden in the reef.
Best Settings For Underwater Photography
Take a look at these custom settings to familiarize yourself with the camera before taking it underwater. The preferred basic settings should be adjusted topside before getting the camera and housing water ready.
The suggested exposure settings are relative to each underwater scenario, subject to the parameters of each lens and are expected to be changed to creatively reflect each individual subject. Lighting and conditions vary but this is a good place to start especially if you're shooting with dual strobes. Remember to expose for the background and allow the strobes to light the subject.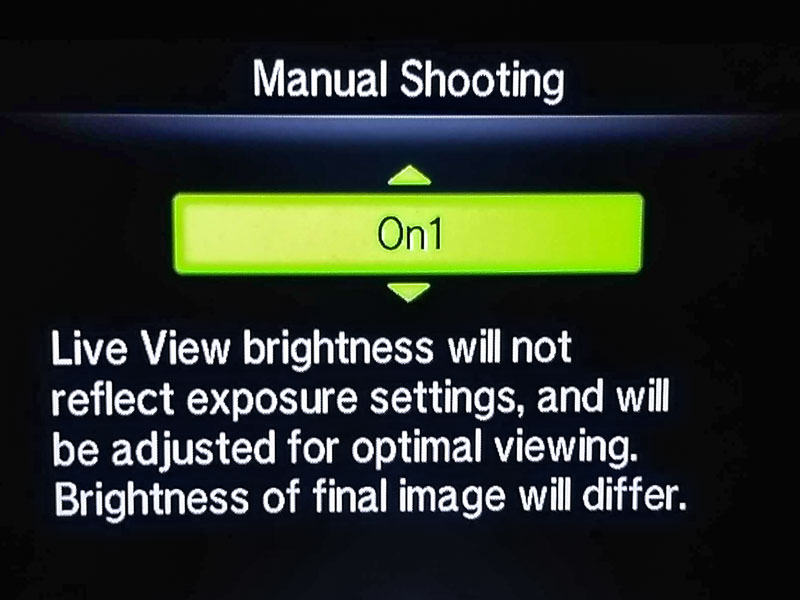 Preferred Basic Settings
Shooting Mode: (M) Manual
File Type: RAW
ISO 200
Auto Focus Mode: Single AF or Continuous Auto Focus Tracking for moving subjects
Auto Focus Illuminator: OFF
Custom Menu D2 Live View Boost: Manual Shooting ON1
Custom Menu E3 Metering: Spot metering for macro and evaluative for wide angle
Custom Menu F: Flash Sync 1/250
Suggested Exposure Settings
Super Macro: f/22, 1/250
Macro: f/18 1/200
Wide Angle: f/10, 1/160
Sunbursts: f/11, 1/200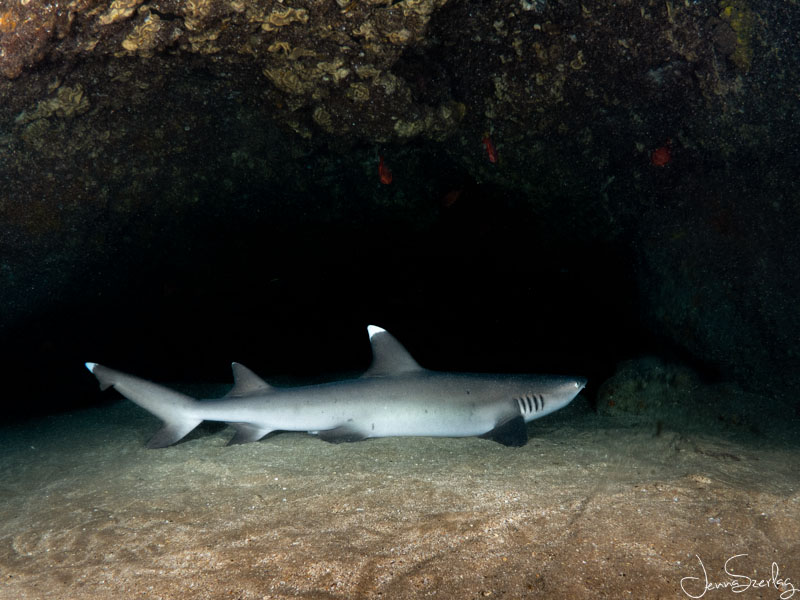 Autofocus
The improved autofocus was impressive and performed very well in low light situations. We found a white tip reef shark in a cave along Maui's south shore and captured this photo without using a focus light.
Along with the sensor improvements, this is by far the best and most important upgrade for this camera. Up until this point, the flagship E-M1 cameras are the only ones which have had phase detect autofocus. Now this mid-range camera has the same system as the E-M1 Mark II; combined contrast detection with 121 cross-type on-chip phase detection points. This is a very a significant upgrade from the original E-M5's 81-point contrast-only system, as phase detection autofocus is typically used just on high end SLR-type cameras, or the new full-frame mirrorless systems.
This system will lead to less great photos "missed" due to the autofocus having issues locking on to the subject, hunting, or focusing on the background. The biggest boost will be for macro shooting, when trying to photograph quick subjects like fish, or behaviour shots.
Now imagine getting that amazing shot of a lemon goby aerating its eggs, or that clownfish that won't stop digging around in its anemone, without any frustrating missed shots! Now that's probably too optimistic, but at least there will be less focus hunting and missing than before, and this should open up more difficult shots that weren't particularly feasible to try with the E-M5 Mark II.
Image Stabilization
Image stabilization has taken a small step up from the E-M5 II, from 5 stops up to 5.5, with 6.5 if paired with an Olympus lens with in-lens stabilization (like the 12-100mm F4.0 Pro). This is the same spec as the OM-D E-M1 II, and shooting hand-held with the 12-100 dual IS I was able to get a sharp 2 second exposure when shooting handheld.
Burst Mode Shooting and Pro Capture Mode
Burst mode with mechanical shutter is the same as with the E-M5 Mark II, at 10 fps, but electronic shutter burst mode speed has been increased from 11 to 30.
The new addition is Pro Capture mode, which "pre-captures" photos from right before you press the shutter release. The way it works is that, once you half-press the shutter release the camera starts storing photos to a buffer, and then when you fully depress the shutter release, it captures the 14 photos right before the shutter release and adds them to the front of your burst series. This allows you capture "perfect moment" action photos even if you are a bit late on hitting the shutter release.
This could be useful for underwater shooting, but only if shooting with ambient light or using continuous lighting, like from video lights. But it can certainly be quite useful for topside photography.
Focus Bracketing and Stacking
These are nice options for topside use, but don't have a lot of practical usage underwater. Because the shots are fired in quick sequence, then the camera flash will not be able to recycle fast enough to keep your strobes firing, even if you turn down your strobes to let them recycle quickly.
Sensor and Photo Quality
The DxoMark sensor rating of the Olympus OM-D E-M1 MK II is 80, and since this camera has the same sensor, it should be the same rating. This is a major improvement from the E-M5 Mark II's score of 73, bringing it up into being competitive with APS-C options like the Nikon D500 (rating of 84). However, it still falls well short of full-frame mirrorless sensors like the Nikon Z7 (99), Sony A7RIII (100) and Canon EOS-R (89).
Hi-res Mode
High Res mode was introduced by Olympus in the E-M5 MK II, and has been increased on this camera from 40 MP up to 50 MP. In this mode, the camera takes 8 photos, each with the sensor slightly shifted, and then combines them into a composite 50 MP photo. This mode works both in RAW and JPG, and can also be used to create a lower resolution 25 MP photo. Unfortunately, this mode requires use of a tripod, so does not have much use underwater (especially with the issues mentioned above with flash sync speed).
ISO Performance
The OM-D E-M5 Mark III will have a noticeably reduced amount of noise above ISO 800, when compared to the E-M5 Mark II. This improvement is great for topside usage, but is not particularly relevant for underwater photography, unless shooting ambient light photos in low-light conditions.
The other item of note with the ISO is that on the E-M5 II the ISO LOW setting is equivalent to ISO 100. On the E-M5 III the ISO LOW setting is equivalent to ISO 64. This provides a potential additional 0.64 stops of light reduction to get more detail when shooting bright sunballs or other subjects.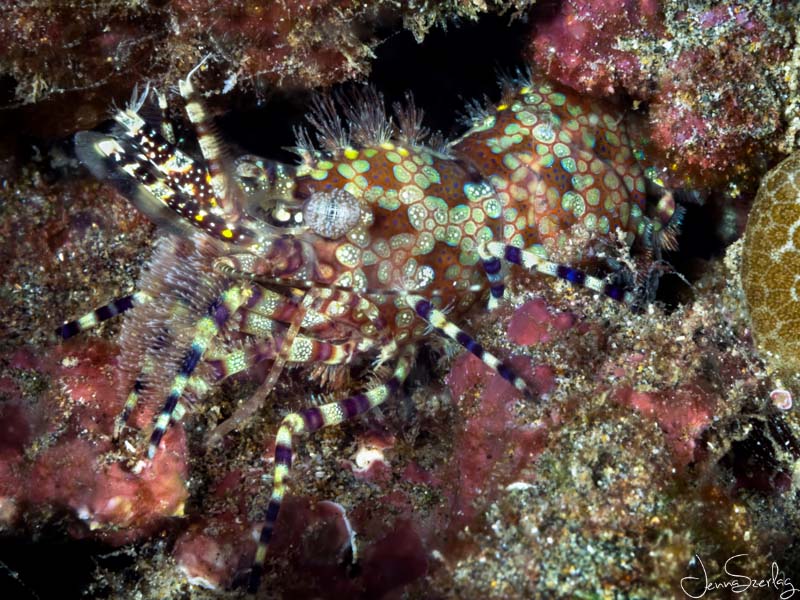 Flash Sync Speed
The flash sync speed is the same as for the E-M5 II; 1/250 sec. Of course it would be nice to have a bit more, but 1/250 is pretty decent.
Battery Life
The E-M5 III has a CIPA-rated battery life of 310 shots, which is the same as that of the E-M5 II. Note that the CIPA rating is based on photos taken with heavy flash and LCD screen use, so especially if you are shooting in burst mode you will be able to take many more than 440 photos on a battery. What the rating does allow for is relative comparison between battery life of different cameras. 310 is not great, though it is fairly similar to the original E-M1's rating of 350. Even with heavy use, I find the E-M1 battery will last two dives with some juice to spare, so that should be the same case here.
A nice improvement for underwater photographers is around the way the camera can display the battery power. Along with the old system of 4 bars, there's also a percentage reading. If this reading is as accurate as that on the E-M1 II (which is to say, very accurate), then you can remove much of the guesswork around when to change camera batteries between dives!
Olympus OM-D E-M5 Mark III for Underwater Video
4K and Cinema 4K Modes
Video modes for the E-M5 Mark III are much better than what is offered by its predecessor. Highlights include:
4K video (3840x2160) capability, with options to shoot at 30/25/24 fps (approx 102 Mbps)
4K Cinema Video (4096x2160), which shoots at 24 fps with a max rate of 237 Mbps
HD video can be shot at 1080/60p but has been noted to be lower quality than the competition
4K Cinema Video is very high quality and will make the E-M5 III competitive in the video realm. However, especially at the normal 4K and 1080 levels, the quality is not expected to stack up to the competition (as with the E-M1 II). In terms of doing high quality video for cinema or documentary usage, although the E-M5 Mark III is markedly improved from the E-M5 Mark II, the more video-focused Panasonic GH5 offers many more features and is be a better choice for dedicated videographers (it also uses the same lens system).
Image Stabilization
Image stabilization is significantly more important for video than for photos. The 5.5 stops of in-body stabilization, combined with the 1 stop of lens stabilization on the 12-100 and 300mm pro lenses and the electronic image stabilization included with video mode make for very smooth video. Here is a sample video showing 4K taken from a helicopter, with no IS, combined lens/in-body IS only, and combined lens/in-body IS with digital IS. This was with the E-M1 Mark II, but it's the same system.

4K Video Image Stabilization Test. OM-D E-M1 Mark II, Olympus 12-100mm F4.0 IS Pro lens.
So although the E-M5 Mark III is behind some of the competition on video offerings, the one thing it does have going for it is amazing image stabilization, and that should not be overlooked!
Olympus OM-D E-M5 Mark III Limitations and Downsides
The largest downside to the E-M5 Mark III is the sensor size. Other camera companies are offering APS-C sized sensors, and even full-frame mirrorless cameras, at similar price points. With that said, none of those other offerings have the great micro-four-thirds lens options, or the all-around great set of specs packed into such a small (and light!) package.
Best Lenses for Underwater Use
One of the biggest draws for the four thirds system is the lenses available. Between Olympus and Panasonic micro four thirds options, there are a lot of lenses available, many with nice bright apertures and very sharp optics. This means you're not stuck using non-native lenses with adapters, as with most of the new full-frame mirrorless systems.
Below are our recommendations for fisheye, wide-angle and macro lenses.
Fisheye Lenses
There are two great fisheye lens options, something which is conspicuously missing from the Sony FE system, as well as from the roadmaps for the new full frame mirrorless offerings from Canon and Nikon. Both offer a full 180 degree field of view, with the ability to focus pretty much on the dome port.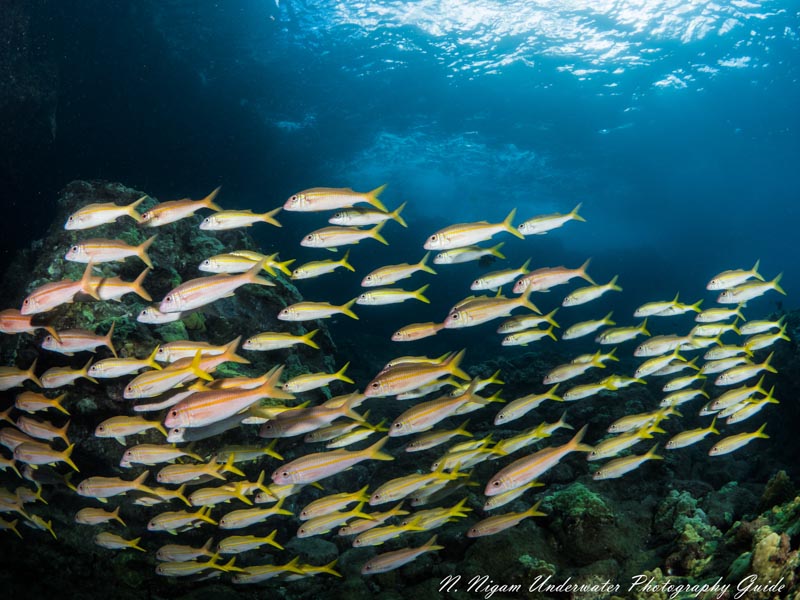 Olympus 8mm F/1.8 Pro Fisheye - best image quality, super fast aperture for extra snappy autofocus and amazing low light capabilities
Panasonic 8mm F/3.5 Fisheye - a solid lens, a bit lower image quality than the Olympus and 2 stops less bright. However, it is also smaller and likely easier to find second-hand
Wide-Angle & Versatile Lenses
There are many great options in this lens system for wide-angle and mid-range zoom lenses.
Macro Lenses
There are a few macro options for micro four thirds users, with the Olympus 60mm being the staple/default option that most underwater shooters use. However, it certainly has its limitations, and for larger subjects or things like blackwater shooting, a wider macro lens will be a better option.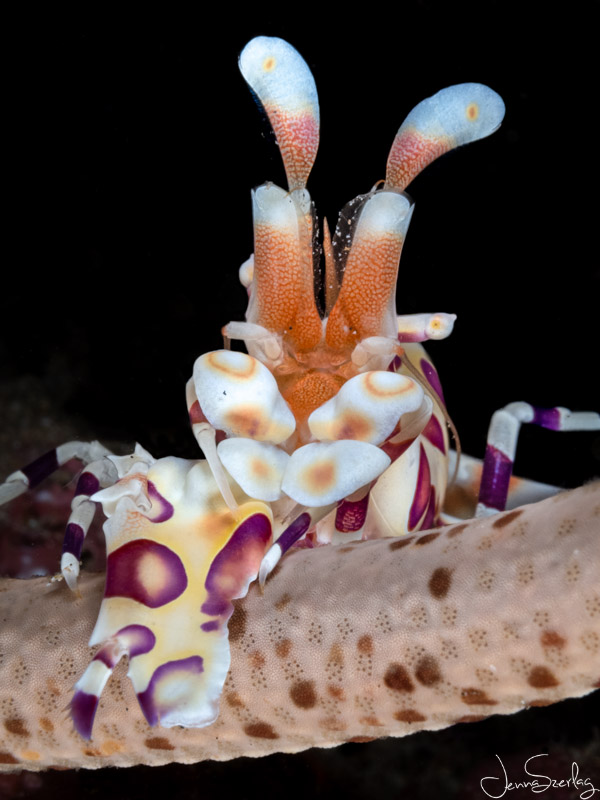 Olympus 60mm macro lens - the standby, delivers sharp 1:1 macro images (2:1 full frame eq)
Panasonic 45mm macro - better for larger subjects, not so good for super macro
Olympus 30mm macro lens - best for fish portraits, blackwater shooting, anywhere the long equivalent focal distance of the the 60mm is a hindrance. Max magnification of 1.25:1 (2.5:1 full frame eq)
Underwater Housings Options
We expect the usual suspects (Nauticam, Aquatica, Ikelite, Sea & Sea and Olympus) to produce housings for the EM-5 MKIII soon. So far, Ikelite has already released their 200DL/A housing for the EM-5 MKIII. Stay tuned for more housing announcements!
Ikelite 200DLM/A Housing for Olympus E-M5 Mark III
The Olympus OM-D E-M5 Mark III Compared with Other Cameras
The E-M5 Mark III is clearly an excellent all-around camera. However, with all of the options out there, is it the right camera for you? What about compact cameras? The Panasonic GH5? Sony A6600 or Nikon Z50? Or the Sony A7R III or A7RIV?
Compared to compact cameras; Sony RX100V / G7X Mark III
The E-M5 Mark III focuses faster and offers both a true fisheye lens and a true macro lens, which you won't get on the compact cameras, for true professional level underwater photos. Although the compact cameras are both solid options, the E-M5 Mark III will allow for a higher level of underwater photography, and also much more flexibility and quality topside (with a noted exception being the RX100V's impressive slow-motion video feature).
For more information on compact options, see our RX100V review and G7X Mark III review.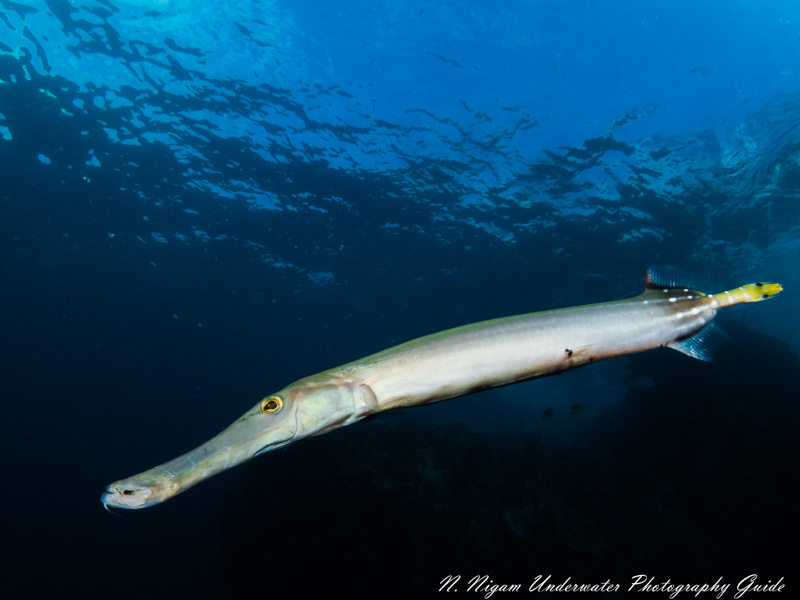 Compared to other Micro Four Thirds
There are a number of very competitive offerings in the micro-four-thirds space, and the new E-M5 Mark III is going to be a top contender. In fact, based on price, size and specs, this is the top micro-four-thirds camera I would recommend for underwater photography. Of course some of the competing cameras have their own advantages, so here are some things to think about.
Consider the OM-D E-M1 Mark II (MSRP: $1699) if:
You want the best battery life

You want dual SD card slots

You want the heftier body and large grip to balance out larger telephoto lenses

You want lightning-fast burst shooting and pro capture mode

Basically, this may be the best choice if you do a lot of topside action or wildlife shooting
Consider the Panasonic Lumix GH5 (MSRP: $1999) if:
You are looking to produce high quality cinema or documentary level videos, and want the additional specs, features, flexibility and video quality for 1080p or 4K shooting

You really need to shoot 4K at 60p!

You are happy spending more money
This is the best choice for serious videographers, but it doesn't come cheap, at an MSRP of $1999.
Consider the OM-D E-M10 Mark III (MSRP: $649) if:
You want a much cheaper and smaller option for micro four thirds, while still getting to use the great lens ecosystem

You are fine with lower image quality and slower autofocus if the price is right
But as I mentioned above, take a serious look at the OM-D E-M5 Mark III (MSRP $1,199) if:
You want the best sensor, image quality and autofocus system available in micro four thirds

You prefer a smaller, cheaper camera body to having a bigger grip, longer battery life and dual SD slots

You are happy with a pretty decent burst shooting mode, just not the fastest out there

You want a cheaper option than the GH5 for shooting 4K or Cinema 4K video, and don't need 4K 60p
So as you can see, anyone already in the micro four thirds system, or looking to get into it, should be giving this camera very serious consideration!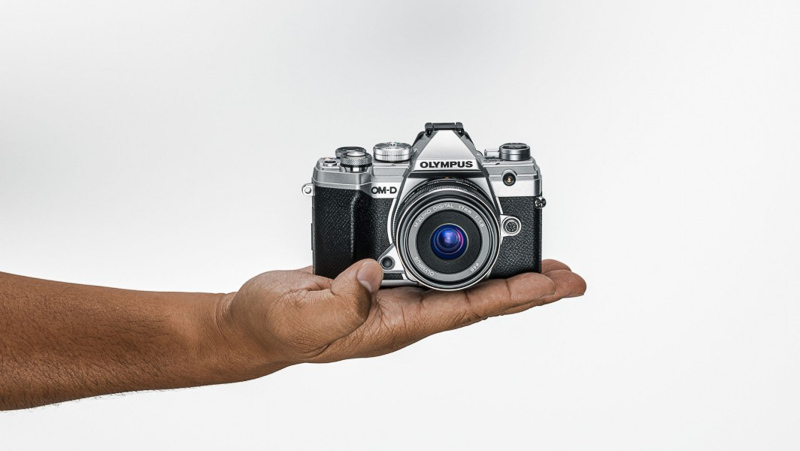 Compared to Other Crop-Sensor Mirrorless Systems
The main competitors for the OM-D E-M5 Mark III camera are other mid-range mirrorless systems, with close competitors being the recently released Nikon Z50, and the new Sony a6600. Here's a breakdown of the specs.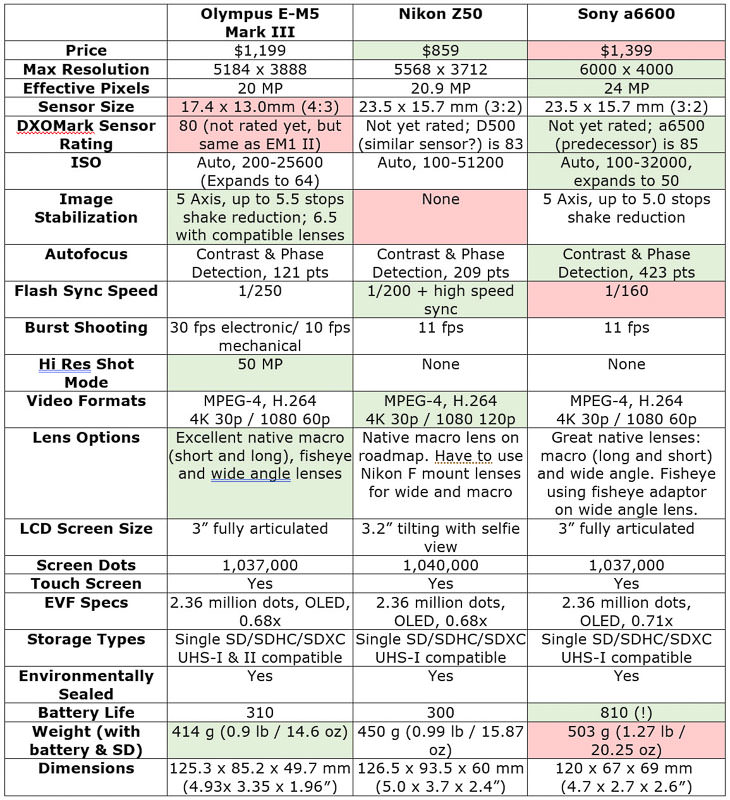 Although the OM-D E-M5 Mark III is a very competative mirrorless camera, it's micro four-thirds sensor just doesn't quite produce image quality up to the standards of other crop-sensor mirrorless options. Sony, in particular, has released some excellent APS-C mirrorless option including the Sony a6400 and Sony a6600 that are both excellent options for underwater photographers (note the DXOMark sensor ratings of 85 for the Sony a6500, the predecessor to the a6600, which is significantly higher than that of the E-M5 III). They offer some great features including Sony's AF tracking system and better dynamic range. The only issue with the a6600, as in the above table, is the very slow flash sync speed of 1/160 sec. A lot of the time this shouldn't be an issue, but it is a significant handicap when it comes to trying to shoot sunballs, or using strobes when shooting very fast subjects like sea lions.
The Nikon Z50 was also recently announced, and promises to be another great APS-C option with the new Nikon Z lens mount. Most APS-C mirrorless systems promise better image quality and a similar range of features at cheaper price points than the OM-D E-M5 Mark III. The only big reason to choose the E-M5 Mark III is the better selection of high quality lenses that Olympus has for its cameras. And that is a serious thing to consider.
If you compare the price of what you'll need to get a quality macro setup around the 120mm full frame equivalent range for each of these cameras, it looks like this:
Olympus OM-D E-M5 Mark III with 60mm macro lens: $1200 + $500 = $1700

Sony a6600 with 90mm macro lens: $1400 + $1100 = $2500

Nikon Z50 with FtZ adaptor and Nikkor F-mount 105mm micro lens: $860 + $250 + $900 = $2010
So even though the Z50 camera body is significantly cheaper, the lack of usable Z mount lenses for underwater requires the use of F-mount lenses (full-frame dSLR lenses) with the FtZ adaptor. So looking at the whole picture of camera body and lens, the OM-D E-M5 III is the cheapest option which still gets competitive specs. The a6600 has the best specs out of the group, but is also the most expensive. Meanwhile, the Z50 sits between the two for cost, with its sensor outclassing the E-M5 Mark III's, a nicer lens, and what we expect to be snappier autofocus, but lacking in-body image stabilization.
As always, it's not a clear-cut answer, but hopefully this is enough information to help make a decision! Learn more about the Nikon Z50 here, and the Sony a6600 here.
Compared to Full-Frame Mirrorless Systems
The Sony A7RIV is a larger and much more expensive setup ($3499 for just the camera body), with the lenses being larger than the micro-four thirds lenses; however, the image quality of the full-frame A7RIV sensor outperforms the micro-four thirds sensor by a long shot (61 MP!!) and has significantly better professional video capability. The Sony A7RIII is also a very high quality, high resolution option with a phenomenal sensor (100 score on DXOMark) which has dropped in price significantly, and is currently at $2,499.
The other full frame mirrorless systems to consider are the Nikon Z6 ($1999) and Z7 ($3,399). Once again we are talking a much higher price point and significantly larger and more expensive glass, and larger size and weight, in exchange for a much larger and higher quality/higher resolution sensor.
Learn more about these cameras in our detailed reviews:
Conclusion
The Olympus OM-D E-M5 Mark III provides the same great specs which have made the E-M1 Mark II such a popular underwater camera, and packages them into a much smaller, lighter, and cheaper body. This is exactly the kind of mid-range camera that the micro four thirds system needs; high specs with a a lower price.
Yes, in a world where full frame mirrorless setups are continuing to become better in terms of resolution/sensor performance, cost and size, plowing ahead with the micro four thirds sensor may seem a bit risky. But unless you need to crop your photos a lot, or print them into huge sizes (say > 3 ft, +/-), you may not really notice the lower sensor resolution.
For those wanting to take professional-quality underwater photos without spending dSLR money or lugging around dSLR-sized rigs, this camera is a solid option. Yes, full-frame mirrorless systems are smaller than SLRs, but they are over 2x the size and weight of this camera, as well as being more expensive. Especially for macro shooters, the small size, ease of use, high quality and low price of the Olympus 60mm macro lens makes the E-M5 Mark III an excellent choice.
The place where this camera does fall down a bit is against other crop-sensor mirrorless cameras. Sony and Nikon offer larger APS-C sensors with higher image quality, for very similar costs. But if you bring the Olympus lens ecosystem into the mix, the OM-D E-M5 III system comes out less expensive (comparing the full system cost, rather than just the cost of camera bodies).
So whatever you are looking at for your next underwater camera, give the OM-D E-M5 a good look, as it's a strong mid-range contender in what's becoming an increasingly crowded field. But also think carefully about the alternatives...full frame sensors are hyped up for good reason, and once you start investing in lenses, it's that much harder to change systems in the future.
SUPPORT THE UNDERWATER PHOTOGRAPHY GUIDE:
The Best Service & Prices on u/w Photo Gear
Visit Bluewater Photo & Video for all your underwater photography and video gear. Click, or call the team at (310) 633-5052 for expert advice!
---
The Best Pricing, Service & Expert Advice to Book your Dive Trips
Bluewater Travel is your full-service scuba travel agency. Let our expert advisers plan and book your next dive vacation. Run by divers, for divers.
---