Nikon Z 14-30mm f/4 Wide Angle Lens Review
A high quality rectilinear wide angle lens option from Nikon for Z mount cameras
Last year I had the pleasure of diving in the Revillagigedo Archipelago with the new Nikon Z 14-30mm f/4 rectilinear wide lens for Nikon Z series cameras. This lens is a top choice for wide angle underwater photographers and Nikon shooters who need to photograph large pelagic subjects that tend to be a little skittish, like sharks and dolphins. It's also a great lens for Nauticam WACP-2 users that want the best quality and widest field of view in a rectilinear wide angle lens system possible. With Socorro being the perfect place to put it to the test, I came back quite happy with my photos - especially at those wider focal lengths. Is it worth the price tag? Yeah, I think so.
Nikon Z 14-30mm f/4 US MSRP: $1,299.99
The Benefits of the Nikon Z Mount
Before talking about the lens itself, it's important to discuss the new-ish Nikon Z mount. Unlike the legacy F mount, the Z mount is a very wide mount with a relatively short flange distance. This means the back of your lens is quite close to the sensor, reducing aberration in your images and producing sharper corners. Most underwater photographers have had lots of experience with soft corners - especially with rectilinear wide lenses. From my experience, the Nikon Z 14-30mm does have sharper corners, and therefor I didn't hesitate to put it behind a compact 8 inch dome rather than a full 8 inch dome that traditionally would have given me better image quality. So the days of big domes may start to be behind us as the quality of glass improves from the Nikon Z mount.
Nikon Nikkor Z 14-30mm f/4 Corner Sharpness Test
To test corner sharpness, I photographed a wolf eel at an open aperture (f/5.6) and at a normal aperture for wide angle shooting (f/13). The lens was behind an Ikelite 8 inch compact dome.
f/5.6 Original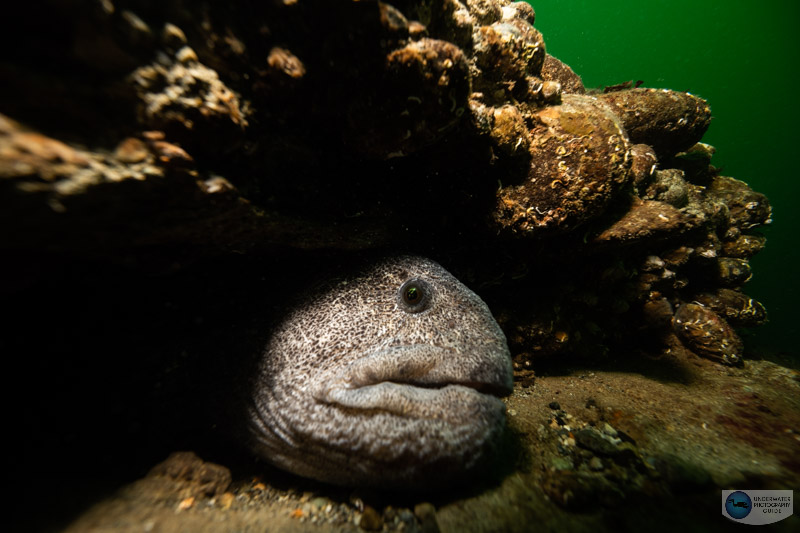 f/5.6 Center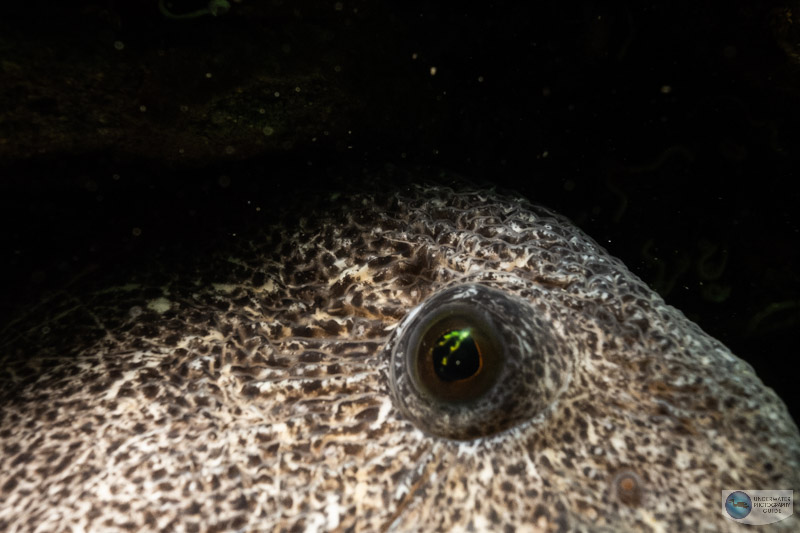 f/5.6 Corner

f/13 Original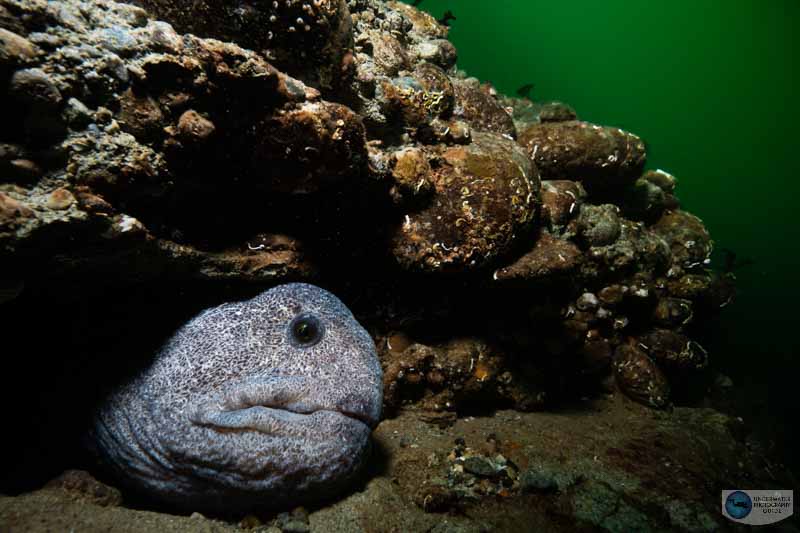 f/13 Center

f/13 Corner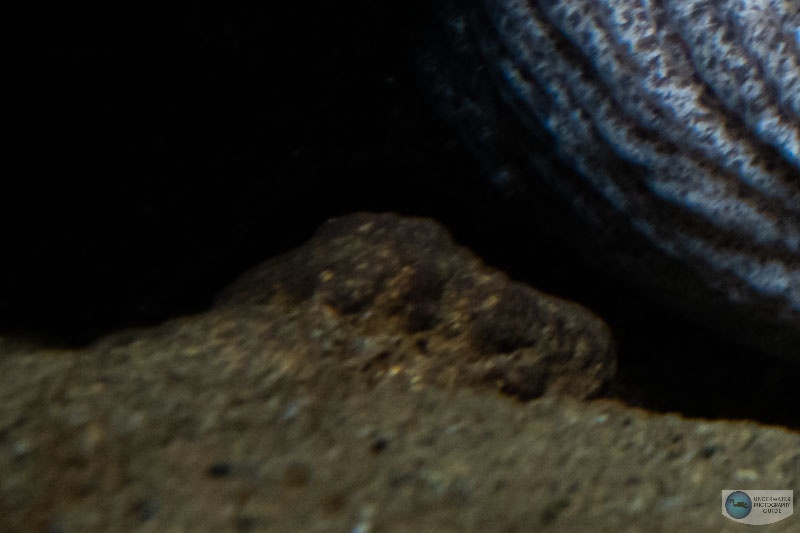 Autofocus Speed
One of the obvious benefits of shooting with native glass like the Nikon Z 14-30mm lens over a Nikon F mount lens and the FTZ adapter is autofocus speed. At least on paper. Is the autofocus quicker with the Z mount than the Fmount with an FTZ adapter? It's hard to say. I couldn't discern a noticeable difference in autofocus speed with Z mount glass. Overall, I think that no one should be scared to use an F mount lens with a Z mount camera for fear of slower autofocus. There's not much of a difference. The FTZ adapter does a great job. That being said, the Nikon Z 14-30mm is always going to provide a Nikon Z series camera with the optimal autofocus speed.
Image Quality and Distortion
The overall image quality from the Nikon 14-30mm is excellent - particularly at wider focal lengths. While the corners can be soft at 14mm, I was able to capture plenty of useable photos at this range, even with a compact dome port. The overall sharpness of each image was phenomenal and I was pleased to be shooting with the high resolution Nikon Z7 II which allows me to crop quite a bit. I actually prefer the image quality at wide focal lengths much more in the Z 14-30mm compared to it's popular competitor the Canon RF 14-35mm f/4. The latter introduces vingetting at 14mm.
One curious note about the Nikon 14-30mm f/4 is that it actually has a fair amount of barrel distortion. Most underwater photographers would not notice it, but this is what prevents the lens from vignetting at 14mm.
Lens Flare and Aberration
I noticed very little lens flare or aberration when shooting into the sun. It's clear the Nikon Z mount is doing it's job of protecting the sensor from mismatched light.
Build Quality
Overall, the build quality of the lens is very solid and it's quite a compact lens. The Nikon 14-30mm f/4 weighs in at 485 grams whereas the equivalent Nikon F mount 16-35mm f/4 is 680 grams. The lens is complete with a control ring and a single autofocus/manual focus switch.
Conclusions
Overall I think the photos speak for themselves. The Nikon Z 14-30mm f/4 is an awesome lens - particularly at wider focal lengths, which is unusual for a rectilinear wide lens. My only complaint is that I do wish it had a little more reach. If you like to shoot smaller reef fish, you may want to consider the original Nikon F mount 16-35mm f/4. But if you need a high quality, rectilinear wide lens for shooting large pelagic animals - you can't get better than the Nikon Z 14-30mm f/4.
SUPPORT THE UNDERWATER PHOTOGRAPHY GUIDE:
The Best Service & Prices on u/w Photo Gear
Visit Bluewater Photo & Video for all your underwater photography and video gear. Click, or call the team at (310) 633-5052 for expert advice!
---
The Best Pricing, Service & Expert Advice to Book your Dive Trips
Bluewater Travel is your full-service scuba travel agency. Let our expert advisers plan and book your next dive vacation. Run by divers, for divers.
---