Top Ten Cameras Underwater
A list of the top ten best cameras for underwater photography
Top Ten Underwater Cameras
When it comes to finding the perfect camera for underwater photography, you can't go wrong in today's marketplace. There was a time in the early era of digital cameras when you got what you paid for - DSLRs were the top marvels of technology on the market, and compact, point-and-shoots resembled toys. But now you can have your cake and eat it too. Top companies like Sony, Nikon, and Canon are churning out modern marvels of all sizes with spectacular image quality, low light performance, and autofocus. Megapixels are reaching sky high limits, and AI-oriented technologies like autofocus tracking is becoming ubiquitous across camera types.
Here at the Underwater Photography Guide, we pride ourselves in having tested most of the underwater cameras that have hit the market in recent years. We love diving, we love photography, and we love showing you what these cameras can do. If there's a housing for it, then it's likely that we've shot it underwater. Since very few people have the luxury of shooting all these cameras and picking which ones they like best, we thought we'd compile a list of our top ten favorite underwater cameras....
1. The Sony A7R IV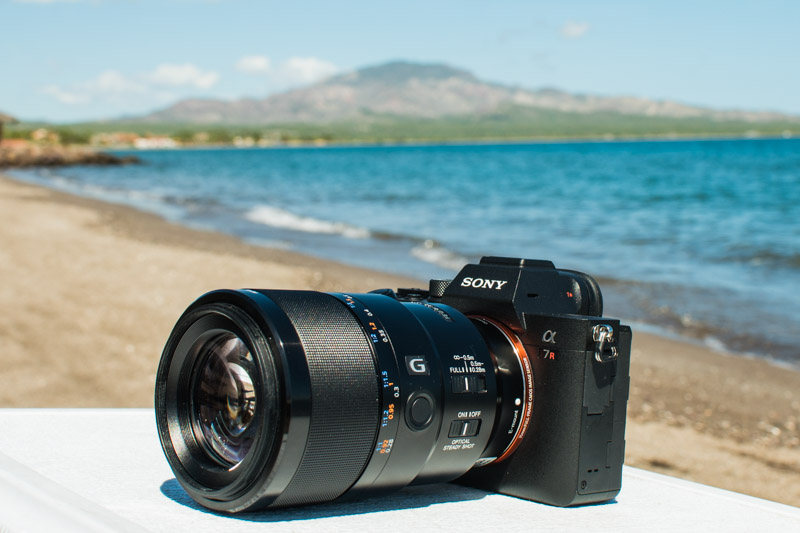 The Sony A7R IV is definitely a game-changer, and not your conventional camera upgrade. Having a sensor with 61 megapixels of resolution is a first for a full-frame mirrorless camera. The dynamic range performance according to Sony is 15 stops, and we are not finding this to be comprimised by the extraordinary resolution. Our great white shark photos taken near the surface hold the highlights of the lights rays all the way through to the shadow detail of the darker blue water! The A7R IV's modernized AF system is awesome at revealing all the data captured by its huge sensor! The highly accurate 567 phase detection autofocus system captures the action in almost any lighting situation. Our test team are really impressed with the underwater results so far. Wide angle underwater photographers will be thrilled with speeds of 10fps and a 7 second buffer. The 61MP sensor offers unbelievable cropping ability for macro photographers, it could just be like a diving with a microscope. With so much cropping ability you will be discovering photographs within photographs, like those little amphipods on anemones we seem to overlook when we're framing up our compositions. We find this camera to be a great all-rounder for the underwater photographer. The A7R IV allows you to expand your creative palette with features like AF tracking, a high resolution crop mode, 10 fps burst, and a good sized buffer. The video potential of the Sony A7R IV is comparable with the A7R III – which is outstanding.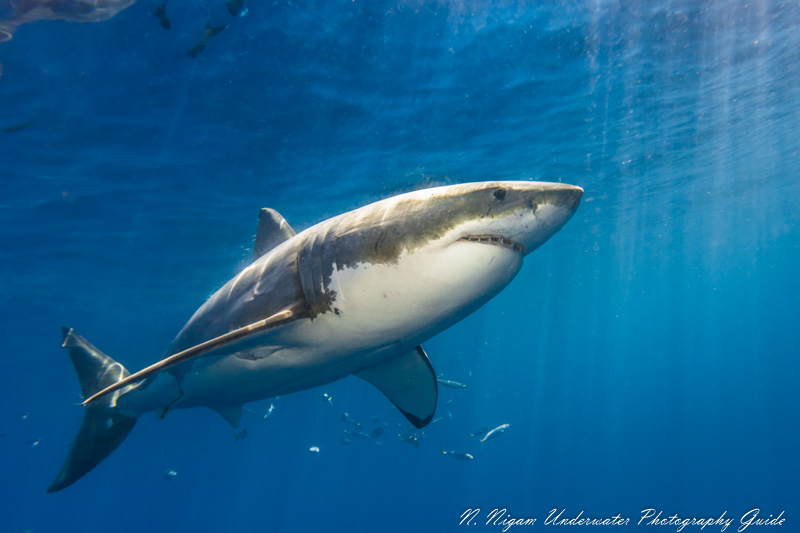 Key Specs
61.0 MP BSI-CMOS Sensor
5 Axis In-body stabilization equals 5.5 stops of stability
567 phase detection AF points, 425 contract detection AF points
---
Bluewater Photo Sony A7R IV Camera and Housings:
---
2. The Nikon Z6 & Z7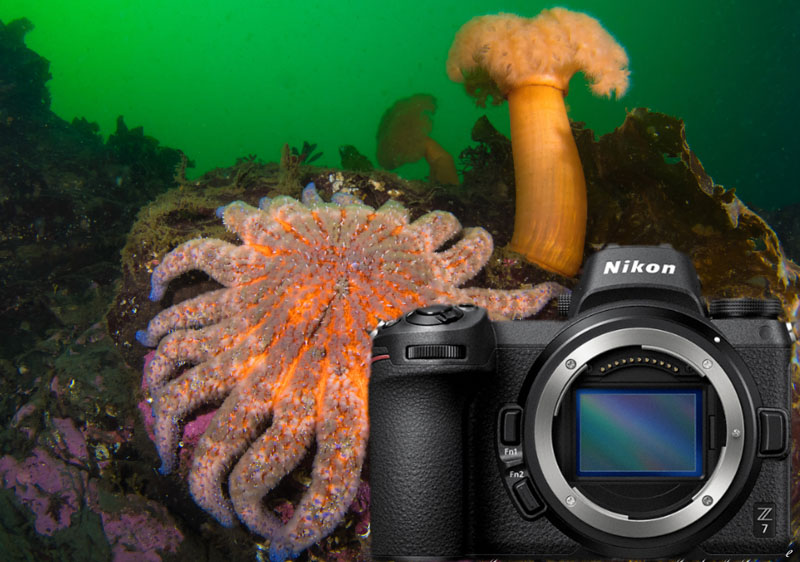 With specifications that compete with the Nikon D850, the Z6, the Z7, and their new line up of Z-mount lenses could signal a change in the wind for the future of Nikon DSLRs. The Nikon Z7 comes with a 45.7 megapixel sensor and delivers impeccable image quality, with the possibility of some pretty tight cropping. It just might be one of the best mirrorless full-frame cameras available today. One of the big advantages of the Z series is Nikon's new Z-Mount, which benefits from a 17% larger diameter than Nikon's classic full-frame F-Mount. The Z-mount supports lenses with apertures as wide as F 0.95, that's serious illumination. Nikon DSLR owners can still use their old F-mount lenses on the new Z-Series bodies with the addition of the FTZ adapter. The adapter works with up to 90 lenses, and there are 360 lenses in total that can be used with it . Housing manufacturers are paying attention and ensuring that the FTZ adapter is accommodated into their designs, which is great news! The Electronic viewfinders on the Nikon Z6 and Z7 are fantastic and rank the highest on the market today. There are easy on the eye, and quite similar to the best Nikon DLSRs. In the past you would never have expected there to be any enhancements that would improve your camera during its lifespan. Nikon have introduced some very notable changes in their latest firmware release 3.0. The autofocus has been greatly refined. Nikon implemented changes to make the auto-focus tracking similar to the DSLRs we are used to using. This is future proofs your camera and is a great reason to go mirrorless. The video on the Z6/Z7 can be considered on par with the Nikon D850. This puts it at the top of the line for most underwater video systems – certainly rivalling the Sony A7R III.
Key Specs
Both cameras will work with nearly all Nikon FX lenses, you need to get the FTZ Adapter though.
In body 5-axis image stabilization is part of both camera bodies.
The new Z-lens mount supports lenses with apertures as wide as f 0.95
The Z7 has auto-focus covering over 90% of the screen, has been greatly improved with firmware release 3.0
---


Underwater Housings for the Nikon Z6/Z7 is available at Bluewater Photo:
---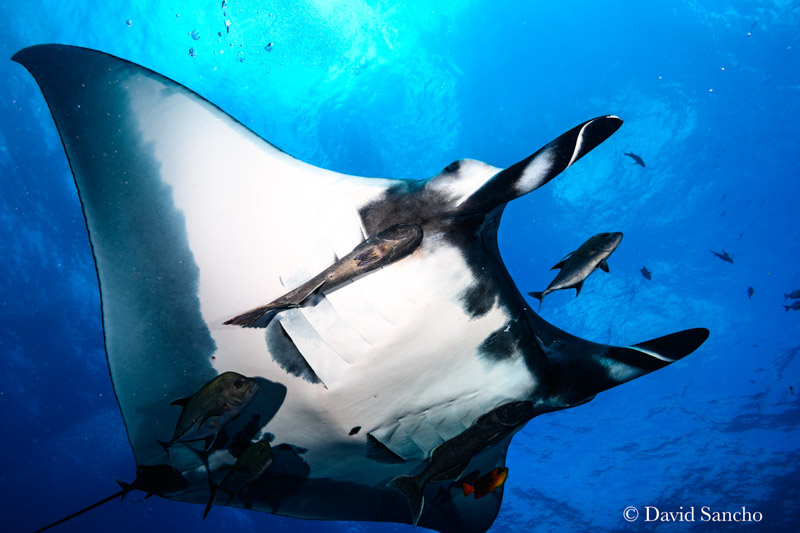 3. The Nikon D850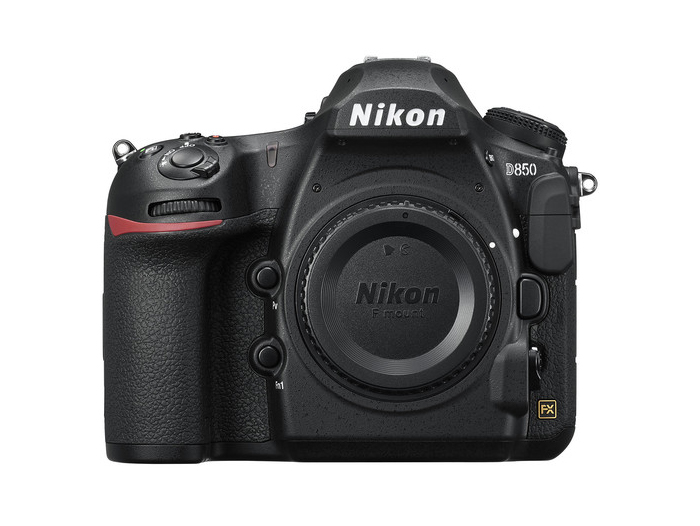 Are you looking for high resolution, more dynamic range, low light ISO performance, and exceptional autofocus all rolled into a single camera? If so then the Nikon D850 may be the camera for you. With improvements to all of the aforementioned look no further, the Nikon D850 delivers these to you on a silver platter. With its 45.7 megapixel , 8.9 stops of dynamic range and a base ISO of 64 you will be able to capture vivid details from most scenes. Whether you are shooting available light, sunbursts, a colorful reef scape, or in shadowy twilight the D850 can handle it. Having 45 megapixels of resolution gives you some headroom to recover if you didn't get that shot quite right in camera. You even have the option to down sample an image, which might save that once in a lifetime shot from the trash. The D850 incorporates the same autofocus system as the flagship Nikon D5. With a dedicated AF engine, the high performance module (the Multi-CAM 20K) combines 153 focus points, 99 of which are cross type sensors, and 55 which are user selectable. The D850 takes advantage of cross type sensors which are highly accurate and help to reduce focusing errors. The combination of focus points partnered with the dedicated AF engine enables the camera to increase autofocus calculation speeds greatly. This all results in faster focusing, and tracking, both vital for fast moving subjects. For the videographer, this camera has the best set of credentials of any of the Nikon cameras, featuring true full-frame at 4K 30fps, and with 1080p 120fps slo-mo you won't be disappointed.
Key Specs
High Resolution - 45.7 megapixel full-frame BSI (back-side illuminated) sensor
Flagship Auto-Focus - EXPEED 5 Auto-Focus system, same as the Nikon D5.
Outstanding Image Quality - -4EV low light sensitivity and 8.9 stops of dynamic range
---


Available housings for the Nikon D850 :
---
4. The Canon 5D MK IV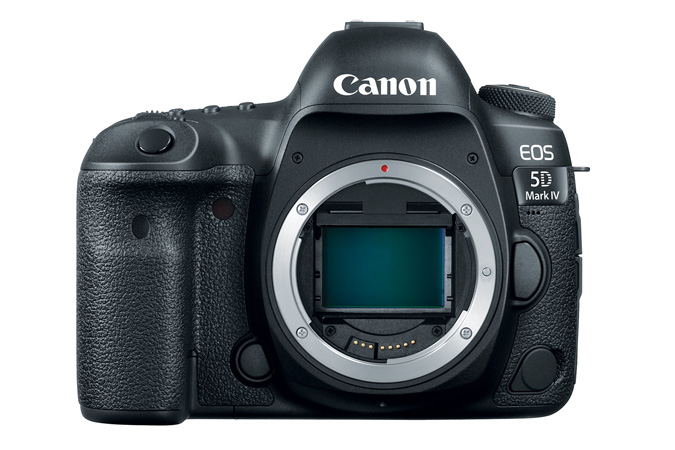 The Canon 5D Mark IV is an outstanding choice for Canon DSLR shooters, and well suited to serious underwater photographers, and videographers. A broad selection of lenses, fantastic dynamic range, high ISO performance, combined with lightning fast autofocus, and 4K at 30fps video make this a great all-round choice. The 5D features a 30.4 megapixel full-frame CMOS sensor, and it includes Canon's dual-pixel autofocus technology. Expect fast, reliable auto-focus shooting video in live-view, and of course, breakneck fast AF when shooting through the viewfinder. The Canon 5D MK IV gets the highest rank for dynamic range of any Canon sensor by DxOMark (an image processing company based in France) coming in at 13.6 EV. Canon's reputation for beautiful color rendition is proven once again with the 5D MK IV. Our recent tests have shown an absence of banding, and very tidy gradations from light to dark within a single image. Full-frame cameras are being used my more and more by underwater shooters. Full-frame sensors are bigger and therefore more sensitive to light. They offer improved color rendition, are less prone to noise, and with reduced depth of field you'll be getting smoother backgrounds (bokeh). Canon's reputation for beautiful color rendition is proven once again with the 5D MK IV.
Key Specs
Quick and accurate Live-view autofocus (perfect for video)
Outstanding full-frame image quality
High ISO performance allows more creative settings options for wide-angle video
Wide selection of lenses for all shooting situations, underwater and topside
---
The Canon 5D Mark IV Housings are available at Bluewater Photo:
---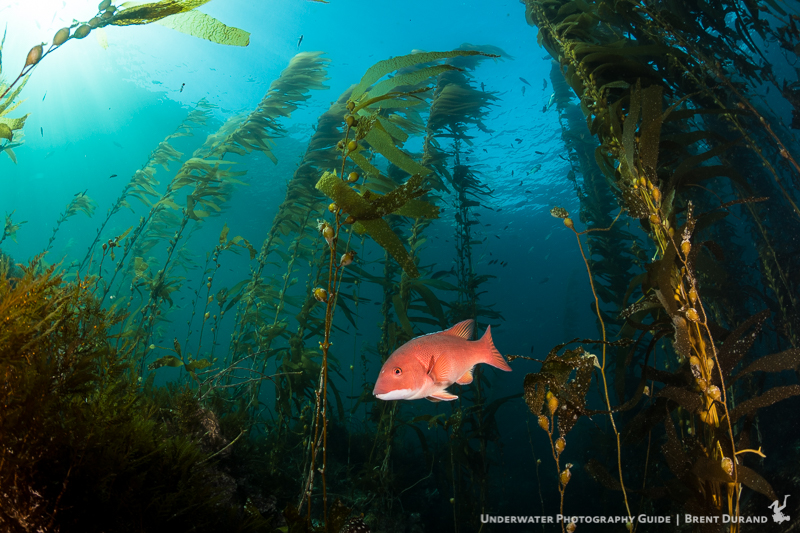 5. The Canon EOS R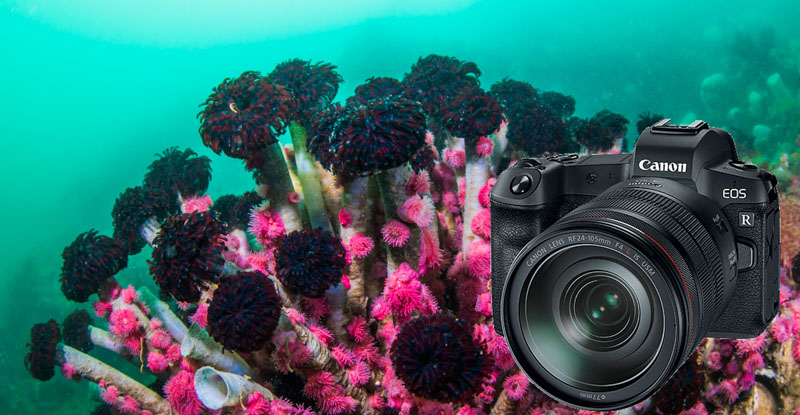 If we had a crystal ball and could see into the future, from a photographic perspective, it might just be a mirrorless one. For someone wanting to jump into the mirrorless world, the Canon EOS R offers a mixture of ergonomics, build quality, autofocus speed/modes, and a nice electronic viewfinder making the EOS R a tempting option. While the image quality is top-tier, it's not quite on the same level with the competition. We find it lacking a few crucial options like in-body image-stabilization. Image quality from the EOS R is comparable to Canon's immensely popular 5D Mark IV. in our opinion Canon still needs to catch up a bit where image quality is concerned, especially with its EOS R line. The Canon EOS R's sensor is middle of the road for a full-frame mirrorless camera. At 30.3 MP, it is adequate for all situations, and most certainly more than enough for most underwater photographers. It is more than suitable for producing large prints. We still find the dynamic range capability excellent, despite saying there's room for improvement.. The Canon EOS R is challenged somewhat with less than ergonomic video controls and a 1.8X crop in 4K video mode. That said Canon's color science and a C-Log picture profile that can be recorded internally it does make this camera an attractive option for video – especially for casual shooters. The EF-EOS R lens adapter opens the door to a broad selection of lenses, and there are already a great deal of housing options to choose from.
Sony's release of the A7R III started a trend, and has photographers looking very closely at professional mirrorless systems, sometimes to the exclusion of our beloved DSLRs. Nikon was most certainly looking over it's shoulder with the D850 in hand. The Sony A7R III consolidates many noteworthy elements available in modern photographic technology. Continual innovations to their A7 line of cameras have enabled Sony to design a versatile super-camera that truly has it all. When this camera hit the market no other company in the world could offer you a mirrorless sized camera with a full frame sensor yielding 42.4 megapixel images! With the much needed addition of longer battery life, 120 fps full HD and 4K video, the Hybrid Log Gamma profile, 400 more contrast AF points, faster AF, and 5 axis stabilization, the Sony A7R III is sitting near the top of what's available on the mirrorless market. Moreover, the Sony A7R III possesses exceptional video capabilities that will surely impress the most discerning customer with what mirrorless technology has to offer. For a mirrorless system, the Sony A7R III is still a cumbersome set up underwater. While the camera body itself is more compact, some of the lenses and ports we tested are similar in size to the DSLR housing we're used to using. However, we still do find it easier to manoeuvre underwater than a DSLR. For divers who value a camera that can deliver both still images and high quality videos, the A7R III may well be a dream realized.
If you're looking for a APS-C sensor camera, the Canon SL3 is our pick of the litter. Yes, mirrorless cameras are all the rage, and yes the Canon SL3 is a DSLR, but did we mention that it's the world's smallest DSLR? It's also an amazingly affordable price for the level of image quality it offers. So what makes this camera special? Two things. Being the world's smallest DSLR, the Canon SL3 is actually as small or smaller than it's mirrorless compatriots. The second thing is the lens selection. You get to use all of the amazing lens options offered for Canon APS-C DSLR cameras - like the Tokina 10-17 fisheye, the Canon 60mm macro, and the Canon 100mm macro.
There's only one housing option that we recommend and it's Ikelite's. The Ikelite housing has built in TTL that sync wonderfully with Ikelite strobes to make a phenomenal package that perfectly exposes any shot. It's makes for quick and easy shooting. We love the ergonomics of the SL3. It's designed so that anyone new to DSLR or professional level, manual photography can learn the ropes. The camera almost teaches you. Bluewater photo offers an excellent camera, housing, and lens package for the SL3 that's perfect for anyone getting started.
9. The Sony a6400 / a6600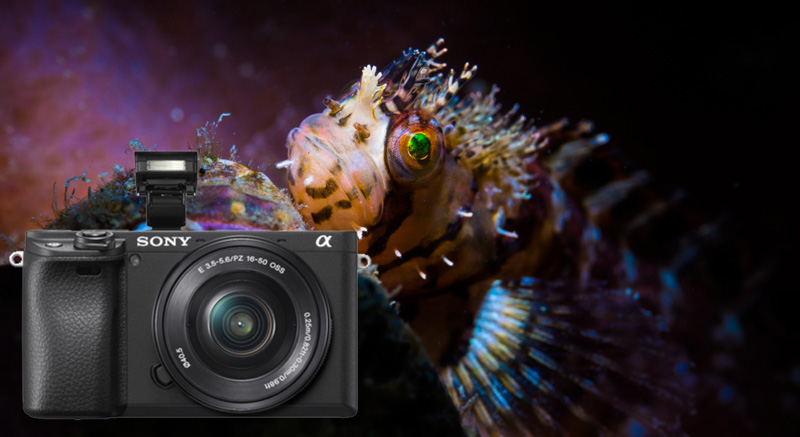 Sony's wide range of mirrorless cameras includes the a6400 which a great choice for underwater photographers looking to take top-quality shots with high quality lenses who are budget conscious and seeking a more compact system than a full-frame mirrorless one. An APS-C mirrorless camera, the a6400 is significantly smaller and cheaper than the popular full-frame mirrorless Sony A7R III, Nikon Z6/Z7, Canon EOS R, and Panasonic S1/S1R. As an E-mount camera, the a6400 is compatible with all the excellent lenses currently available to other E-mount systems such as the a7, a9, and NEX series. If mirrorless systems are new to you, or you are upgrading from a compact underwater camera, this camera is bound to surprise you!
---
Purchase the Sony A6400 Camera, Housings and Packages at Bluewater Photo:
---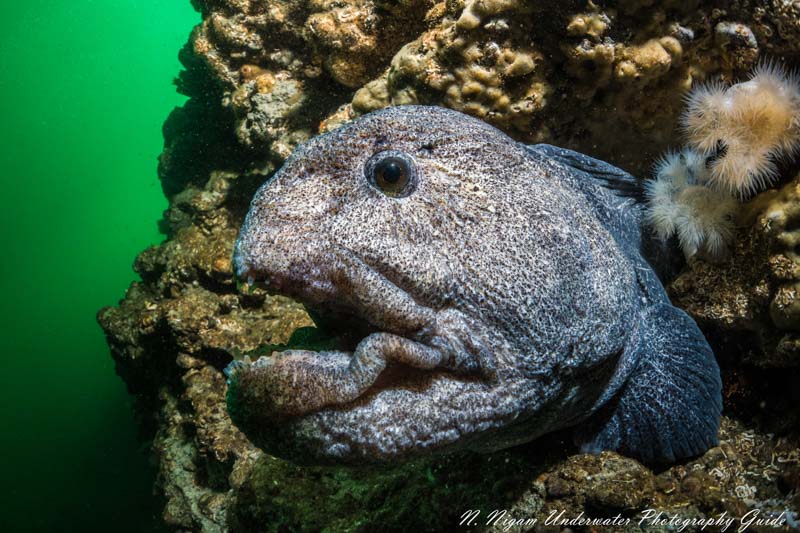 The Sony a6600 is the flagship camera in Sony's APS-C sensor mirrorless line-up. Its release followed an already fantastic year for Sony who rolled out the Sony a6400, Sony a7R IV, Sony RX100 VII, and the Sony a6100! While the camera shouldn't be considered a significant upgrade from other cameras already available in the a6000 line, the additional options available in the camera will surely be welcomed by underwater photographers. If you already own a Sony a6300, a6400, or a6500, it is probably not worth upgrading. Albeit, if you are thinking about buying an APS-C mirrorless camera, then the a6600 should be one of your top choices.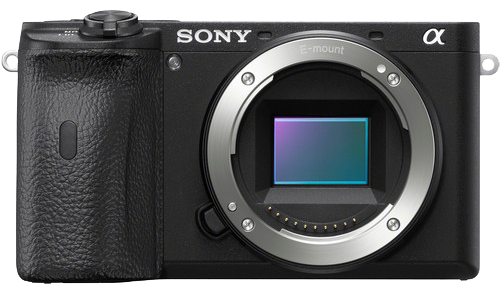 The Sony a6000 camera line has always been a unique option for underwater photographers in that it offers outstanding aps-c mirrorless options with lots of housings to choose from, all at a low price point. For photographers looking for pro and semi-pro image quality at an affordable price, the a6000 range is often looked at by underwater photographers. That said, the a6600 isn't so cheap at $1400. If you are on a budget stick with the Sony a6100, or the a6400. On the other hand if you're not cost conscious the Sony a6600 offers 5 axis in body image stabilization, one of the world's top autofocus systems, beautiful dynamic range, and a 24.2 MP APS-C sensor, which isn't too shabby!
Key Specs
24.2 megapixel APS-C CMOS Sensor

0.02 second autofocus acquisition – contrast-phase detect hybrid AF system

810 shot battery life with the new NP-FZ100 battery
---
Purchase the Sony A6600 Camera, Housings and Packages at Bluewater Photo:
---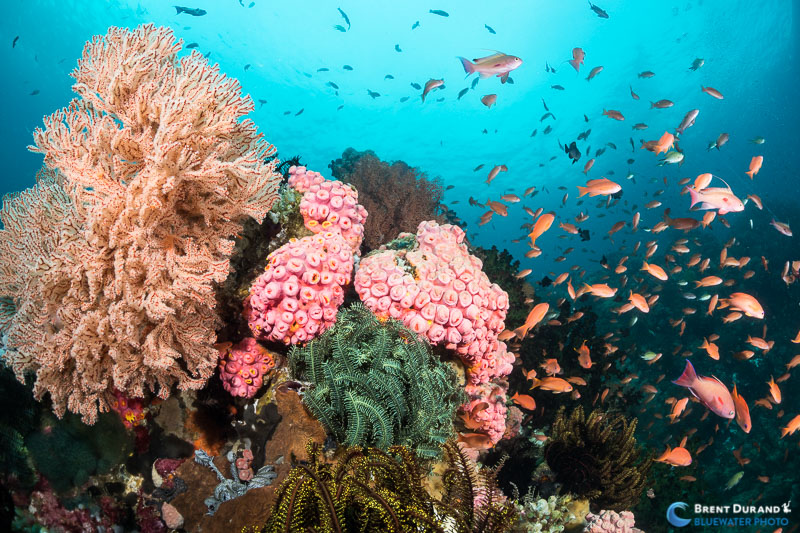 10. The Sony RX100VI / RX100VA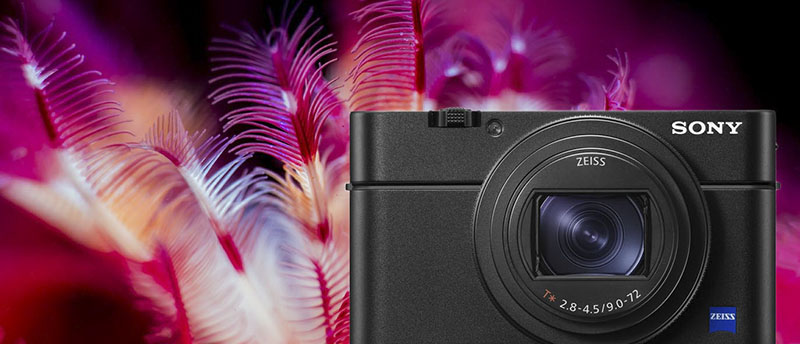 Key Specs
24-200mm f/2.8-4.5 lens (vs 24-70mm f/1.8-2.8 lens)
0.03 sec autofocus (vs 0.05 sec)
High Resolution 4K Movie Shooting plus 4K HDR for instant HDR workflow
---
Purchase the Sony RX100 VI Housings and Packages at Bluewater Photo:
---
The Sony RX100VA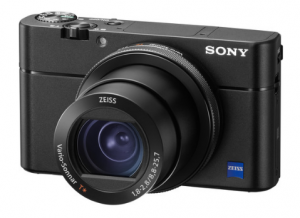 The Sony RX100 VA delivers stunning image quality. It offers high quality 4K video, and is capable of some impressive slow motion video. A vast selection of underwater housings and lenses give photographers a plethora of options that cater to a range of budgets, and intended uses. This makes the Sony RX100 VA a versatile choice for underwater photographers and videographers who want the most from their compact rig. In the hands of a competent shooter the quality of the images from the Sony RX100 VA rival those from more expensive, and bigger mirrorless systems.
Bonus: The Olympus TG-6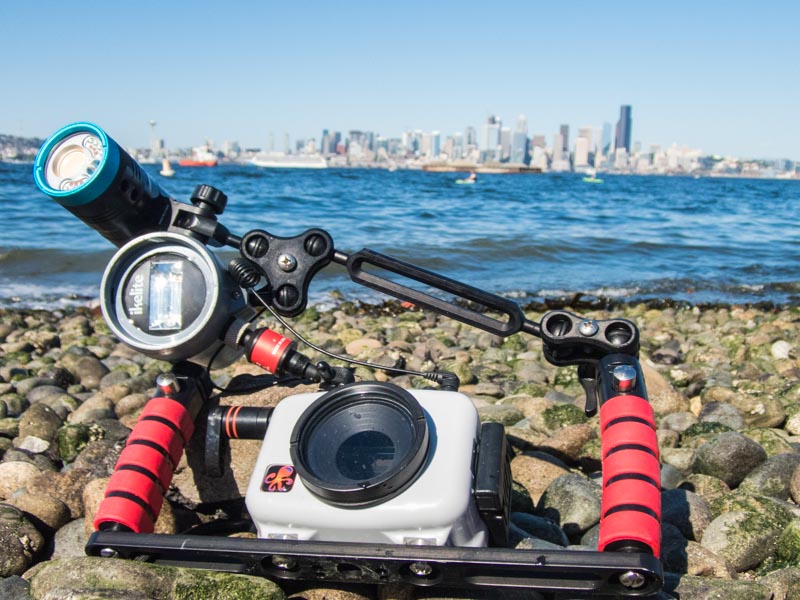 The Olympus TG-6 is a great choice in the low-budget compact camera world. Enthusiastic snorkelers will love this camera. The TG-6 is a fool-proof camera. it's small, virtually unbreakable, and a breeze to use. It's one of the best compact cameras in it's price range, and definitely the best camera out of the Olympus Tough line. The Olympus Tough line of camera is well known for an great image quality to size ratio, highly durable design, beautiful macro capability, and excellent choice of underwater accessories. It is waterproof on its own to 50 feet. If you are planning on going deeper than that we strongly recommend you putting it into a housing. The Olympus TG-6 is almost identical to the TG-5 in terms of design. Thus, it's compatible with the Olympus TG-5 underwater housing, and vice versa with the Olympus TG-6 housing. Snorkelers and underwater photographers will be very pleased to know that the few updates that have been made from the Tg-5 are mostly geared with underwater use in mind. The resolution of the back LCD screen has benefited from a 50% increase in resolution which will make it easier to review your images in bright sunlight. The controls and their ergonomics on the TG-6 are the most noteworthy upgrades from the TG-5. A great little camera, and very capable, and it won't break the bank.
Key Specs
12MP 1/2.3" BSI CMOS sensor optimized for low light (4000x3000 image resolution)
Waterproof (50ft without housing), shockproof, crushproof, freezeproof
Fast f/2.0-4.9 lens with 4.5mm - 18mm focal length (equivalent to 25mm - 100mm)
---
Bluewater Photo Olympus TG-6 Camera and Housings:
---
SUPPORT THE UNDERWATER PHOTOGRAPHY GUIDE:
The Best Service & Prices on u/w Photo Gear
Visit Bluewater Photo & Video for all your underwater photography and video gear. Click, or call the team at (310) 633-5052 for expert advice!
---
The Best Pricing, Service & Expert Advice to Book your Dive Trips
Bluewater Travel is your full-service scuba travel agency. Let our expert advisers plan and book your next dive vacation. Run by divers, for divers.
---