Best UK Diving
Best United Kingdom Dive Destination for Underwater Photography
If asked where the best UK diving for underwater photography is, Scottish sea lochs may just top my list. Although the UK has many other places with excellent diving. A sea loch is an extended arm of the sea, often narrow, and partially landlocked. For the underwater photographer who enjoys macro photography there is a plethora of subjects to work on. You'll find nudibranchs year round here. Despite the cold water, many flamboyant subjects that rival their tropical cousins are often seen here. These environments are excellent for super macro photography too. As the sea lochs are sheltered from the open ocean they are free from swell, making life easy for the macro photographer underwater. When the wind is blowing on the surface it is calm underwater. This means you can dive in any weather, as we've just done amidst Storm Dennis! Wide-angle underwater opportunities are abundant here too, keep reading.
Best dive destinations in the UK - Scottish Sea Lochs
There are numerous sea lochs in Scotland (227 in total) particularly along Scotland's west coast. Loch Carron is among these, and underwater photographers can often be found seeking out their prize subjects at these sites. I've been visiting this site for nearly 15 years, and never tire of it. It's been very productive photographically.
Diving in Loch Carron
Loch Carron is located on the west coast of county Ross and Cromarty and is part of the Scottish Highlands.
Marine charts show that the tidal currents reach up to 3 knots (3.5 mph) in the narrows, albeit the surface often looks calm. At the narrows the depth is generally 65 feet (20 metres) with the basins on either side going down to 330 feet (100 metres). Consulting the local tide tables is requisite before jumping in with your camera. The site is best dived on neap tides. Extreme caution should be taken when diving on spring tides. Tidal narrows and the increased flow of water bring a nutrient rich broth which results in prolific marine life. Not unlike those found in the Pacific Northwest.
Macro heaven
Beneath the rocky cliffs at Strome Castle lies a colony of flame shells (species of small clam) with a population of over 250 million! Loch Carron enjoys the world's largest flame shell bed, and thus was designated as a Nature Conservation Marine Protected Area (NCMPA) back in 2017, with the protection becoming permanent in 2018. Being a protected area, commercial fishing gear that damages the bottom is strictly prohibited.
Loch Carron is a little off the beaten track and generally divers access the water from shore. They are no boat operators in the area catering to divers. Tank fills can be arranged by appointment only with a local commercial diver. I generally travel with my own portable compressor. The slipway, as it is often referred to, is where most divers enter the water. The slipway is a few miles west of the town of Lochcarron.

Loch Carron Slipway
Jumping in at the slipway and heading east underwater there is a weed bed on the left, and there you can find two-spot gobies, clingfish kelp fronds, and fifteen-spine sticklebacks swimming amongst the seaweed -great subjects for the Nikon 105mm VR as you do need a little working distance with these fish. Continuing on with the rocky shore on your left you often see a sizable congregation of Pollack schooling in close to shore.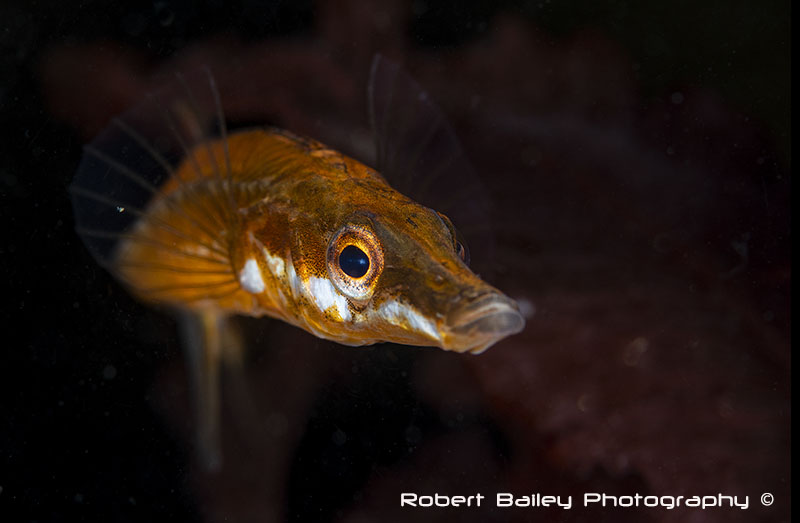 Fifteen-spine Stickleback (Spinachia spinachia) Nikon 105mm VR
As you follow the shoreline around, you'll get to the point (you can see this on the surface, and it is straight east from the slipway) and that's where the flame shell beds begin. You can tell you are there as the flame shells secrete sticky threads and the seabed which seems to be held together in a spongy sticky mass. It feels like a mattress on the seabed. Often you find single flame shells on the surface wriggling around. If you are patient you can often see them tucking themselves back under their sticky mat.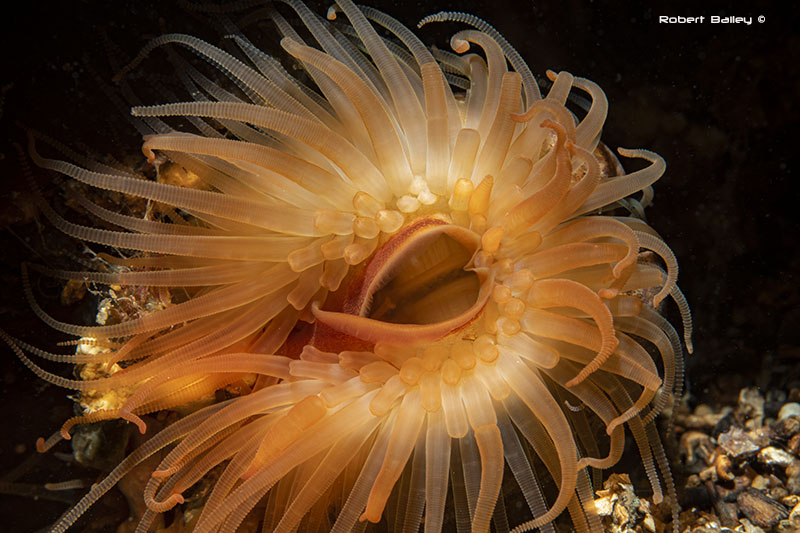 Flame Shell (Limaria hians)
Dependant on the tidal current strength you can head south onto flame shell bed. There you'll find nudibranchs, at times in great numbers.
Caronella pulicida with its blousy red cerata can often be found feasting on hydroids, especially in early spring. This shot was taken with a Nikon D500 and Sea & Sea housing, with a Nikon 60mm.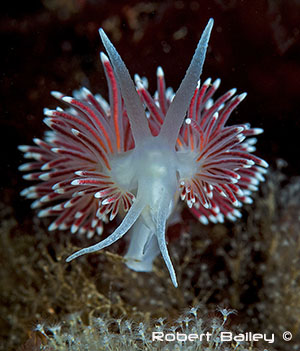 Caronella pelucida and hydrioids
Other commonly seen nudibranchs here are Eubranchus tricolor.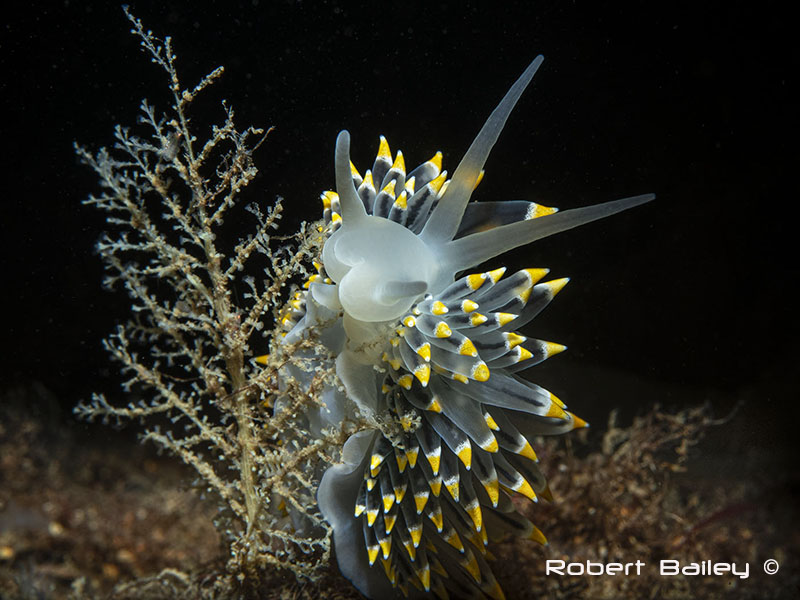 Admittedly I'm a sucker for nudibranchs and often find myself shooting them over and over. While that distraction never really goes away for me there are many other macro subjects to go at.
Skeleton shrimp can often be found on Sea Beard hydroids (Nemertesia antennina) are great subjects for the Nikon 105mm VR.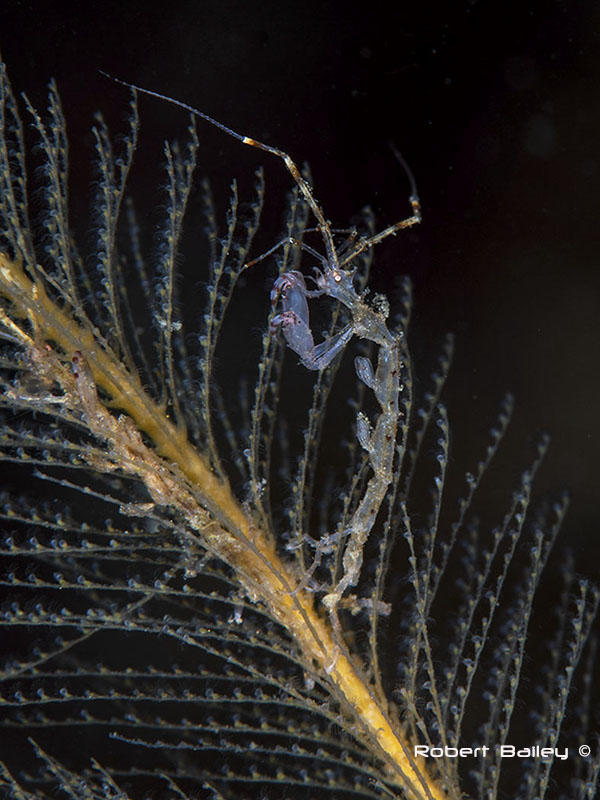 Skeleton Shrimp
The Nikon 105mm VR with the Nauticam SMC-1 is a great combination for working on super-macro subjects like Amphipods. These little crustaceans can often be seen on top of deadman's fingers (Alcyonium digitatum) when their polyps are retracted. As mentioned previously the absence of swell in the sea lochs makes it a perfect place to settle on the bottom. As underwater photographers we all need to be mindful of the marine life around us so that we cause no harm when taking pictures. Super macro is great as it brings creatures to life, much like being a kid and the first time you look through a microscope at a strand of hair.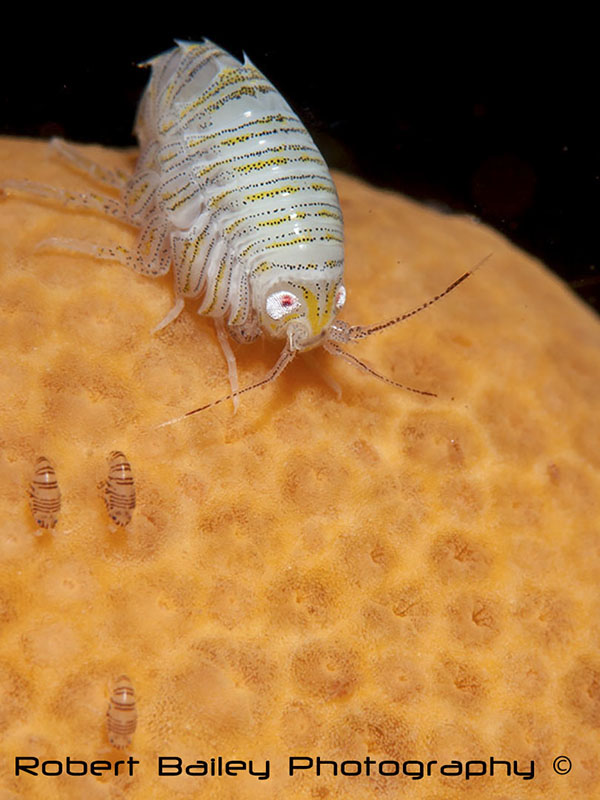 Amphipods
I have waxed lyrical about macro subjects, but what about wide angle?There is no shortage of wide angle subjects to go at, but like all areas you need good light and visibility to shoot good wide angle images in green water. If you head south which is straight out from the slipway, after 5-10 minutes you will find yourself over immense beds of brittle stars, and I do mean immense. There is literally millions of them forming an amazing mosaic.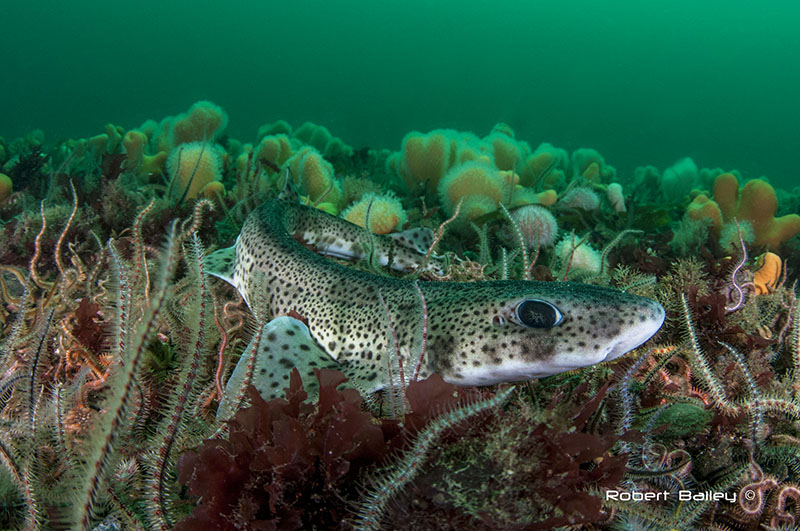 Dogfish (Scyliorhinus canicula) on Brittle Star Bed
One other site about half a mile west on the road from the slipway is Conservation Bay. There are no signs to tell you have arrived. A pull out on the side of the road, and a view of an inviting beach begging you to stop and admire the view. On a clear day you can see the Isle of Skye to the west. It's stunningly beautiful especiallu in spring time with all the gorse in bloom, there is a steep path (you might need to make two trip on the way back) down to a smooth shingle beach.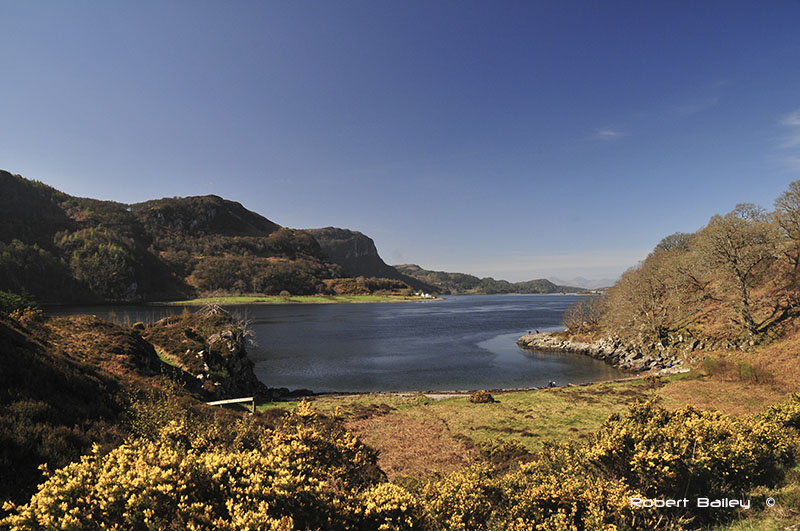 Conservation Bay
You will find similar marine life here, and there is no right lens selection here, there are subjects to suit both the macro and the wide angle photographer.
There are many other excellent shore and boat dives available in the UK if cold water diving is your game. There are plenty of places to stay at the village of Lochcarron. If you are interested in diving here, please get in touch with us for more detailed information.
SUPPORT THE UNDERWATER PHOTOGRAPHY GUIDE:
The Best Service & Prices on u/w Photo Gear
Visit Bluewater Photo & Video for all your underwater photography and video gear. Click, or call the team at (310) 633-5052 for expert advice!
---
The Best Pricing, Service & Expert Advice to Book your Dive Trips
Bluewater Travel is your full-service scuba travel agency. Let our expert advisers plan and book your next dive vacation. Run by divers, for divers.
---