Story Behind the Shot: A Sad Catch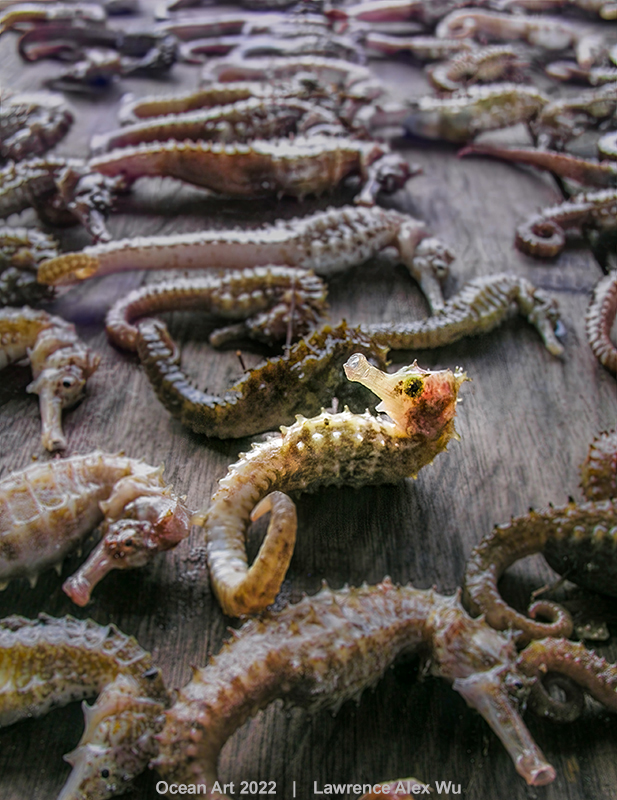 The winning photo for the "Underwater Conservation" category in the Ocean Art 2022 Competition was taken at the Cambodia. See all Ocean Art 2022 Winners Here
The Shot
"I had been diving off Koh Rung Samleom, Sihanoukville, Cambodia for several days already. On this one day, as we arrived at the island for the routine pre-dive check-in, the village's "Marine Enforcement", essentially a few of the local villagers, had earlier arrested the poachers, seized a poaching boat and their CATCH.
As I walked down the pier, I was so disheartened to see the same animals that we came so eagerly in search of and to visit everyday, lying lifeless on the wooden floor. Although of course, never on one dive here, did I see what seemed like the entire population of these animals. To everyone there, it felt like a coastal genocide.
As the village chief and village officials debated on the course of action, all of us who had just arrived felt torn with no mood for the diving planned. Being a photographer at heart, I was compelled to capture the moment regardless... I suppose that it is akin to photographing in a war. There is a message behind the brutality, so the hope is that the photos would help in some way... and that the many who see it would understand, learn, sympathize, but most importantly, TAKE ACTION. Without action, there is no change... & even with the smallest of actions, things do change, especially if everyone participates. It might be too late to save these animals in the photos, but it's not too late to take action to save our seas & their habitat!"
So click here and see what you can do: https://www.nationalgeographic.com/environment/article/10-things-you-can-do-to-save-the-ocean
Village counsel & the catch
What Does Winning Ocean Art 2022 Mean to You?
"I would like to thank "Underwater Photography Guide" and the judges for reaching out to us, the awarded participants, to share our " Story Behind the Photos". A picture tells a thousand words and hopefully this "Story Behind the Photo" will do more... "
The full catch
About Lawrence Alex Wu
Lawrence Alex Wu is an experienced and passionate diver, instructor since the 1990's, and underwater photographer for over a decade. He has been guiding and booking dives in Southeast Asia and teaching photography to both compact and DSLR shooters. He has presented his teachings and works at many SE Asian dive expos, including ADEX, TDEX, and MIDE, and has photos recognized with almost three dozen international awards, including the "Wildlife Photographers of the Year" award from the National History Museum in London.
Besides diving, he also offers free 30 minute online chats about underwater photography, photo gear advice, upgrades, and diving location and liveaboard suggestions based on his extensive knowledge as an underwater photojournalist for many years. With over 10 years of experience in much of Southeast Asian dive destinations, he is an expert in the field and region and happy to help others maximize their underwater experiences.
Check out his work on Facebook & Instagram.
SUPPORT THE UNDERWATER PHOTOGRAPHY GUIDE:
The Best Service & Prices on u/w Photo Gear
Visit Bluewater Photo & Video for all your underwater photography and video gear. Click, or call the team at (310) 633-5052 for expert advice!
---
The Best Pricing, Service & Expert Advice to Book your Dive Trips
Bluewater Travel is your full-service scuba travel agency. Let our expert advisers plan and book your next dive vacation. Run by divers, for divers.
---